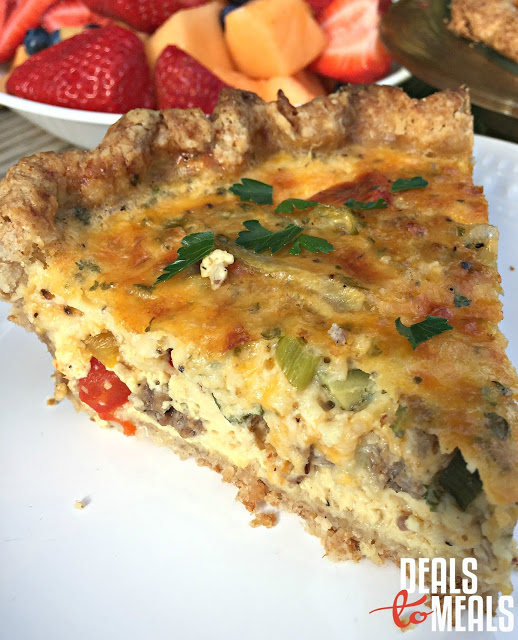 Spring and summer seems to be the time for weddings, baby showers and family parties. I wanted to share our go-to party menu that we use for baby showers, wedding showers, and ladies brunches when we need something quick and fun. We just threw a wedding shower today for my darling cousins so I thought I would snap a few photos to help give you an idea of some easy recipes. Do you have favorite recipes or themes you use when throwing parties? I would love to hear your tips, tricks or recipes for throwing a party. Feel free to comment below 🙂 I always love to hear from each of you!
Bacon (or Sausage) Quiche–this is hands-down the very best quiche recipe you will ever eat. It's simple to make a head of time and then just warm up the day of the party. I usually bake the quiche the night before the party and then just warm up the quiche at 350 for 10-15 minutes or until warmed through.
Fruit Kabobs "Summer Style"–how cute is this fruit kabob display? My Mom got this idea on Pintrest and I thought it was so cute. Simply cut a personal sized watermelon, scoop out a thin layer of the melon. Cut wood skewer sticks to the width of the melon and place horizontally on the melon to look like grill grates. Cut three pieces of celery and poke into the watermelon underside (you might need to cute out a small whole with a knife). Skewer the remaining fruit and place on the watermelon 'grill' for display.
Mango & Strawberry Salsa with Chips–This dip is totally woman friendly and one we love to serve. The flavors go great together and it has the sweet and spicy flair that most women love. Not to mention you can again make this salsa the night before to make for easy prep on the day of.
Shortcake Berries and Cream Mini Bites–How darling are these? I think these could possibly be the cutest, smallest, delicious dessert of spring. I love the chewy and moist sugar cookie base (just use one batch of our favorite recipe over here). Place the dough into a mini muffin tin and bake for 10-12 minutes or until slightly golden brown. As soon as you take them out of the oven use a small spoon or utensil to create a crevice in the center of the cookie to put the filling. Make up a whipping cream and cream cheese mixture to pipe in the center and top with some fresh berries. This recipe is a great one (thanks Kara for this great recipe!) and tastes delicious inside the cookie shell. You can play around with different combinations or puddings to make these to your liking. The berries and cream however are perfectly summer-like and so fun to pop in your mouth throughout the party.
We also served veggies and dip, as well as these Butterscotch Bars for those who needed a little chocolate 😉
Hope these simple recipes give you some ideas for your next party you're throwing! Enjoy 😉