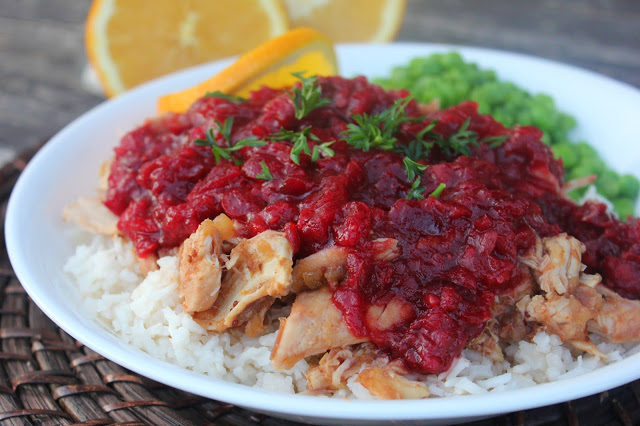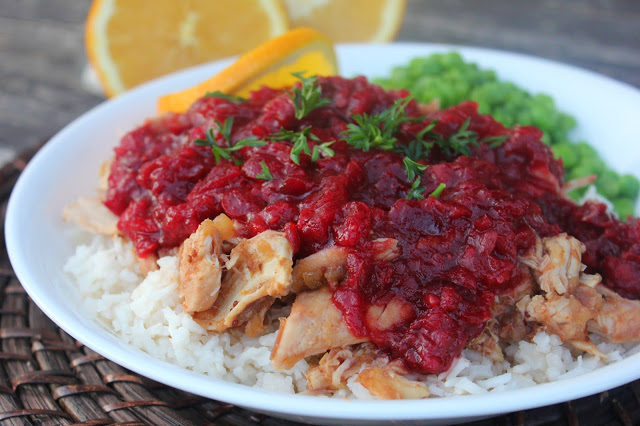 If there was an award for a recipe with the most vibrant, beautiful color, I think this recipe would take home the ribbon. Look how pretty this dish is. It screams Christmas to me. Not only the fresh orange and cranberry flavor but the beautiful deep red color of the sauce, the fresh parsley and bright green peas. This dish is almost more about eating with your eyes than your taste buds 😉 Except for the fact that this dish has lots of flavor and was one of the most simple recipes I have ever made. What is there not to love about a crock pot recipe this busy time of year.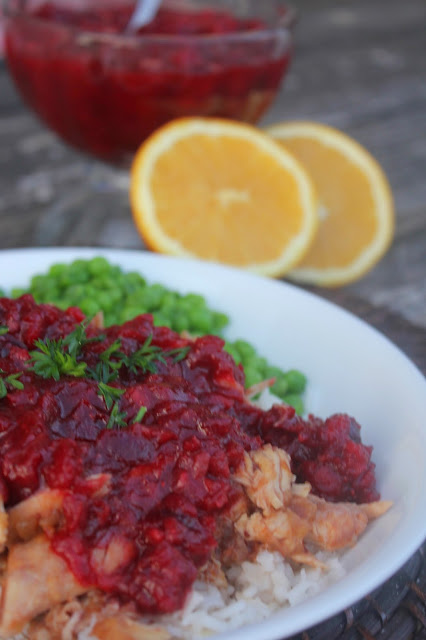 Now, I have to give a disclaimer. If you don't like sweet and savory flavors together, you won't like this dish. My husband (who dispises everything about a sweet and salty combo) was not a fan of this recipe. However, the rest of us really enjoyed it and loved the sweet chicken over a bed of rice. The chicken can either be cooked with all of the sauce, or you can reserve some and keep it's brilliant red color and serve on top. This dish is very versatile and I even had leftovers in a wrap with cream cheese and spinach the next day. Hope you enjoy this festive and simple recipe 😉
*Bonus…all of these ingredients are on sale again this week. Feed your family this meal for under $9!
*Chicken $1.99/lb.–need 2 to 3
*12 oz. bag of cranberries .99 at Sprouts
*Jar of chili sauce $1.48 at Walmart
*One orange .69/lb.
*Pound of frozen peas .79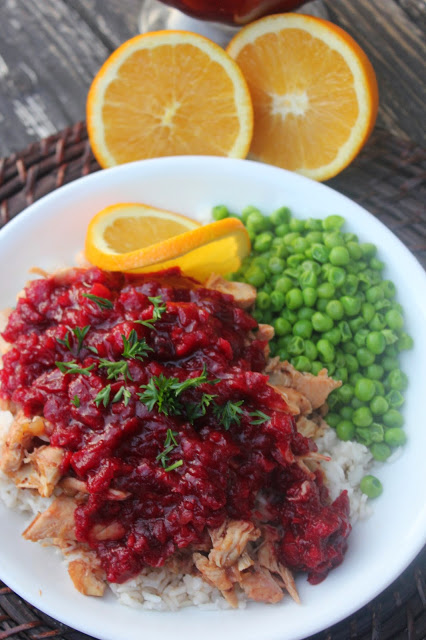 Slow Cooker Cranberry Orange Chicken


2-3 lbs. boneless skinless chicken breasts
12 oz. jar chili sauce (found near the steak sauce on the condiment aisle)
12 oz. fresh cranberries
Juice and zest of 1 orange
1/3 cup brown sugar
1/2 tsp. crushed red pepper flakes
1/2 tsp. black pepper
1/2 tsp. garlic powder
1/2 tsp. salt (or to taste once finished)


Cooked Rice
Place all of ingredients (minus the rice and chicken) into a food processor and puree until small pieces. If you like more of a smooth sauce, then puree until smooth. If you like some texture then only pulse until the cranberries are broken up. Take out 1 1/2 cups of the sauce and pour over the chicken breasts that have been placed in a crock pot. Simmer the remaining sauce in a sauce pan for 10-12 minutes, or until thick. If you want your sauce to be a little more thin, you can add some chicken broth or water. Set aside the cooked sauce until ready to serve the chicken. Cook the chicken on low heat for 4-6 hours, or high heat for 2-3 (if chicken is thawed). Once the chicken is cooked through and can shred easily, shred the chicken into large pieces. Place the cooked chicken over cooked rice and serve with extra sauce if desired.
*This recipe is very healthy, especially when served with brown rice. Each large serving is under 600 calories.