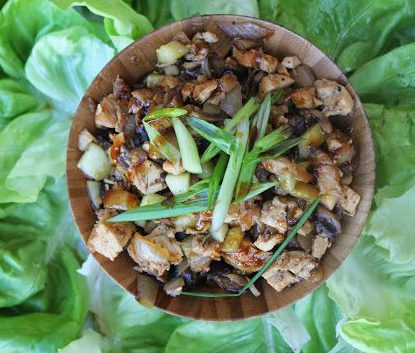 Since I blogged about a warm, cheesy, comfort food yesterday, I thought I could go a little lighter today with these incredible lettuce wraps. Many of you are probably familiar with P.F. Chang's Chinese bistro and love their lettuce wraps like I do. However, I am way too cheap to pay $8 for a simple lettuce and chicken dish, so I was determined to come up a less expensive version. This copy cat recipe was just as amazing as you can get at the restaurant and cost just a little over $6 for a huge portion of these lettuce wraps that would feed 5 to 6 people. Much more reasonable 😉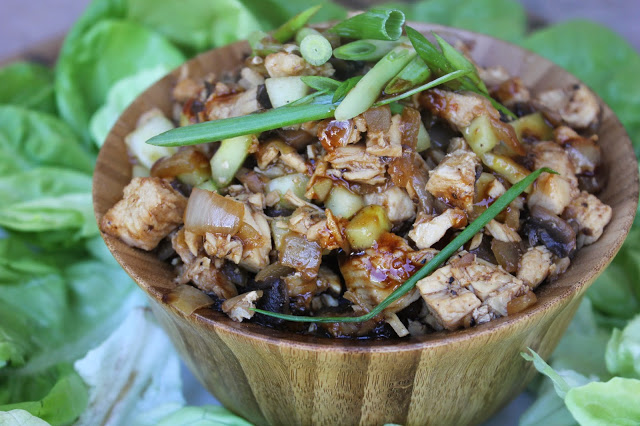 I had these lettuce wraps for lunch and I am so excited that there is tons leftover for dinner–yay! They are slightly sweet, salty, Asian in every way and made with inexpensive ingredients we all have on hand. And not only are they fantastic, they are very low in calories. For two leaf lettuce tacos they are only 1.8 grams of fat and 85 calories. Now, that is something to be happy about. Now, I can have another piece of the caramel cake I am going to blog about later in the week (watch out! It is so good it's hard to stop eating)! Hope you enjoy this recipe 😉
Feed 6 people these P.F. Chang Lettuce Wraps for only $6.13
*To see where all of these items are on sale in your area, login to Deals to Meals to see the best grocery sales in your area.
Sauce ingredients are all staple items you should have in your pantry (if you need them it would add a couple more dollars 😉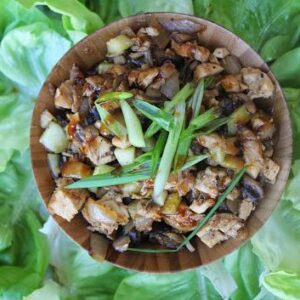 Ingredients
2

Tbs.

olive oil

2

Tbs.

olive oil

for vegetables

8

oz.

white mushrooms

sliced

1

onion

diced small

Salt and pepper

SAUCE

5

cloves

garlic

minced

2

tsp.

sesame oil

2

tsp.

ginger

grated (or powder)

2

Tbs.

hoisin sauce

1/4

cup

rice vinegar

1 1/2

Tbs.

soy sauce

1/4

cup

brown sugar

1

tsp.

Siracha sauce

1

tsp.

cornstarch

WRAPS

1

cucumber

peeled and seeds removed, diced small

8-10

lettuce leaves

rinsed
Instructions
Saute the chicken breast in a hot saute pan with olive oil until golden brown on both sides. Turn down the temperature, put a lid on the pan and cook until the chicken is no longer pink in the center. Remove the chicken from the pan and set aside. Cut the mushrooms and onions into small pieces. Drain off any of the chicken juices from the pan. Saute the onions first in the olive oil, until just about tender. Add the mushrooms and continue to saute until soft and shrunk in size. Season the onions and mushrooms with salt and pepper.

In a small bowl, combine all of the sauce ingredients together while the mushrooms and onions are cooking. Whisk until smooth.

On a cutting board, chop the chicken breasts into small pieces with a knife, or put in a food processor to chop until pieces about the size of a pea. Add the chicken to the mushroom/onion mixture and bring heat back up to medium heat. Add the sauce and let the sauce simmer until it reduces in half. When sauce is thick and items are incorporated, peel and dice the cucumber and stir into the mixture.

Remove from the heat. Wash and rinse the lettuce and serve the chicken mixture into each piece of lettuce. Garnish with green onions if you wish.