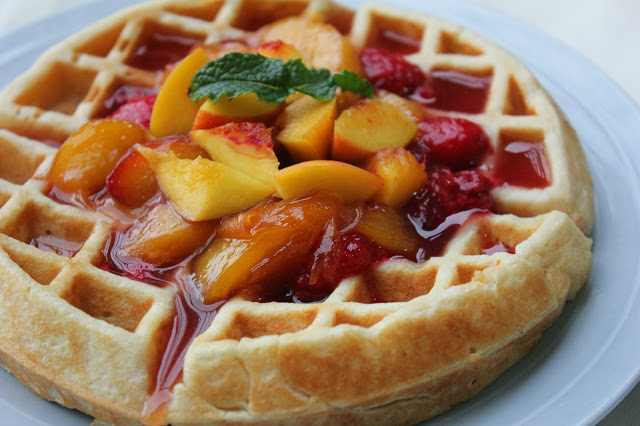 I think I could  consider myself a waffle connoisseur. I have made probably a hundred different waffle recipes, and I have to admit I am very picky. There is no such thing as an Eggo Waffle at my house. I don't love a crispy, airy textured waffle. A good waffle to me needs to be hearty, have some substance, yet still soft and made from scratch.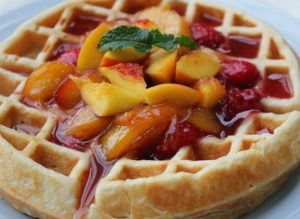 Well, I have another amazing waffle recipe to add to your favorite list. My Mom introduced me to this recipe and the texture, because of the yeast, is different than any waffle you have ever had. There is no baking powder or soda in this recipe. These waffles rise because of the yeast. They are the most spongy, soft waffles I have ever had. This recipe has quickly become my go-to basic waffle recipe. Practically perfect!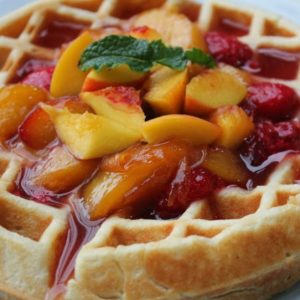 Ingredients
3

cups

hot water

1 1/2

Tbls.

yeast

3/4

cup

sugar

1 1/2

sticks butter

melted

1

Tbls.

vanilla

3

cups

milk

or you can use 3 cups water + 1/3 cup dry powdered milk

6

eggs

separated

7-7 1/2

cups

flour

I used 1/2 wheat flour and 1/2 white flour

1

tsp.

salt
Instructions
Place the hot water, yeast and sugar into a bowl. Let these sit for 5-10 minutes for the yeast to dissolve. To the water/yeast mixture add the melted butter, vanilla, milk, egg yolks and whisk until smooth. Add the flour and whisk until smooth. If the batter is too thin you can add the extra half cup of flour. It's better to add a little less than more, so start with 7 cups and then add the other 1/2 only if needed. Let the batter rest while you whip the egg whites to stiff peaks. Once the egg whites are stiff, fold them into the batter. Heat a waffle iron and bring to medium heat. Pour 2/3-3/4 cup of the batter into the hot iron. Let cook until golden brown and then remove. You can make all of the waffles and freeze them for later in a Ziploc bag if you would like. They freeze great!