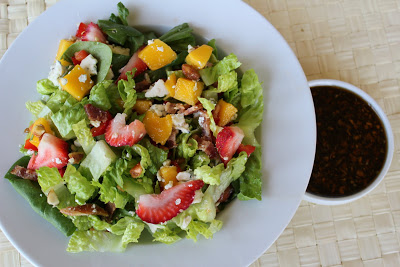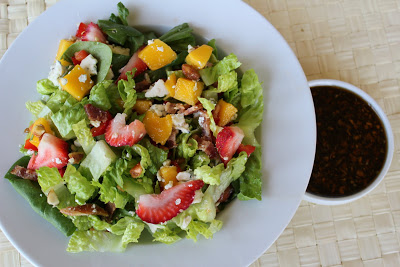 It's not too late to enjoy a few last simple and fresh
summer salad
recipes for dinner. I know salads take a little extra time to chop all of the ingredients, but the end result is well worth the extra effort. If you have a ladies lunch or need a quick, weeknight meal, this salad is amazingly scrumptious! The balsamic dressing goes perfectly with the strawberries and gorgonzola. Throw anything you would like in this salad to make a healthy and fresh salad your whole family will love!
Strawberry Balsamic Salad
1 head romaine, chopped
1 bag baby spinach
1 c. strawberries, sliced
1 mango, diced
1 c. candied pecans or almonds
1/2-1 c. feta or gorgonzola cheese
1 c. crumbled bacon
Sweet Balsamic Dressing
2 t. Italian seasoning (our homemade Italian seasoning mix worked great with this dressing!)
1/2-3/4 c. sugar
1/2 c. rice vinegar
1/4 c. balsamic vinegar
1/2 c. oil
3/4 t. paprika
1 T. dried onion
1/4 t. dry mustard
Chop the romaine and place in a large bowl. Add the baby spinach. Slice the strawberries and mango and place on the salad (assuming you are eating the salad right away). Add the pecans and cheese to the salad along with the chicken and crumbled bacon. For the dressing, put everything in a blender or food processor and pulse until oil emulsifies and creams together. Serve dressing over salad when ready to serve.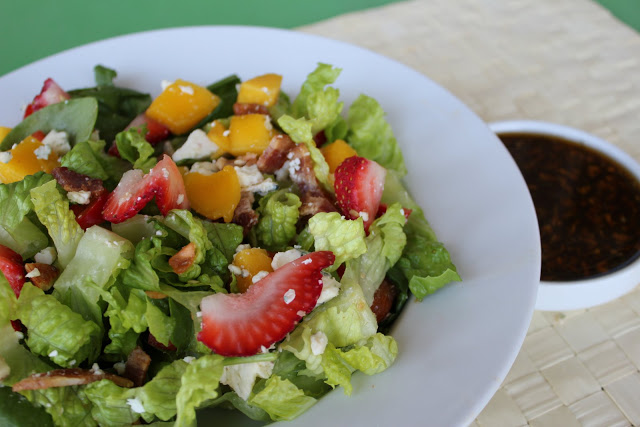 ~ Shandra