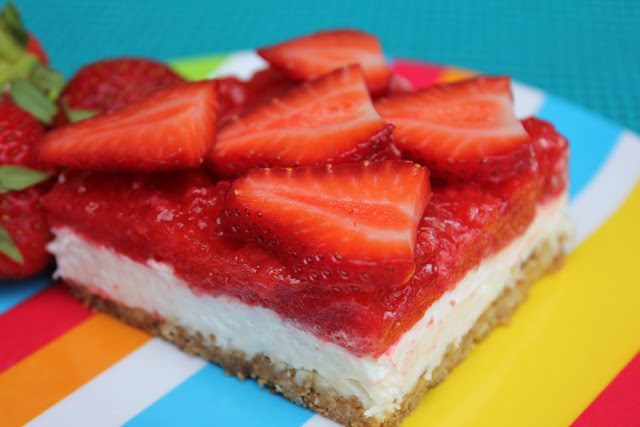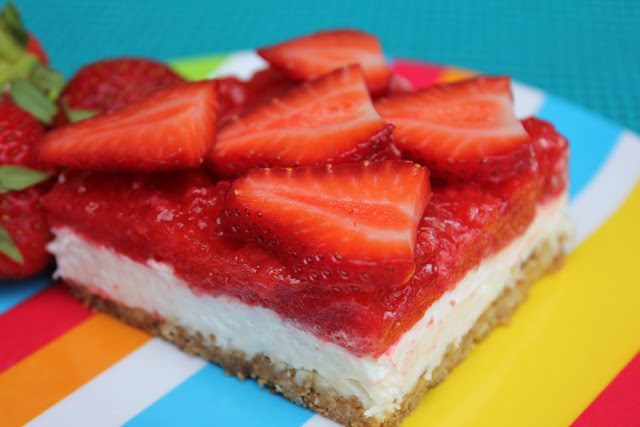 It is almost Labor Day and time for one last barbecue of the season! I am posting this recipe, not because I created it, and not because it will be new to many of you, but because I am tired of searching through my recipe books to find it everytime I want to make it. Most of you have probably already had this heavenly combination of sweet cheesecake and salty pretzel crust, but if you haven't, you need to put this recipe on your Labor Day menu plans! This is 'technically' a salad, but I have also made it as a dessert. Pretty much I have eaten it for breakfast, lunch and dinner and been perfectly happy every time! 😉 Enjoy and have a great weekend!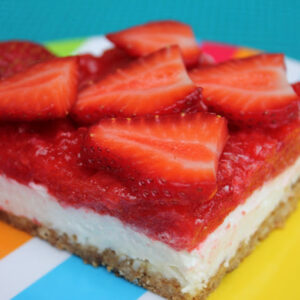 Ingredients
Crust:

2 1/2

c.

pretzels

3/4

c.

butter

melted

1/4

c.

sugar

Cream Cheese Filling:

8

oz.

cream cheese

softened

1

c.

sugar

1

t.

vanilla

8

oz.

Cool Whip Topping

or 1 c. heavy whipped cream

Strawberry Topping:

1 3/4

c.

water

1

large strawberry Jello package

3

c.

strawberries

frozen or fresh

1

c.

fresh strawberries

for garnish on the top of the salad
Instructions
Crust: Place the crust ingredients into a food processor and blend until the pretzels are ground and the mixture is smooth and moist. Pour the mixture into a 9×13 pan that has been sprayed with cooking spray and press so it is evenly over the bottom of the dish. Bake at 375 for 12-13 minutes, or until it is lightly golden brown.

Filling: In another bowl, beat together with an electric mixer the cream cheese and sugar until completely smooth. Add the vanilla and fold in the Cool Whip Topping. Once the crust has cooked and cooled, spread the cream cheese mixture over the cooled crust and return to the fridge. While the crust is cooling, make the jello topping:

Jello Topping: In a large glass bowl place the water in the microwave for 4-5 minutes, or until boiling happens. Remove from the microwave and pour in the Jello. Stir until the Jello has dissolved. Add the sliced strawberries to the Jello. I like my topping more pureed and smooth, so I use my hand wand blender and blend the strawberries and Jello just a little so there aren't large chunks in the topping. Place the jello mixture into the fridge for 15-20 minutes, or until it begins to firm up (if you use frozen berries this will only take about 5 minutes). When the crust has been cooled and the cream cheese mixture has been spread over the crust, pour the strawberry jello mixture over the cream cheese layer. Spread out evenly over cream cheese layer. Place the salad in the fridge for a couple of hours and serve with fresh strawberries sliced on top.
Notes
We love this recipe with several different combinations. During peach season we love to use Peach jello with fresh sliced peaches. We also love it with fresh and frozen blueberries and blackberry jello or raspberries with raspberry jello. The combinations are endless and delicious!