As it's seeming more likely than ever that we'll be supplementing our weekly food budget with items from our food storage (I can't bare to pay the food prices now…let alone what they'll be in the future), I'm having fun finding new ways to incorporate some of my favorite products and ingredients. You're going to love these simple, homemade, Strawberry Waffles made with items right from your pantry. Don't bother with boxed waffle mixes. Making them from scratch are much healthier and delicious.
If you haven't cooked with Powdered Milk, it's a GREAT way to save money and time. With milk prices through the roof, using the powdered milk from your food storage is a great way to cut back on costs. Pancakes or waffles generally use several cups of milk. When you're buying milk at nearly $4 a gallon, it's a smart idea to use powdered instead of fresh.
Which powdered milk would I suggest? Let me tell you! I have just about every brand of powdered milk in my food storage. Some I should probably just throw out they're so bad. However, I have found a brand and milk that I absolutely, 100% can stand behind. In fact, I ran out of milk a few days last week and my kids didn't even notice that I had switched to powdered. The Thrive Milk has definitely passed our picky pallet test. Good news is, it's on SALE this month. This makes it the perfect time to add this milk to your food storage and have good tasting, healthy, milk on hand in case of an emergency (or higher food costs). Order these sale items through our links and get an additional 15% off when you set up a monthly delivery service.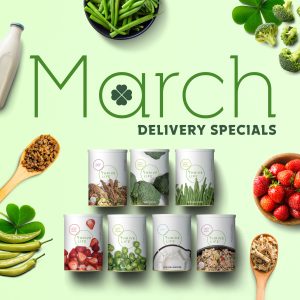 Now, onto this recipe with powdered milk AND dried strawberries (which I'm also loving and that are also on sale). Freeze dried strawberries are not only delicious but they are much healthier than the berries you buy at the store. These strawberries are picked and frozen within TWO hours. The strawberries you buy at the store are generally on the shelf for 1-3 weeks. I love adding a fresh flair to a traditionally less healthy breakfast option.