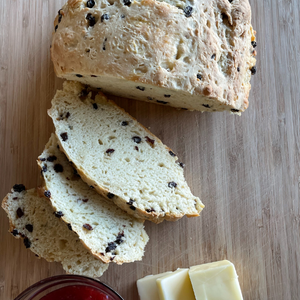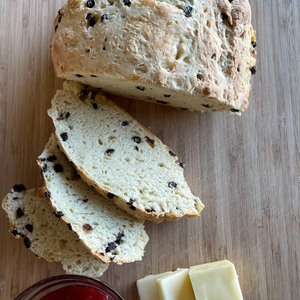 Happy St. Patrick's Day everyone! What better way to celebrate the holiday than with our favorite Shepherd's Pie recipe and warm, Irish Soda Bread right out of the oven. This bread is about as easy as a bread can be. There is no kneading, no yeast, no waiting for it to rise.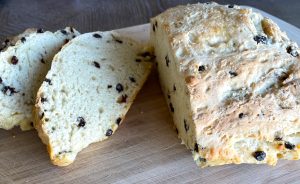 All you do is mix the dough together, form it into a ball, place it on a cookie sheet and bake. Within 40 minutes you have a warm loaf of slightly sweet, currant filled Irish Soda Bread. You can totally use raisins, but currants are my very favorite. They are small and tender, just like this loaf of bread. Serve the bread warm with cinnamon butter or your favorite jam. Wishing you luck of the Irish today!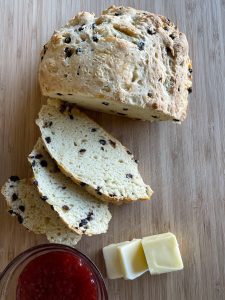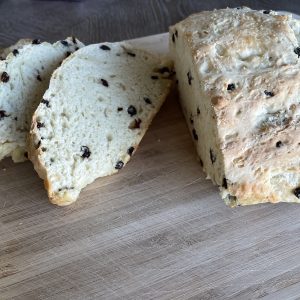 Ingredients
5

Tbs.

butter

cut into pieces1 1/2 cup milk or buttermilk

¼

cup

lemon juice

1/3

cup

sugar

1

tsp.

Baking soda

1

tsp.

Salt

3 3/4-4

cup

flour

plus any for the counter

1

cup

currants
Instructions
Preheat oven to 400°F. Spray a cookie sheet with non stick cooking spray.

In a large mixer (like a Bosch), use the dough hook and add the milk (or buttermilk), lemon juice, sugar, baking soda and salt and combine. Cut the butter into small pieces and add to the bowl to mix. Add the flour one cup at a time while the dough is mixing on low speed. Add the currants and let the dough mix for another few seconds, until combined. Don't over mix the dough.

Put a little flour onto the counter. Remove the dough from the bowl and place on the floured surface. With your hands, knead the dough a few times, trying to smooth out the edges. Form the dough into an oval shape and place on the cookie sheet. Cut a cross with a sharp knife in the top/center of the bread loaf.

Bake in the oven for 30-40 minutes, or until the outer edge is crispy and golden brown. The center takes awhile to cook through, so don't remove too soon. Once the bread has been removed from the oven, let it cool for about 10 minutes and then cut. Serve with the cinnamon butter, regular butter and jam.