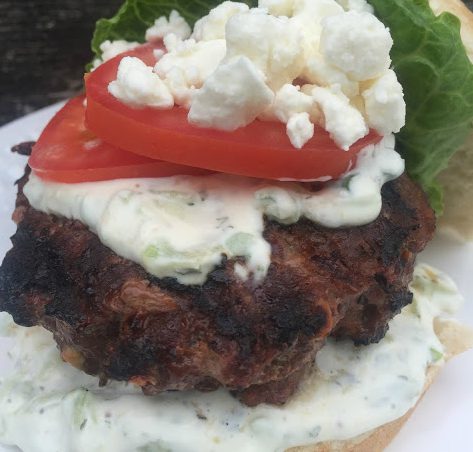 I'm excited to share this week's Friday Flashback recipe with you for these Stuffed Feta Burgers. I made these first six years ago and have loved them many times since. I am a huge fan of feta cheese and then you add that to a juicy, moist, beef burger with a cool, cucumber sauce, you have a delicious burger for any day of the week. Hey, it is Memorial Day next week, right? This burger would be a perfect addition to your weekend's menu 😉 They are SO yummy!! Enjoy.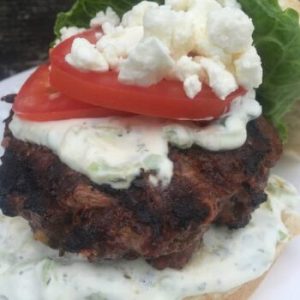 Ingredients
2

lb.

ground beef or turkey

Montreal Steak Seasoning

2-3

Tbs.

worcestershire sauce

1

tsp.

garlic powder

2

tsp.

dried parsley

1

egg

1/4

cup

bread crumbs or crushed crackers

1/4-1/2

cup

feta cheese

1

pkg. hamburger buns

6-8

lettuce

pieces

2-3 to

matoes

diced

CUCUMBER SAUCE:

1/3

cup

sour cream

2

tsp.

dried dill weed

1/2

tsp.

garlic salt

1

tsp.

lemon juice

1

cucumber

peeled, seeded and shredded

Salt and pepper to taste
Instructions
Mix all of the meat ingredients together (minus the feta) and form half of the beef mixture into 7 patties. Put a large chunk of feta cheese on top of each half of the patties. Put the remaining beef mixture flattened on top of each patty, covering the feta cheese. Grill the burgers until cooked through on the grill (or broil or use an indoor grill). Make the cucumber sauce by mixing all of the ingredients together until smooth. Serve the burgers with lettuce, tomatoes and the cucumber sauce on top.