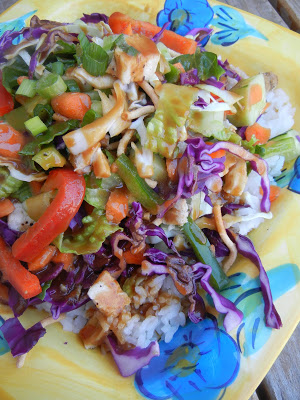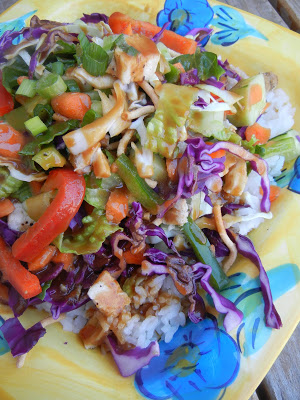 Are you surprised by the title of this post? Me…couldn't be, posting a recipe with a sweet peanut sauce? Shocker! This salad isn't really a 'recipe' necissarily as much as it is a suggestion of ways to use up all of the fresh vegetables from your garden.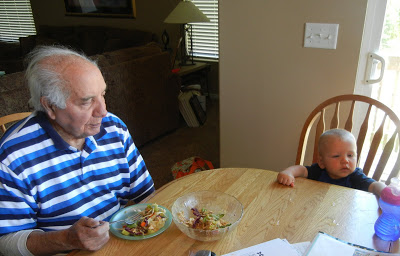 The other day my sisters and I decided to bring lunch to my cute Grandpa and Grandma. For my entire life they have always had an amazing garden we have all envied. This summer they moved into a new home four miles away from us (which we love!) and they have a backyard that has not been landscaped yet. They have been devistated to not have fresh garden produce. We decided to bring them a lunch that would be jam packed with fresh veggies from our garden–green cabbage, carrots, red peppers, green peppers, green onions, etc. They were thrilled with this salad and we had a great time reminiscing about my Grandpa's gardens of the past. Isn't it great the legacies we pass on to our children and grandchildren (the good ones anyway ;). I am grateful for grandparents that have lived such conservative and self reliant lives. I hope when I am 90 I will continue to be as excited about gardening as he is (that makes me tired just thinking about it).
Enjoy this delicious and fresh salad recipe!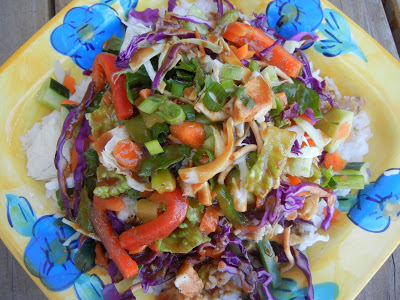 Thai Peanut Chicken Salad
Sticky Calrose Rice–about 2-3 c.
Peanut Sauce (for dressing)
Chinese noodles
Green onions
Red bell peppers, sliced
Green bell peppers, sliced
Romaine lettuce, chopped
Green cabbage, chopped
Red cabbage, chopped
Chopped peanuts (optional)
Cilantro, chopped
Grilled and seasoned chicken breasts, diced
Cook rice and set aside. Chop vegtables and place in a large bowl. Make peanut sauce and let cool slightly. Grill chicken and diced into bite sized pieces. Assemble salad with rice on the bottom, salad, chicken and then drizzle with peanut sauce.