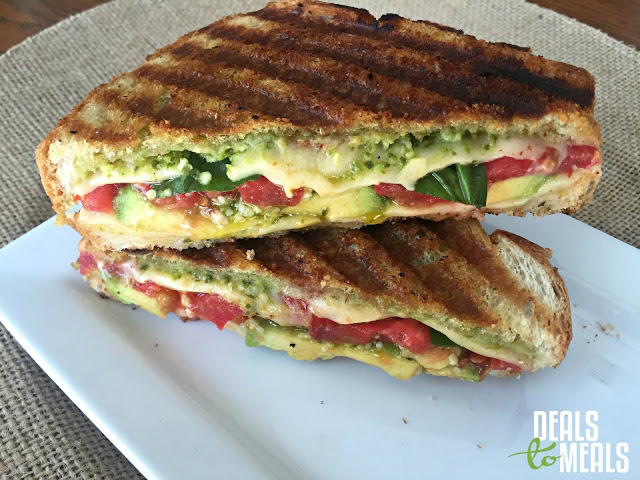 Ready for one of the most simple, healthy, delicious sandwiches you've ever had? You are going to love this meatless meal you can make in less than 15 minutes. Not to mention, it uses fresh tomatoes and basil from your garden so it's fresh and summer-licious. We made these for a quick dinner the other night and they were a hit with the whole family. For my hubby and teenage son I added a few slices of deli turkey to give their's a little more protein. For the rest of us, we loved the fresh vegetables melted in between layers of cheese and pesto. Oh, it was lovely! Can't wait for you to try them 😉 Enjoy!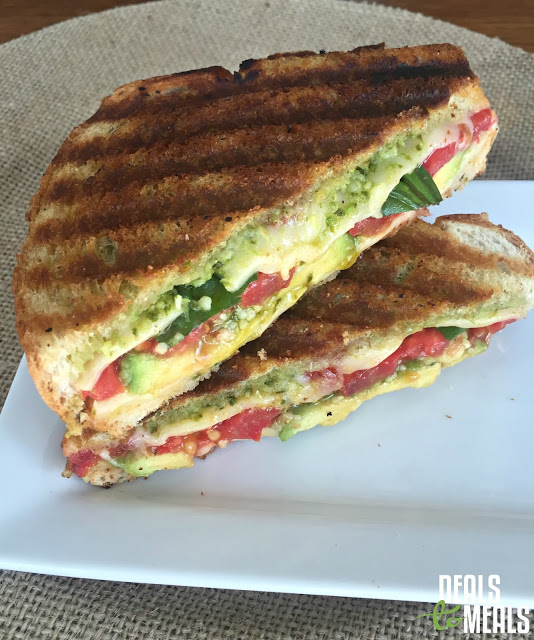 *Login to Deals to Meals to see where all of these ingredients are on sale in your area: tomatoes, avocados, cheese and bread are all on sale for great prices this week.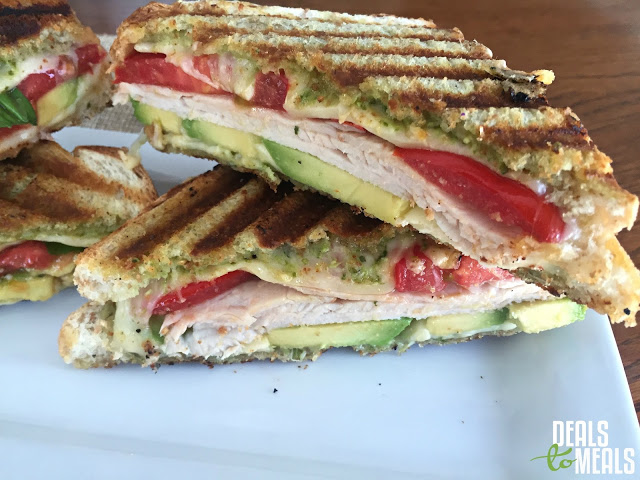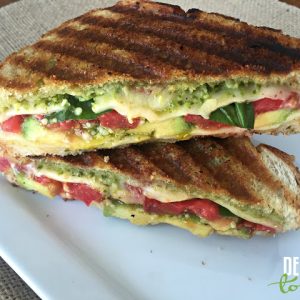 Ingredients
10-12

slices

of bread

2-3

large avocados

peeled and sliced

3-4

large

vine tomatoes

10

slices

cheese

provolone, Swiss or Monterey

6-8

fresh basil or spinach leaves

1/4-1/2

cup

pesto

1-2

Tbs.

mayonnaise

optional

2-3

Tbs.

butter
Instructions
Salt and pepper, to tastePeel the avocados and remove the seeds from the center. Slice the avocados into long, thin strips. Slice the tomatoes into thin slices as well. Slice the cheese if it is not already. Heat a panini griddle or a flat griddle and turn to medium heat. Assemble the sandwiches with some mayo and pesto on both sides of the bread (mayo is optional). Spread the pesto mixture. Place a slice of cheese on both sides of the inside of the bread/sandwich. Slice the tomatoes and avocados on top of one slice of bread. If you like fresh basil, place some basil leaves on the top of the avocados. If you are using turkey, you can add several slices to the sandwich at this point. Place the sandwich lid onto the sandwich after seasoning with salt and pepper. Spread a thin layer of butter onto each side of the sandwich and place on the griddle. Heat the sandwich until nicely golden brown on both sides and the cheese is melted. Serve sandwiches warm or cold.
Notes
HEALTHIER OPTION: Omit the mayonnaise to cut calories. Use less pesto than is called for. Use one slice of cheese instead of two and serve on whole wheat bread.