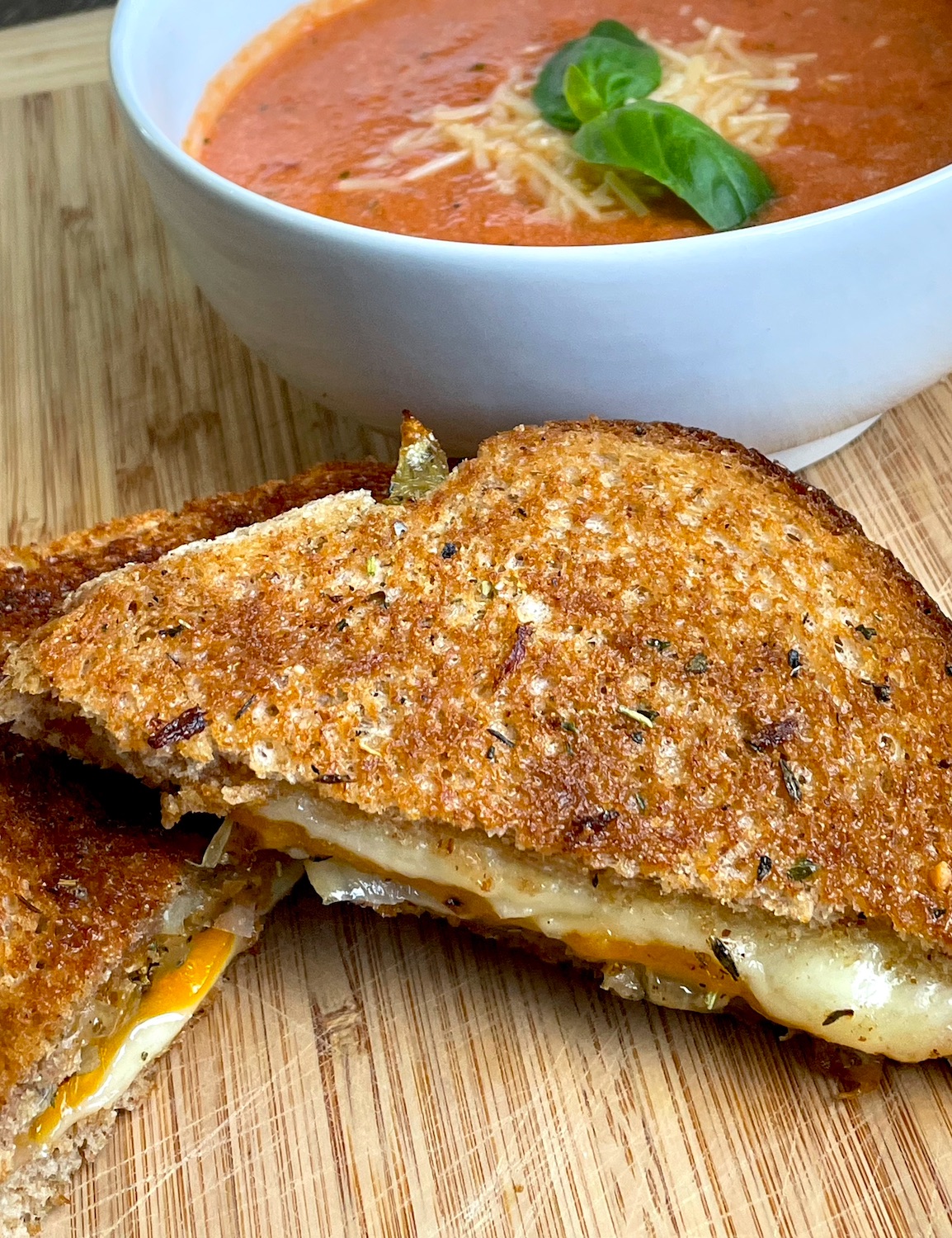 It's winter and that means it's the perfect time to enjoy Creamy Tomato Basil Soup with these Ultimate Grilled Cheese Sandwiches. The first time I made these sandwiches I was blown away with how much better, more flavorful and delicious they were than the traditional recipe. Best part about it was it didn't take more than an extra 7-10 minutes to take this grilled cheese to the next level!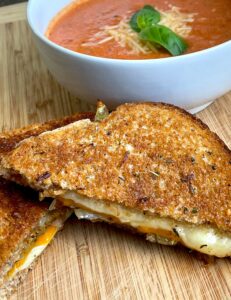 Okay, so what makes these grilled cheese sandwiches the ULTIMATE Grilled Cheese? Well, let me tell you. Some butter, caramelized onions, seasonings and garlic powder. The combo is the perfect side dish to any of your favorite soups. We made these sandwiches and soup with our cooking class and had the best time! They LOVED the sandwiches–even with the onions. Give these a try for a delicious and flavorful dinner your family is going to love.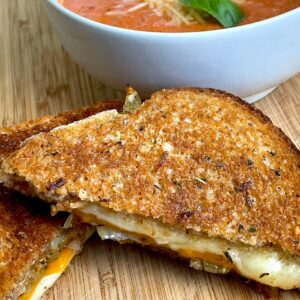 Ingredients
8

slices

of bread

4

slices

cheddar cheese slices

4

provolone or swiss cheese slices

2

white onions

sliced

1

tsp.

thyme

1

tsp.

rosemary

1

tsp.

brown sugar

Salt and pepper

to taste

4-6

Tbs.

butter

divided
Instructions
Slice the onions into thin strips. Heat a saute pan to medium-high heat. Add the butter into the pan and heat until butter is melting. Add the sliced onions. Season with the thyme, rosemary, brown sugar, salt and pepper. Let the onions saute until tender and then remove from heat and let rest while you assemble the sandwiches.

Heat a flat griddle to medium heat. Add some extra butter to the pan and let it melt a little. Place 4 slices of bread onto the griddle pan. Add one slice of cheddar cheese and provolone cheese. Add a spoonful of sliced onions. Add a top to the sandwiches. Let cook until the cheese starts to melt and is golden brown. Flip the sandwiches and sprinkle with the Garlic Seasoning Spread and cook on the other side. Transfer to a plate and serve warm with soup of choice.