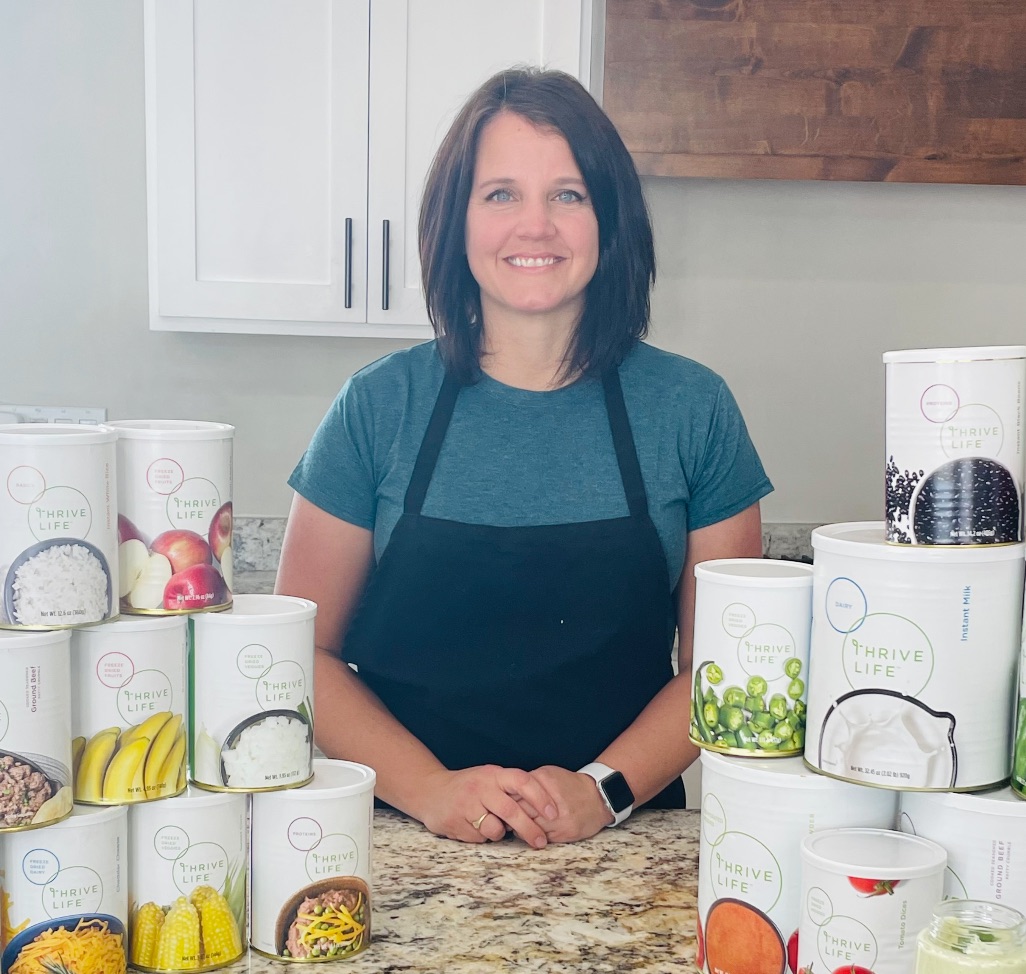 Thanks for tuning into our Instagram Live today! It was great to have you join me. I hope you are loving learning how simple and fun it can be to cook healthy recipes from your food storage. Here are the recipes I made today so you can add those to your week's meal plan or keep on hand to help rotate through your storage. You can also use fresh produce and meat instead of freeze dried items if you have those on hand. No matter what ingredients you use, you're going to love these simple recipes!
Get all of the Thrive Life SALE ITEMS I mentioned in our segment HERE! This is the VERY best time to stock up on items you've been wanting to add to your food storage at the VERY lowest prices!! Don't forget the MILK too. This is a favorite product of mine and it's on sale again–wahoo! Thrive Life Milk is the very best powdered milk you will EVER store. Forget the days of clumpy, disgusting, awful powdered milk. Thrive's milk tastes just like it's being poured out of your milk jug from the store. It's amazing……and it's on SALE!
Baked Beef Chimichangas are a fan favorite you can make in about 10 minutes. I LOVE using Thrive Life meats in my meals when I'm in a hurry and don't have time to cook up fresh meats. Thrive Life meats are all natural, healthy and take only 5 minute to hydrate and use in your recipes. These chimichangas can be baked, fried or just enjoyed as a burrito. You're going to love this recipe in a pinch!
Spanish Rice is such a fresh and delicious side dish to any of your favorite Mexican meals. This recipes comes together in literally 5 minutes using Thrive Life Freeze Dried items. Isn't it a beautiful dish ALL made from food storage? it's amazing! Not to mention many of the ingredients are on sale this month.
If you love Cafe Rio's famous Creamy Cilantro Lime Dressing, you are going to LOVE this copycat recipe! It is so great as a dip, on salads or served with these delicious Beef Chimichangas.
This Hot Corn Queso Dip is unreal good! It's such a delicious side salad or dip that will be gobbled up before you get it to the table. Serve plain, as a side dish or serve with tortilla chips. It's so delicious and made completely from food storage ingredients ON SALE. Check out our Instagram Live to see me make this recipe.
Give this Spicy Refried Bean Dip a try. It's all made from food storage ingredients and comes together in about 5 minutes. It's a delicious side dish that goes well with most meals or you can enjoy it as a simple appetizer!