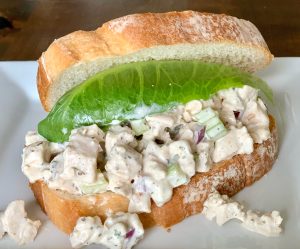 Look no farther for the best chicken salad on the web! We have created it and you won't need to look any longer. This recipe is flavorful, seasoned perfectly, delicious and moist. In our area we have the greatest little bakery called Village Baker. Two of my 3 teenagers have worked there and our family has benefited from all of the delicious leftovers they get to bring home. They have a sandwich that is a favorite of all who try it! The Chicken Salad Sandwich is the only version that rivals a homemade version. Their Turkey Provolone sandwich is also delicious but it's hard to beat the Chicken Salad.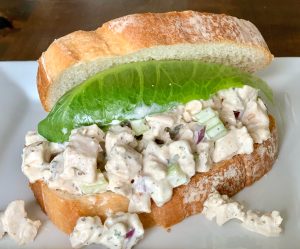 I make homemade chicken salad all the time, but their recipe had so much flavor, herbs and the BEST texture I have ever had in a chicken sandwich. I decided I would set out to recreate their recipe, and I think we nailed it!  There are a few spices and ingredients, but don't be scared. The combination of flavors is totally worth the extra effort of adding a few extra spices.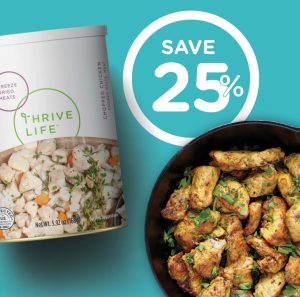 The other part of this recipe that's awesome is it can be made with freeze dried chicken or canned chicken. You know me, that I LOVE, LOVE Thrive Life's freeze dried chicken. It is so tender, flavorful and perfect for these sandwiches. The past couple weeks I have made this recipe THREE times with Thrive Life chicken. It comes together in only minutes and the texture is exactly the way they serve it at Village Baker. If you need a meal in a hurry, use your Thrive Chicken and give these sandwiches a try. You are going to love them! Don't forget to take advantage of the Thrive Life Bulk Sales on chicken this month. Head HERE to find a bulk order in your area and save an additional 20-25% off the sale prices.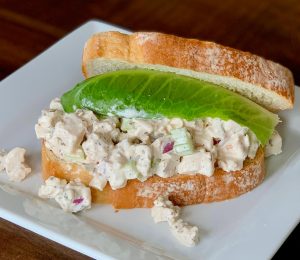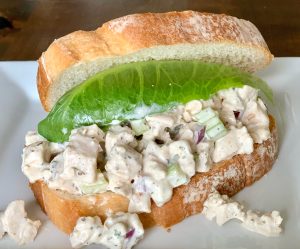 Ingredients
4

cups

cooked

diced or shredded chicken

1/2

cup

celery

diced

1/2

cup

green onions

sliced

1

apple

diced

1/2

cup

grapes

diced

1

cup

mayonnaise

1/2

cup

sour cream

2

Tbs.

lemon juice

2

Tbs.

milk

1

tsp.

garlic powder

1

tsp.

Montreal Seasoning

1/2

tsp.

black pepper

Dash cayenne pepper

1

tsp.

lemon pepper
Instructions
Cook, dice or shred the chicken and place in a mixing bowl. Add the celery, onions, grapes and apples to the chicken and toss. Add the ingredients and seasonings and toss. Add a little extra mayo if needed. Keep cold until ready to serve in a roll, croissant, on bread or in a tortilla.