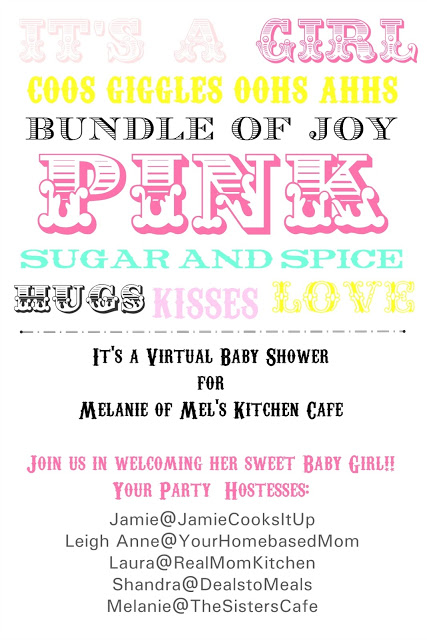 Welcome to our one of kind virtual baby shower for our good friend Melanie, of Mel's Kitchen Cafe! She is my all-time favorite food blogger and several of her favorite fans have put together a virtual baby shower for her, and her sweet baby girl. Melanie has four boys and is having a little baby girl, so of course, the theme of our shower had to be 'everything pink'! I am so excited for Melanie & her family. Boys are adorable, crazy, rambunctious and fun, but there is something special about a sweet baby girl. It has been 9 years since my last daughter was born, and with 2 additional boys, and 12 boy cousins later, we are desperately missing baby girls (and pink) around here!
So, in honor of Melanie's cute baby girl, a few of us have conjured up some of our favorite pink recipes to share with you today. I was given the assignment of a pink drink, but couldn't help but share a favorite pink appetizer and pink dessert too (you know me…when it comes to food it's hard for me to not go overboard).
Let's start with my go-to specialty drink that I always use when I am throwing a shower or planning a party. This drink is super easy to throw together because it only uses three ingredients (all of which I usually keep stocked in my pantry & freezer). This drink is also perfect on a hot spring day when you need to cool off with something nice & refreshing. Enjoy!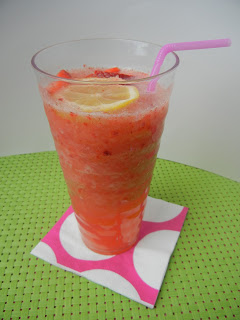 Berry-licious Fizzy Pop
1 (2 liter) grapefruit soda pop (Fresca or generic brand)
14-16 oz. frozen raspberries or strawberries (raspberries is my favorite, I just happened to have strawberries when I made this drink the last time)
12 oz. white grape juice concentrate
3-4 c. crushed or pebbled ice cubes
1 c. chopped fresh raspberries or strawberries
1 lemon, sliced thin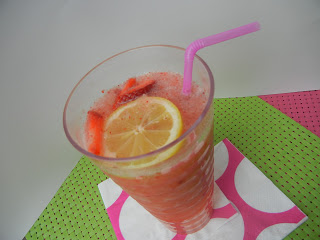 This recipe will make two drink pitchers full, or you can mix and add to a large punch bowl or drinking container. In the pitcher, mix together the grape juice and soda pop. Add the frozen berries and crushed ice and stir. If you use frozen whole strawberries you will want to coarsly chop (or puree with a hand wand) the berries. Frozen raspberries do not need to be crushed because they will naturaly fall apart when you stir the drink. Puree the drink as smooth as you like it (it's great with large pieces of ice, or totally smooth..just do whatever texture you prefer). Serve with pieces of fresh strawberries & sliced lemons to add additional color & flavor.
Strawberry butter on homemade Lion House Rolls–it doesn't get better than that! Pink, smooth & melts in your mouth 😉
My friend brought this Cherry Chocolate Chip Dip to a girls lunch the other day and we all could not get enough of it! It took all I had to not lick my plate after my fruit was all gone. We all could not leave until we got the recipe from her. This fruit dip is SO incredibly amazing it will be very tempting to not dip your finger instead of a piece of fruit. I had leftovers of this dip in the fridge and ate it by the spoonful when I was being naughty! This recipe makes a lot, so use half as a dip and the other half in these amazing cupcakes (recipe below).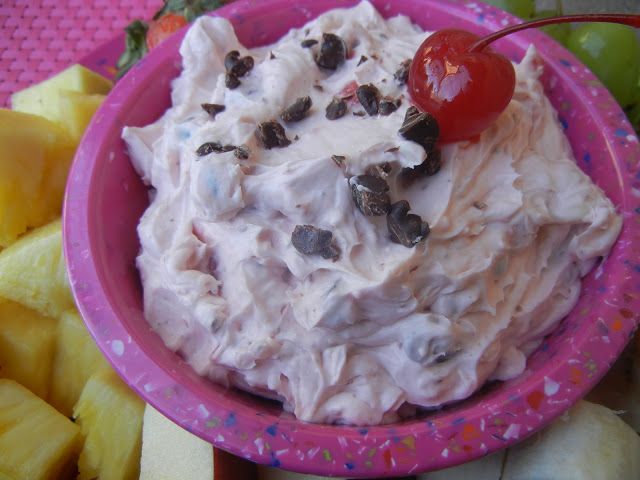 Cherry Chocolate Chip Dip
16 oz. cream cheese, softened
3/4 c. heavy whipping cream
2/3 c. sugar
1/2 c. (heaping) maraschino cherries, chopped
3 T. maraschino cherry juice
1/3 c. white chocolate, coarsley chopped
1/3 c. milk chocolate, coarsley chopped
1 t. vanilla
1/2 t. almond extract
Pinch of salt
Favorite fruit, cut into bite sized pieces
In a food processor or with a hand chopper, chop the cherries and chocolate (Be careful processing the chocolate, it might melt if you chop it too much and too fast. A nice quick chop is good enough) In a bowl, cream together the cream cheese, sugar and heavy whipping cream for 3-4 minutes with an electric hand mixer (you want this portion of the dip extra smooth & fluffy). Add the remaining ingredients and continue to beat with the hand mixer until mixed well. Place the dip in a serving bowl and serve with pieces of your favorite fruit (strawberries, bananas and; pineapple are our favorite).
This next recipe is definitely the last the best of all the gang. These are bar-none the BEST cupcakes I have ever created!! They are full of amazing cherry flavor, are extremely moist and covered in everything creamy & yummy. The whipped cream on the top of the cupcake is the perfect smooth topping without being too sweet & heavy. These cupcakes will forever be my new, favorite cupcake. Not only are these cupcakes delicious, but they are totally cute…especially for a girl's baby shower. I hope you have enjoyed these perfectly pink recipes as much as I did while making them.
Cherry Chocolate Chip Cupcakes
1 box devils food cake
1 small instant chocolate pudding
3 eggs
2//3 c. maraschino cherry juice
1 c. water
1/2 c. sour cream
12 oz. bag milk chocolate chips (I like the mini chocolate chips)
In a bowl, mix together the cake mix, dry pudding mix, eggs, juice, water and sour cream until smooth. When lumps of cake mix are smooth and everything is combined, fold in the chocolate chips. Pour the batter into 24 greased muffin tins. Bake at 350 for 20-25 minutes, or until a toothpick poked in the center of the cupcakes comes out clean. Let cupcakes cool until ready to frost.
Frost the top of the cupcake with the extra Cherry Chip Dip (recipe above–mine is a little more pink because I added a little more maraschino juice trying to get it to thin out so I could pipe it inside the cupcake…it didn't work so well, so next time I would just use the dip recipe as usual and frost the cupcake ;). For the topping of the cupcake, beat in a bowl 1 c. of heavy whipping cream, 1 T. maraschino juice and 3 T. powdered sugar. Once the cream is whisked to a stiff peak, place in a piping bag and pipe on top of the cherry dip/frosting. Top the cupcakes with a maraschino cherry for an added touch 😉
Remember to check out all of the recipes on this virtual baby shower! Each of these women have amazing food blogs and I am sure you will enjoy yourself browsing through all of their mouth watering recipes.
Good luck Melanie with your new baby! We are so happy for your and your beautiful family. Can't wait to see pictures of your sweet girl!!