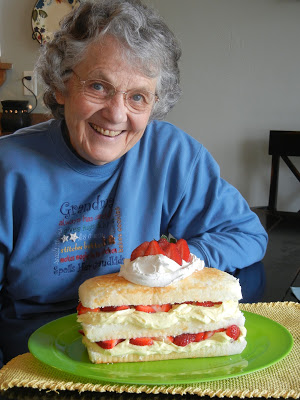 Mother's Day is not always my favorite holiday. You know, the guilt, the expectations…I tend to make the day less than appealing for us all (why are we so hard on ourselves as women??). However, if I think of MY amazing mother and not the mom I wish I were, I can make it through the day and enjoy time spent together as a family. We love to get together for a Mother's Day brunch or breakfast and celebrate what amazing women we are blessed to have around us so close. We had a delicious brunch with some of our favorite 'chick' food. Here are a few recipes & favorites that will hopefully help the planning of your Mother's Day activities go a little more smoothly.
Tropical Chicken Pineapple Salad
3 boneless skinless chicken breasts, grilled & seasoned with Montreal Steak Seasoning (or salt/pepper)
1 & 1/2 heads romaine lettuce, chopped
2 mangos, peeled and seed removed (1 for dressing, 1 for salad), diced
1 fresh pineapple, cored and peeled (3/4 c. for the dressing and 2 c. for the salad), cut into chunks
2 c. tortilla chips
1/2 c. feta or gorgonzola cheese
1 red & orange bell pepper, diced (any color would do)
Dressing:
3/4 c. mayonnaise (or more if you like a thicker dressing)
3/4 c. fresh pineapple
1/4 c. mango, diced
1/3 c. sugar
3/4 c. rice vinegar
1/2 t. garlic powder (or 1 clove)
Dash paprika
1/2 t. dry mustard
Dash cayenne pepper
1/2 t. salt (to taste)
Grill the chicken until cooked through (or saute in a pan). Dice the chicken into bite sized pieces. Chop the romaine lettuce. Dice the vegetables. Peel and dice the pineapple and mango. Puree the dressing until smooth and serve over salad with all of the remaining salad ingredients and the grilled chicken.
End your brunch with this amazing EASY angel food cake dessert that is semi-homemade, but OH, SO delicious!!
Layered Angel Food Cake
1 bar angel food cake (homemade or store-bought)
16 oz. strawberries, washed, leaves removed and sliced
2 T. sugar
6 oz. vanilla instant pudding
1 1/2 c. milk
8 oz. Cool Whip (or whip up some real whipping cream…even better!!)
Slice the strawberries and place in a bowl with the sugar. Stir around and let the strawberries sit for a minute. Slice the angel food cake into three pieces horizontally. Place the bottom layer of the angel food cake onto a decorative plate. In another bowl, mix together the pudding and milk until smooth. Once the pudding is thick, fold in a little more than half of the Cool Whip until the mixture is combined. Spread half of the pudding mixture onto the top of the bottom layer of angel food cake. Spread a layer of strawberries on top of the pudding. Place the middle layer of the angel food cake on top of the strawberries. Spread with the rest of the pudding mixture. Layer some more strawberries on top of the pudding and place the top of the angel food cake on top of the strawberries. Top the angel food cake with the left over Cool Whip and garnish with a few more strawberries and mint leaf.