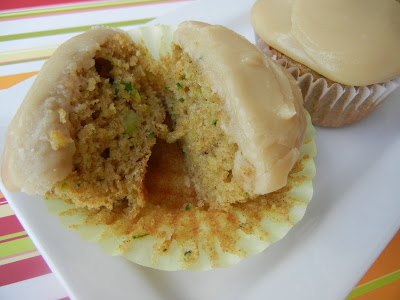 It's Pioneer Day this weekend here in Utah and our family always gets together for a delicious breakfast and then we watch the parade. With zucchini coming out our ears we decided to have a breakfast filled with zucchini and items from our garden. We had our favorite Zucchini & Eggs (sounds strange I know..but trust me, it's delicious!!), fresh fruit, french toast with butter syrup and Zucchini Muffins. These muffins are so moist and with the addition of the wheat flour and pureed beans I don't feel as bad about the buttery caramel frosting (which I could eat by the spoonful!!)
I had a good laugh the other day I made these muffins. There were several neighbor kids over so I gave them each a muffin to help get them by before dinner was done. All of my kids snarfed down their muffin and one of the nieghbor's five year old boy was staring intently at his muffin but not eating it. Finally he turns to my son and says, "Isaac..I don't like your mom's muffins, they have boogers in them." I laughed so hard I almost cried. The look on his face was priceless. I told him not to worry, that his muffin has zucchini in it, not boogers. He had never seen a zucchini so I had to take him up to the garden to see what they looked like. Once I put his mind at ease, he ate up his muffin and even asked for another. Good times!
[buymeapie-recipe id='868′]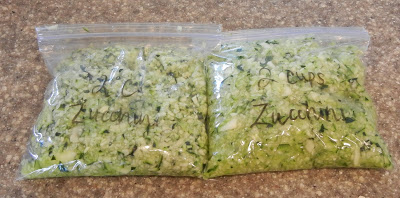 One tip with zucchini. If you have a lot of it, just shred it and put it in bags for later in the freezer. The shredded zucchini is great for
breads
and
muffins
in the winter when you don't have any zucchini on hand 😉
Zucchini & eggs is something I grew up on in the summer. I love it and strangely enough even my kids love it. I guess enough cheese will make anything taste good! I hope you enjoy this as much as I do.
[buymeapie-recipe id='869′]