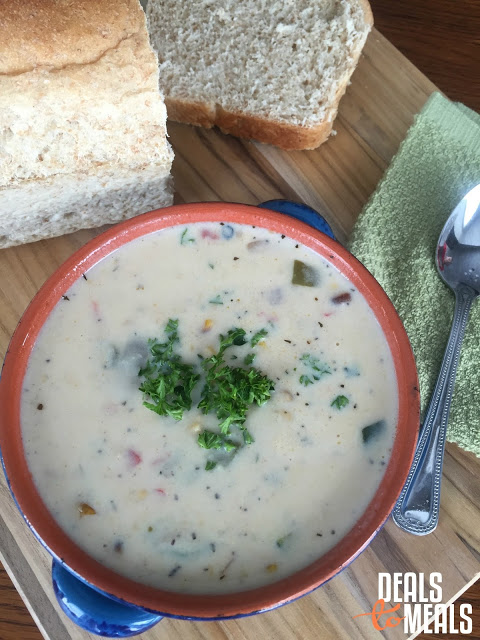 What better way to start the week off than with a pot of creamy chowder, packed with lots of healthy vegetables and exploding with flavor? We have a local restaurant that my sisters and I love to go to. It's kind of a 'chick place' according to our husbands, so we take full advantage and go there as often as we can. This place (Zuppa's) has the most amazing selection of soups. Every time I go I try and force myself to try a new soup. Even though I have my favorites, I always want to try their new flavors and get some inspiration for new recipes.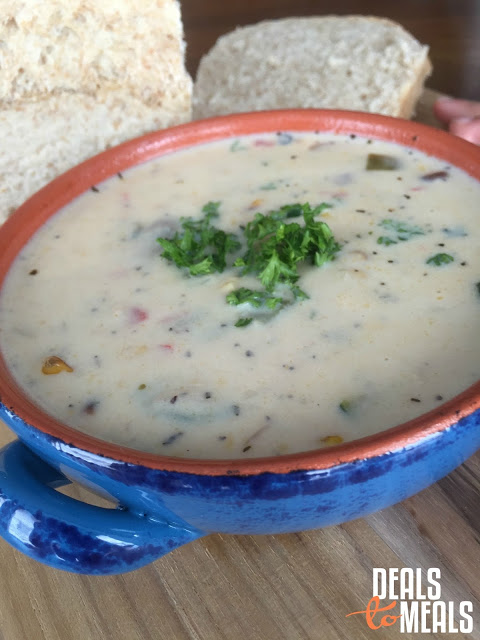 The other day we were celebrating my sisters birthday and I tried their Garden Chowder. Who knew that a bowl of vegetables in a cream sauce could be so fantastic! I am not one who likes things with a lack of flavor, and I was shocked when this soup had so much flavor, you didn't even miss the fact there was not meat. I knew this was going to be a soup I had to recreate at home and I was so pleased that the finished product tasted nearly identical to the one at Zuppa's. Now, I would always take a clean kitchen and a night out with girlfriends, but on a cold, winter night, this soup is exactly what my soul needs! Hope you enjoy 🙂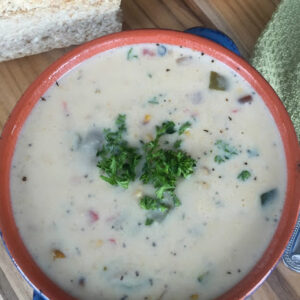 Ingredients
3

small zucchini squash

2 to

matoes

diced

1

onion

diced

1

red bell pepper

diced

1

green bell pepper

diced

2

Tbs.

olive oil

3

garlic cloves

minced

1

tsp.

salt

or more to taste

1

tsp.

Italian seasoning

1

tsp.

black pepper

1/2

cup

flour

4

cups

chicken broth

6

cups

milk or half & half

2

cups

frozen corn

1/2

cup

parmesan cheese

shredded

1/4

cup

fresh parsley

chopped
Instructions
Dice the zucchini squash into pieces. Dice the tomatoes. Dice the onion and bell peppers. Heat a large soup pot to medium-high heat. Drizzle the olive oil into the pot. Add the zucchini, tomatoes, peppers and onions to the pot. Saute the vegetables until they turn a nice, golden brown color (you want them a little caramelized). Add the garlic, salt, basil, oregano, pepper, and cayenne pepper to the pot and continue to stir. Add the flour to the vegetables and stir to coat the vegetables in flour. Once the flour has coated the vegetables, add the chicken broth and milk to the pot. Stir the soup until it begins to thicken and turn to medium-low heat to simmer. While the soup is simmering, pour the frozen corn onto a baking sheet. Spray the corn with non-stick cooking spray. Turn the oven to broil and bake the corn until the tops are dark, golden brown and roasted. When the corn is sufficiently roasted, remove from the oven and pour the corn into the soup. Stir the soup. Continue to simmer the soup until it becomes the thickness you desire. Add the parmesan cheese and fresh parsley right before serving. Serve soup warm with fresh, homemade bread.
For a simple version to this recipe, use Thrive Life freeze dried vegetables, milk and even chicken if you want to add a protein. Simply add the dried vegetables to the warm broth and simmer.