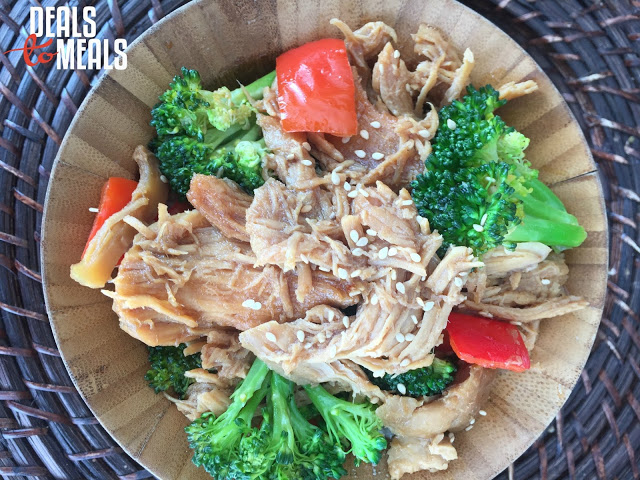 Have you logged into Deals to Meals lately? There are some great grocery deals this week! Every Valentines Day you will see items like chocolate chips, sugar, lobster, shrimp, steak, potatoes, asparagus and everything you need for your special Valentine's meals. Many of these items are on sale for stock-up prices, so login and save some BIG money shopping the deals!
I wanted to highlight one of our delicious recipes from our meal planner this week. This Slow Cooker Teriyaki Chicken was SO yummy and a huge hit last night with my family. And the best part about it, is this entire meal costs less than $7 for a family of 7!! That's only a dollar per person. How great is that?! Not to mention this meal is super healthy and takes less than 15 minutes to throw together. Fabulous! Hope you enjoy 🙂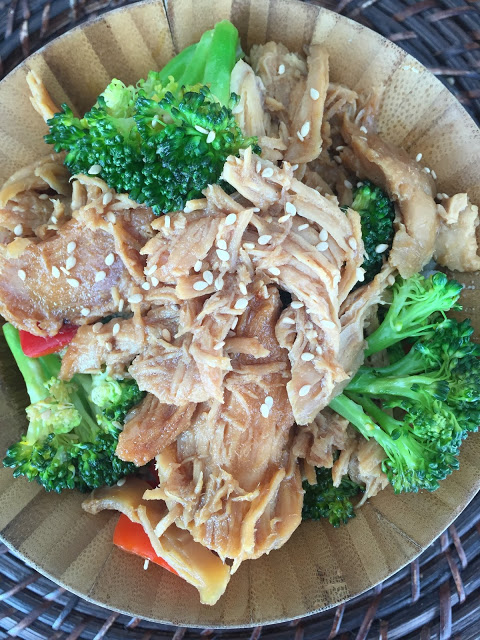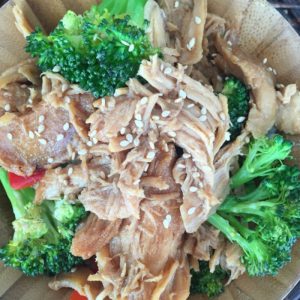 Ingredients
2-3

cups

Yoshida's Oriental Sauce or Teriyaki Sauce

or make homemade

1-2

red bell peppers

diced

1

large bunch broccoli

1

onion

diced

Cooked rice

brown or white
Instructions
Place the chicken into a crock pot. Add a half of a cup of the Yoshida's sauce over the chicken. Turn the crock pot to low heat and cook the chicken for 4-5 hours (or 3-4 hours on high heat), or until the chicken is tender and able to shred. Once the chicken is cooked, remove most of the juices from the chicken and keep the chicken in the crock pot. Pour the remaining Yoshida's or Teriyaki sauce over the chicken and shred into large pieces. Put the lid back on the chicken and let it keep warm while you prepare the vegetables and the rice.

Cook the rice in a rice cooker or on the stove until tender. For the vegetables, rinse off the vegetables and cut them into bite sized pieces. In a saute pan, add a drizzle of olive oil (or sesame oil) and turn the heat to medium-high heat. Add the onions and saute until tender. Add the cut up pepper and broccoli and continue to saute, just until soft, but not mushy. Add the vegetables to the crock pot. Once the rice is cooked, serve the shredded chicken and vegetables over the rice. If you need more sauce, add more sauce to your bowl as needed. Garnish with sesame seeds (optional).
Notes
HEALTHIER OPTION: Serve over brown rice instead of white rice.