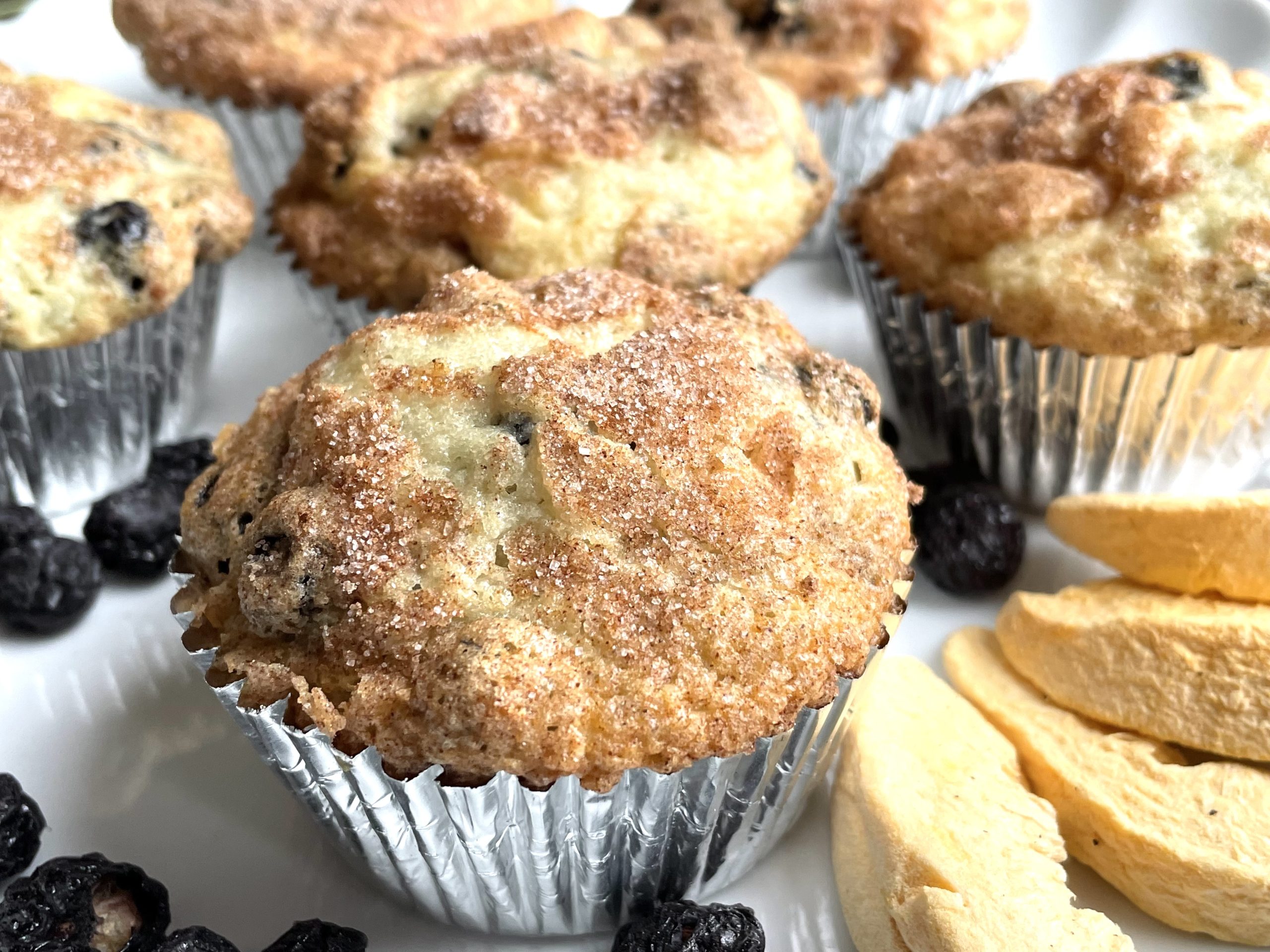 There are few recipes easier than this one. If you need a quick snack, a simple dessert or a new way to use the freeze dried food in your storage, this recipe for Peach Blueberry Muffins is for you! I LOVE Thrive's dried peaches and blueberries. They are one of my favorite healthy snacks. My kids also love them and bring them on camp trips, to school and snack on them during the day. I know they are not the least expensive snack, but SO much healthier than a fruit snack or granola bar. It's the little food choices that make the big difference.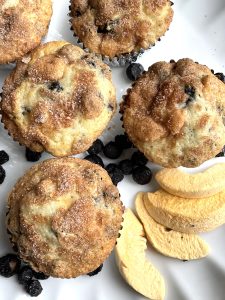 Why not give your kids BOTH–a treat and fresh fruit? These muffins are a fun way to start your day or end it with a little sweet, moist, amazing snack. You can make this recipe a little healthier by using coconut oil instead of vegetable. You can also use all egg whites instead of yolks if you wish. Either way, they are delicious in every way!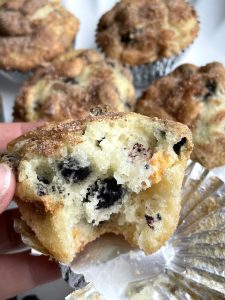 Check out some of the Thrive items on sale this month. I am SO happy they have peaches, pineapple and blueberries on sale this month for 20-25% off. These are three of my favorite fruits to stock your food storage with. Check out this month's deals HERE.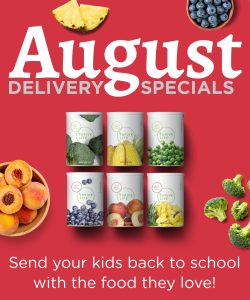 If you want a SIMPLE & EASY way to stock up your food storage for around $100 a month, sign up for Thrive's delivery service. I've done this for the past six months and I am shocked at how my storage has grown! Buying the sample pack each month is an easy way to add a bunch of variety to your storage, some healthy meats and dairy favorites to your storage every. single month. It's awesome and such a great way to stock up on a budget!
Of course if you want cans larger than the pantry size, buying these items in BULK is a much better option per ounce. Buying Thrive in bulk is a great way to get the highest quality food and the LOWEST prices available! Find a Bulk Order happening in your area.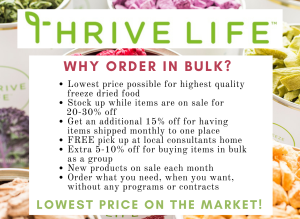 If you want to start a bulk order in YOUR area, email me at Shandra@dealstomeals.com and get you started (and get FREE food for you). It's like a produce group but for freeze dried food–genius! 🙂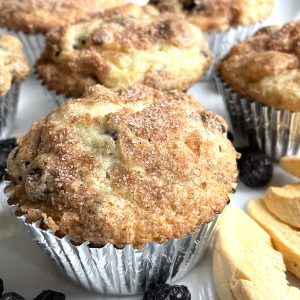 Ingredients
1

box white cake mix

1

cup

water

1 1/2

cup

freeze dried peaches

diced

3

eggs

1

tsp.

vanilla

1/2

cup

oil

1 1/2

cup

freeze dried blueberries

1

tsp.

cinnamon

2

Tbs.

sugar
Instructions
Preheat the oven to 350 degrees.

In a bowl, add the dry cake mix. In a liquid measuring cup measure one cup of water. Break up 1 1/2 cups of freeze dried peaches and add to the water. You want bite sized peach pieces. Stir the peaches and let sit for 1-2 minutes. Once the peaches are a little soft, add the water to the cake mix. Add the eggs, oil and vanilla and combine.

Prepare the muffin tins (the recipe makes 18 muffins) by placing a muffin liner in two muffin pans. Spray with a little cooking spray.

Right before spooning out the muffin batter, add the 1 1/2 cup dried blueberries and fold into the batter.

Spoon enough batter to fill each liner 3/4 of the way to the top.

In a bowl, mix together the cinnamon and sugar. Sprinkle each muffin with a little of the sugar mixture.

Bake for 13-15 minutes, or until fluffy and lightly golden brown.

Remove and let cool for a few minutes and then serve.
Notes
If you would like to not use freeze dried items, exchange the cup of water and peaches with one can (16 oz.) of peaches for the juice and the peaches. Dice the canned peaches and add to the cake mix as normal. Instead of using freeze dried blueberries, just use fresh (not frozen) or the muffins will be too wet. Bake as normal.