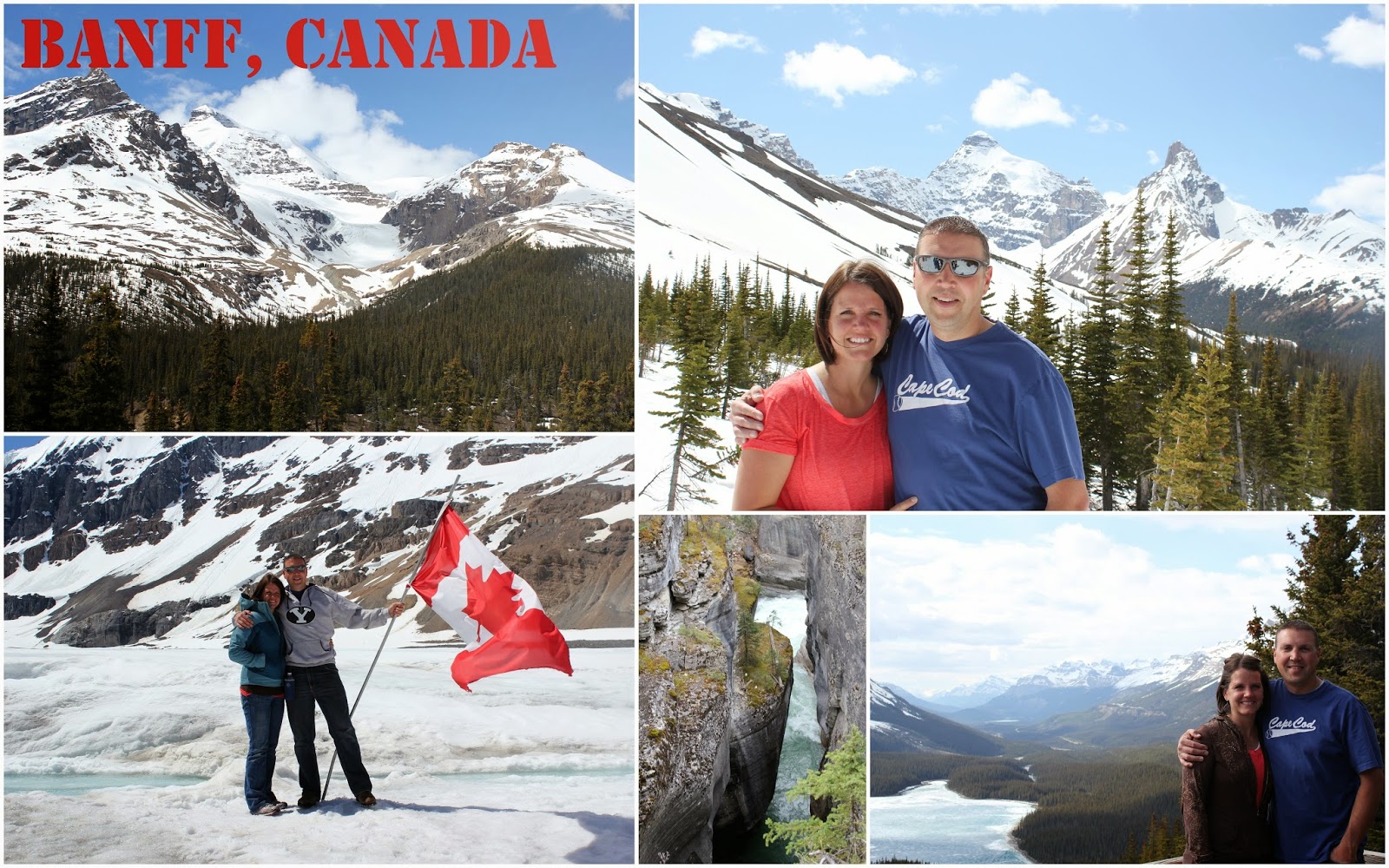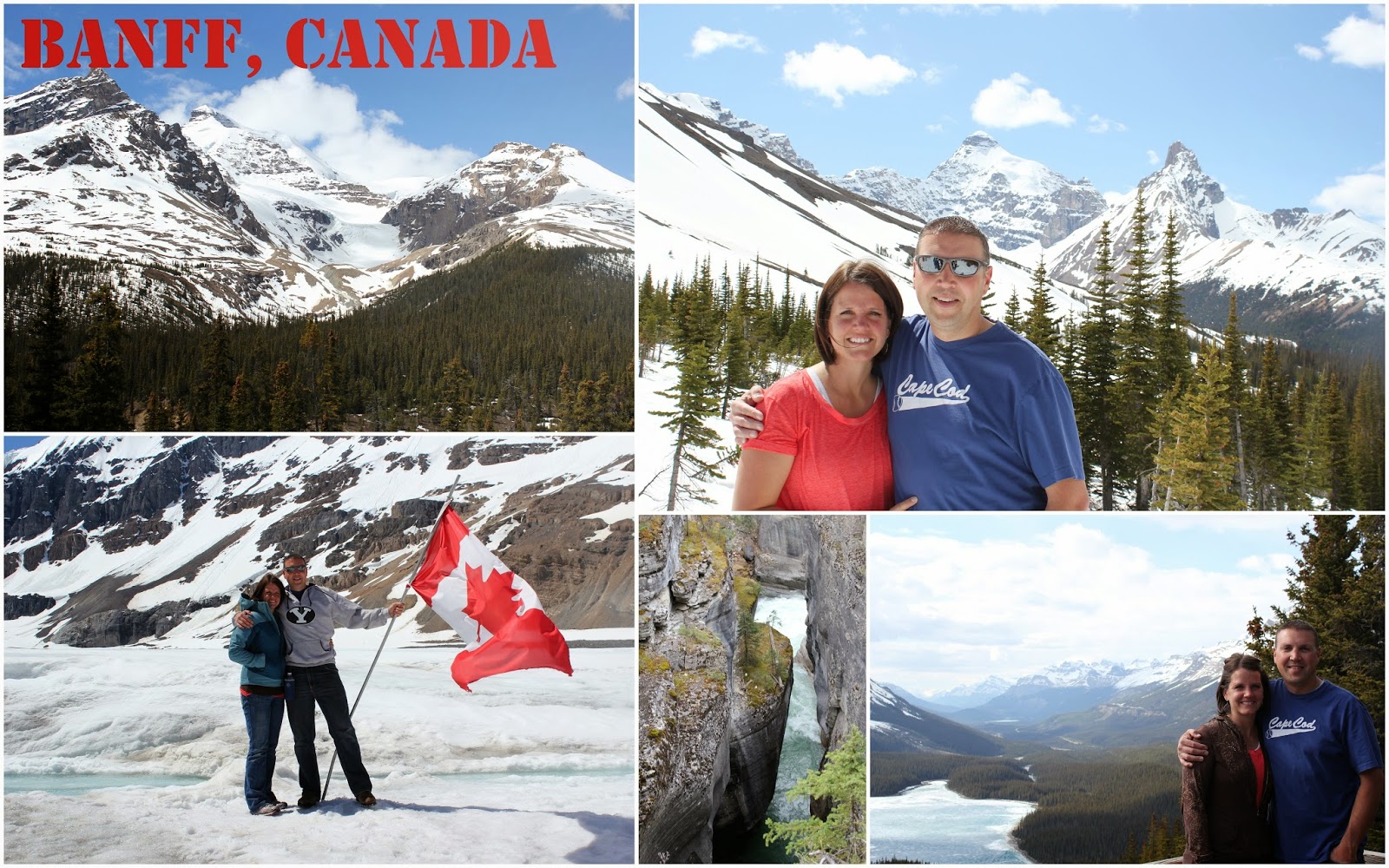 It is nearly summer and that means vacation plans are probably
in full swing at your house. It has been in our neck of the woods these past
several months. My husband and I spent the last several months planning a 10
day road trip to Banff Canada. This trip has been a dream of my brother in laws
and husband for over 5 years now. We were so excited it was finally time to
make their dreams come true. This trip was amazing
and I knew I had to share some tips with you when we realized this trip would
have cost us over $3,500 but we were able to get it around $1,600. That's a 10
day, amazing, majestic, dream-filled vacation for more than half the regular price!
Whether you are planning a couple's overnight getaway, or a
10 day long road trip, I have 12 simple ways to save you a lot of money. Here are a
few of the tips we found very helpful when planning our vacation. Use one tip,
or all 12 tips–you choose. Either way, I hope these tips help you enjoy a wonderful
vacation that fits into your family's budget 😉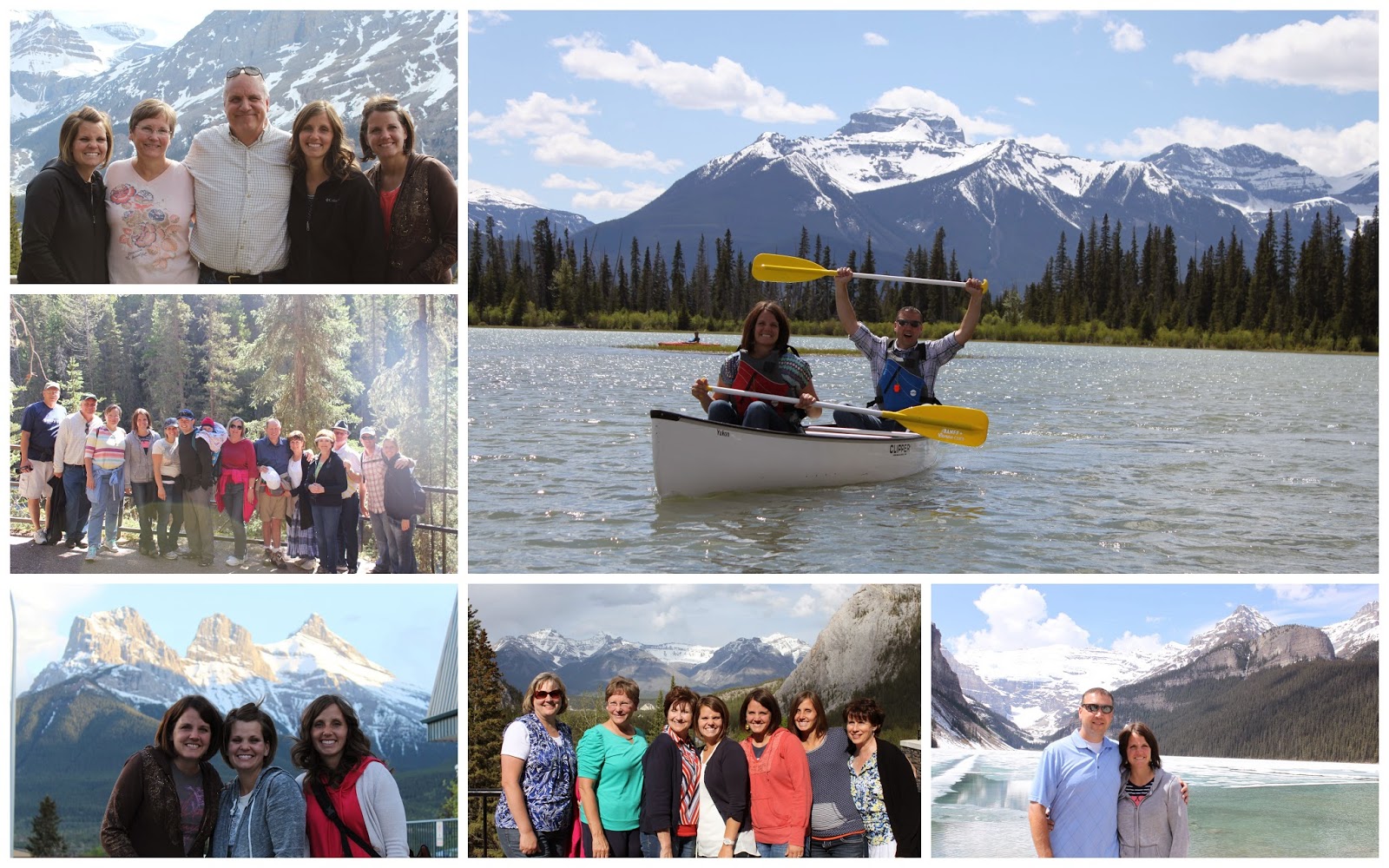 *Carpool with other friends and/or family to save
money on gas. We drove in two vans with 14 adults and gas was much
less expensive. We spent $350 on gas driving from Utah to Canada, all around
the different sites, and then back home. Divided by three couples in our van
that was only $115 each couple (a savings of 33%). Of course you can't drive to every vacation
spot, but for those destinations with that possibility it will save you BIG
over flying—especially with extra people. Our trip to Canada was over 14 hours away
but we divided it into two days. We also split a hotel room with my sister and
brother in law to cut our cost of the hotel too. This may not be comfortable
for everyone but it helped to cut the cost of the hotels each way in
half—that's $150 savings right there (all we did was sleep and wake up and go
anyway). We also found hotels with a continental breakfast to save us from
buying an extra meal. Driving in one car also saved us BIG on our pass into
Banff National Park. It is $120 for a week pass into their park. If it were
just my husband and I in one car we would have to cover that entire expense
ourselves. However, divided by three couples the $40 was much easier to
swallow.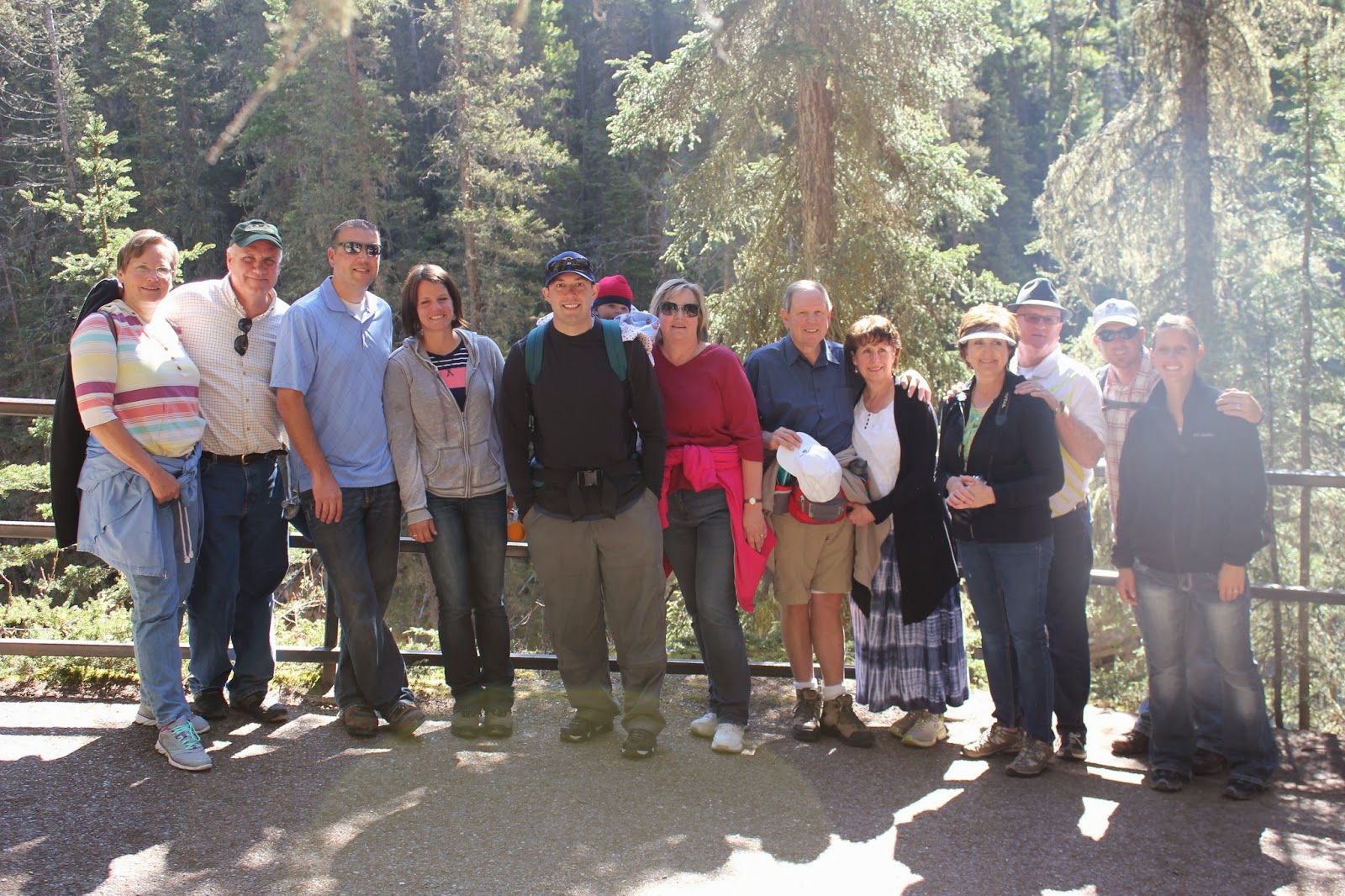 *Find lodging that can accommodate several couples.
We were able to use my parent's time share which allowed us to rent a three
bedroom Condo in Canada for only $900 for 7 nights. Divided by three couples
this was only $300 for the week or an average of $45 a night. If you are not
part of a membership to a time share you can find great deals on homes or
cabins that can be rented for inexpensive. Most of the time if you are staying
a week you can find better deals on home rentals than you can hotel stays. Our
favorite rental sites are
www.vrbo.com
or
www.expedia.com
,
www.hotels.com
, etc. Take your time and do
your research and watch the ratings carefully. We had 14 adults and one baby and we had a blast–the more the merrier is my philosophy 🙂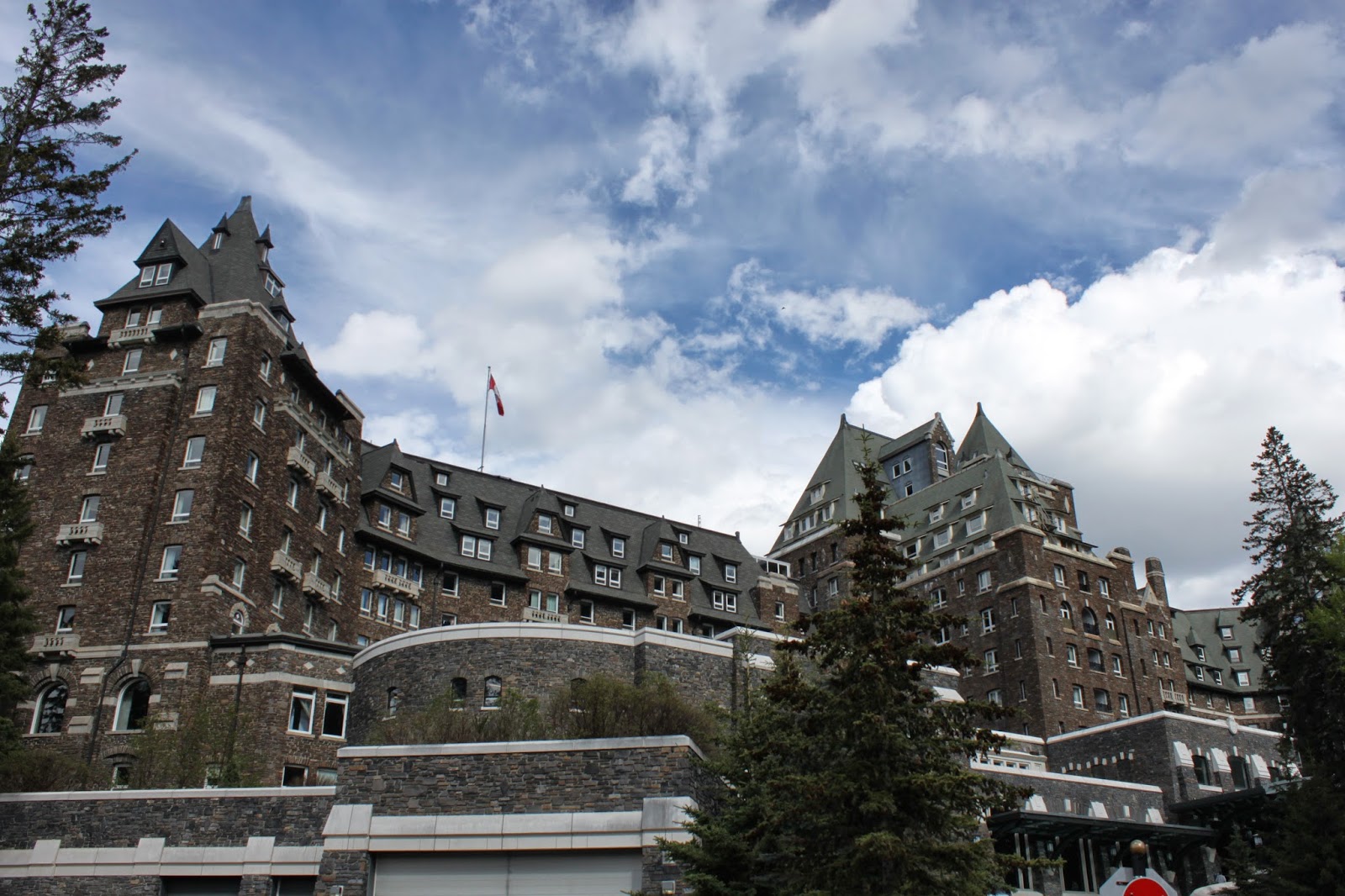 *Find a hotel or condo with a kitchen or with cooking
possibilities. There was a Costco 45 minutes away from Banff and so
we bought most of our groceries there and kept them in a cooler until we got to
our condo. The grocery prices in small towns or tourist towns are much more
expensive than they will be in the outskirts. Buying items in bulk at Costco
saved us a lot of money. We bought enough food to eat in our condo every
breakfast and lunch. This made it so we only ate out once a day which cut down
drastically on our food budget. If we were out hiking all day we would bring a
small cooler with lunch items that we could all share.
*Plan ahead to eat "in" a few times during your stay.
Although eating out is one of the highlights on our trips, I always look forward
to eating in at least a few times during the week. We planned to eat at our
condo Sunday and Tuesday. Before we left we brought all of the pantry items we
needed from home for the two recipes we knew we would be making (Bolognese
Spaghetti & Sticky Coconut Chicken). When we were in Canada we picked up
the few produce and dairy items we needed and then our meals were ready to go.
For 7 breakfast meals, 6 lunch meals and 2 dinner meals our group only spent
$47 per couple. That's only a little over $1.50 a meal per person. Compare that
to our average $50 meal in Canada and that's a huge savings!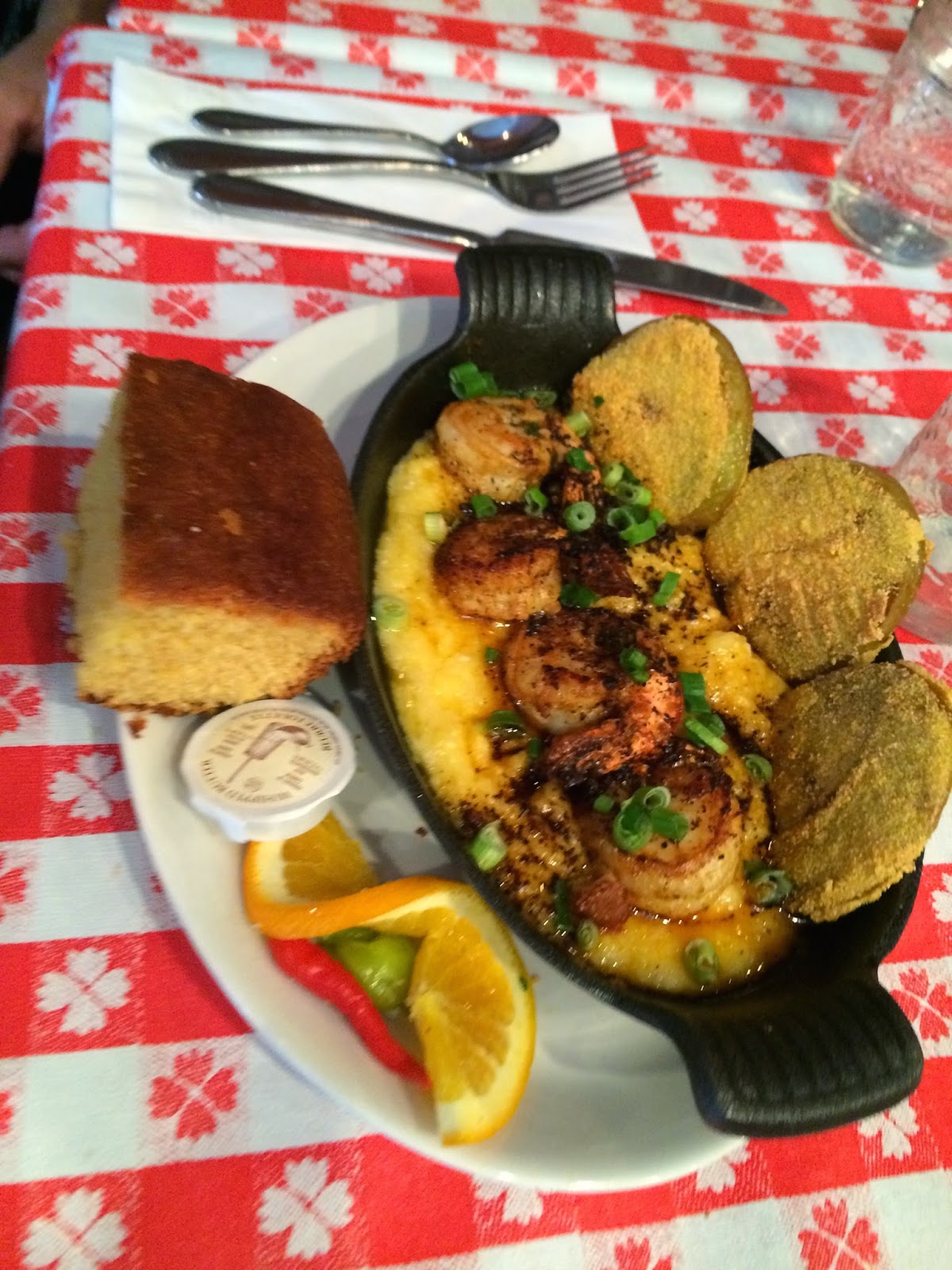 *Do your research on restaurants before you go on your
vacation.
With the help of my brother in law we had all of our
restaurants picked before we went on our trip. In each city we stayed in we did
some research and found restaurants that would fit within our budget, and that
would serve food we liked. Use sites like
www.urbanspoon.com
and
www.yelp.com
. We also love to check for
Diners, Drive-Ins and Dives for small Ma & Pop places that might be a
diamond in the ruff 😉 Before we left on our trip we had a pretty good estimate
as to how much our eating out would cost. There are few things more awkward
than sitting down at a restaurant and realizing the least expensive item on the
menu is WAY over your price point. Save the embarrassment and do your homework
ahead of time. This will help you stick more closely to your budget. Many times
you can also find coupons for local restaurants online or at your hotel.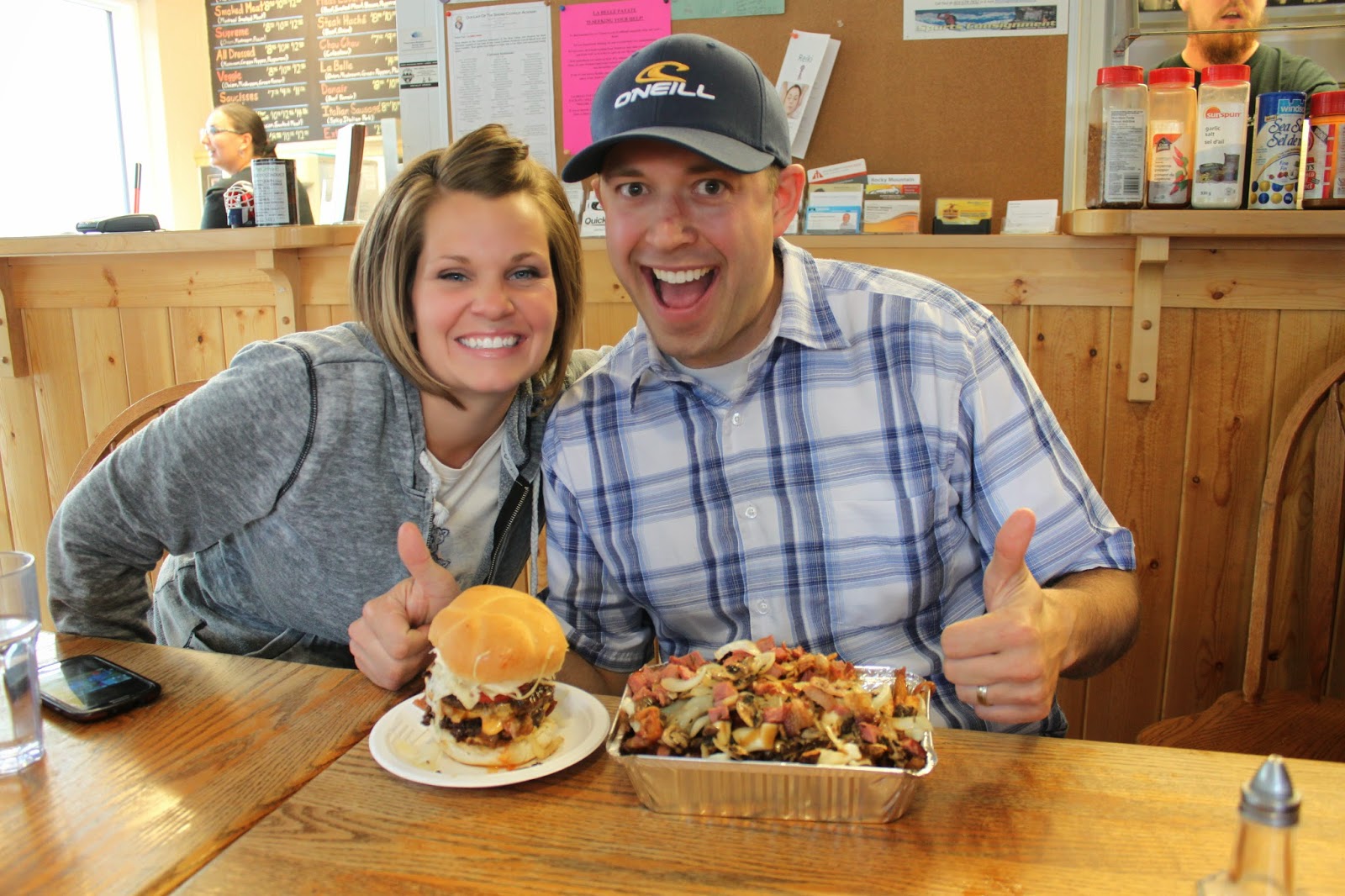 *Share meals when possible. My husband is a
big eater and so am I. However, one way we save money is by sharing meals when
possible. We have found at most restaurants we can order one appetizer and
share a meal and be sufficiently fed. I can't talk my husband into doing this
every time, but the times we can, this helps cut the cost of our eating out.
Having leftovers on vacation don't work very well, so it's better to be a
little under fed verses waist money on food you can't save for later. Also,
when possible, choose restaurants that offer a free appetizer to your meal
(bread and butter, chips and salsa, etc.). This will help fill you up so it's
easier to share a meal 😉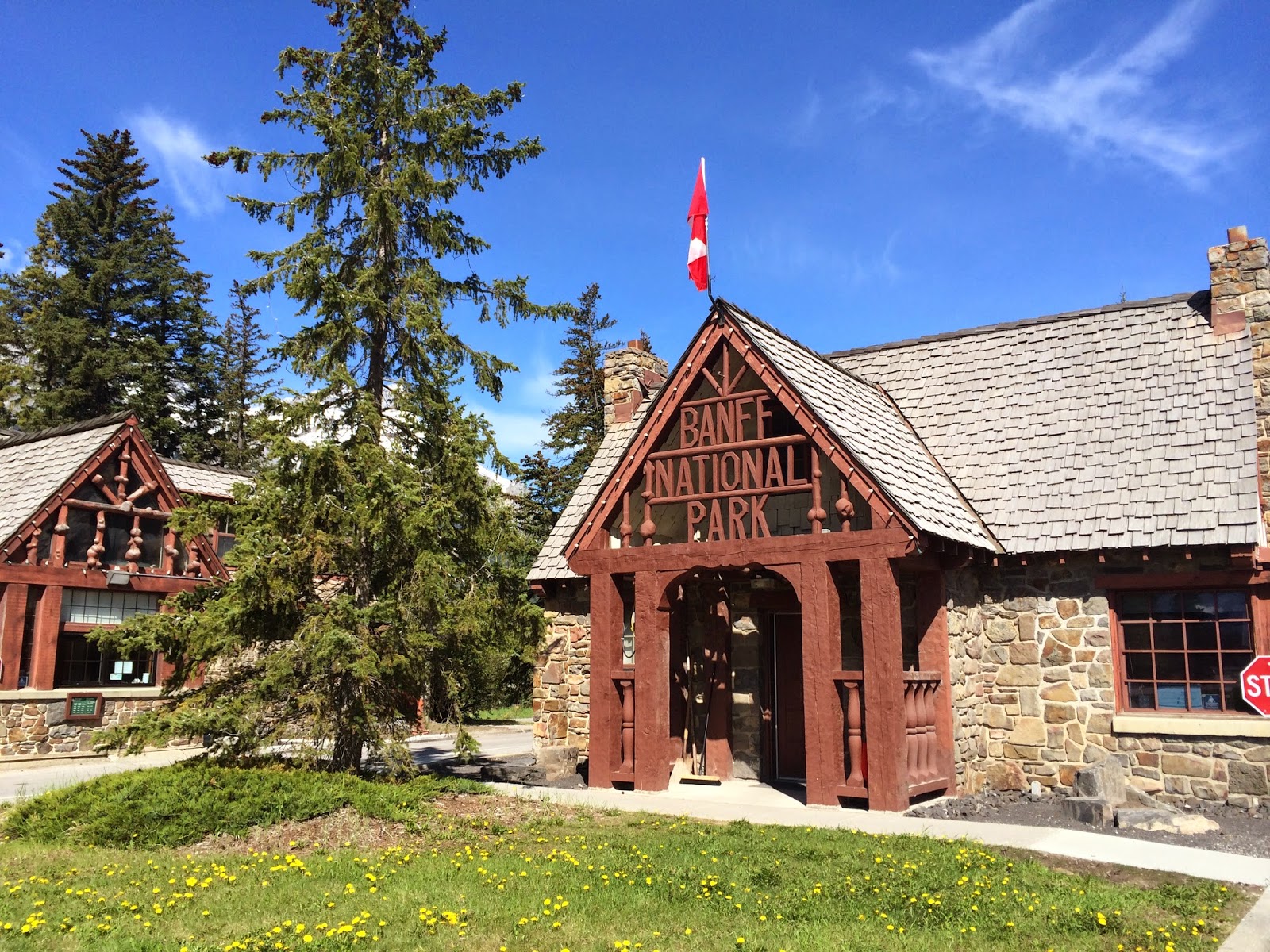 *When doing activities, look for group discounts.
We found that with our group of 14 we were able to do many excursions with
group discounts. With groups of 6 or more we were able to get a 20% discount on
our canoeing trip. We also signed up for group package/tours which saved a lot
of money. We were able to do four of the most popular activities in Banff for a
savings of over 35% off the regular prices. This was offered through our condo,
or you could purchase this deal online.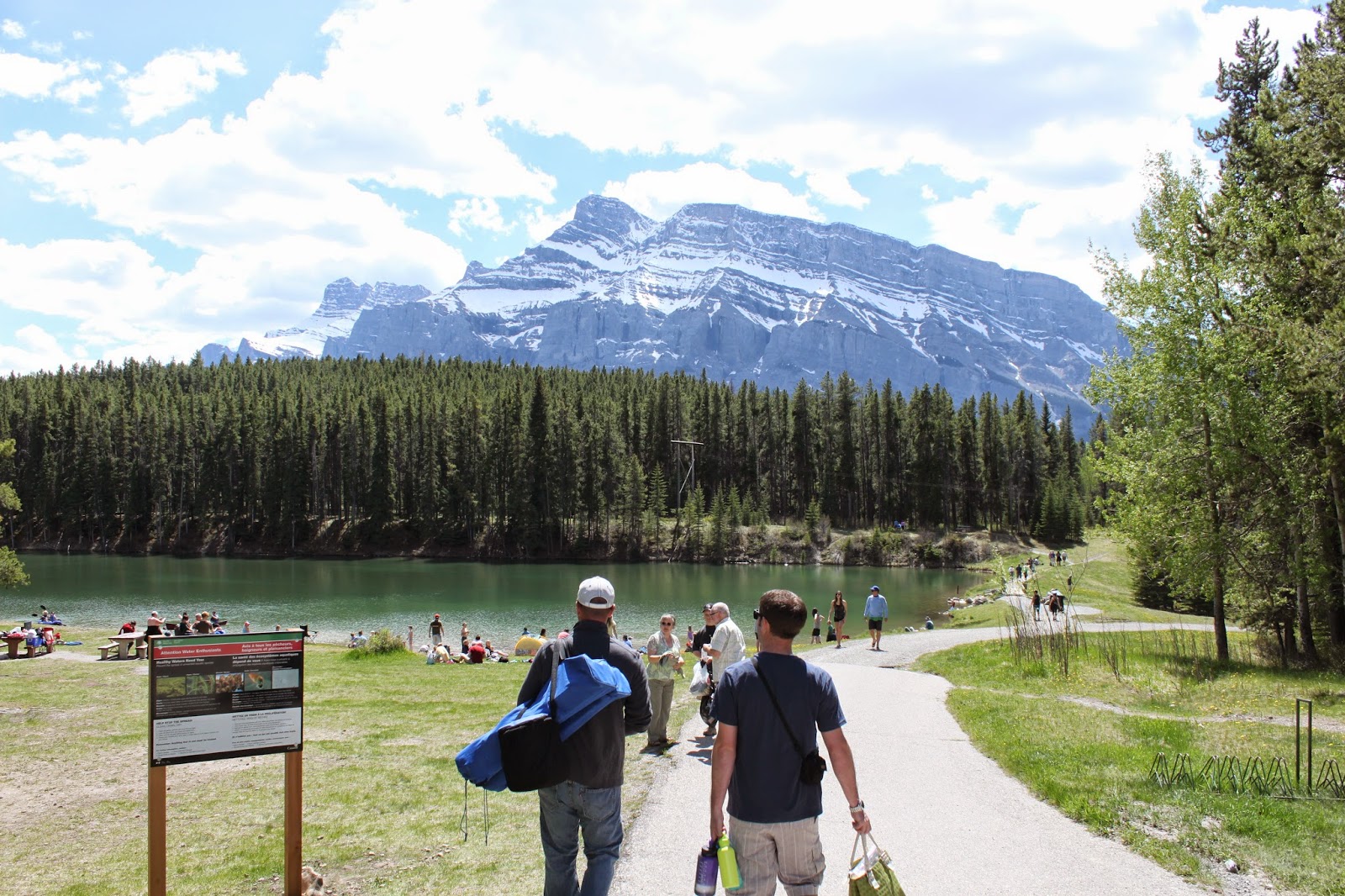 *Plan your days efficiently. With most road
trips it is easy to do a lot of driving, which means you will spend a lot of
money on gas. Gas is expensive so we found if we planned our days to have
little, or no backtrack, we could save a lot of money (and time) on gas. We
mapped out each day and where we would be traveling to help cut back on
unexpected delays or extra travel time. It takes a little prep work before hand
but saved big in the long run.
*Plan for treats/desserts before your vacation begins.
My husband is a huge fan of ice cream. Nearly every night on vacation he loves
to have a bowl of ice cream after coming back from all of our activities. If he
had his way he would eat at a specialty ice cream shop (like Coldstone) each
night. However, each small cup of ice cream is over $6 which can add up
quickly. At the beginning of the trip, each couple purchases some of their
favorite treats (ice cream, donuts, popcorn, etc.) and they become 'communal'
treats. We spend much less buying treats this way verses paying high-end bakery
or ice cream shop prices and still get the satisfaction of a yummy treat at
night. Any treats you can bring from home will save you even more money (candy,
microwave popcorn, etc.)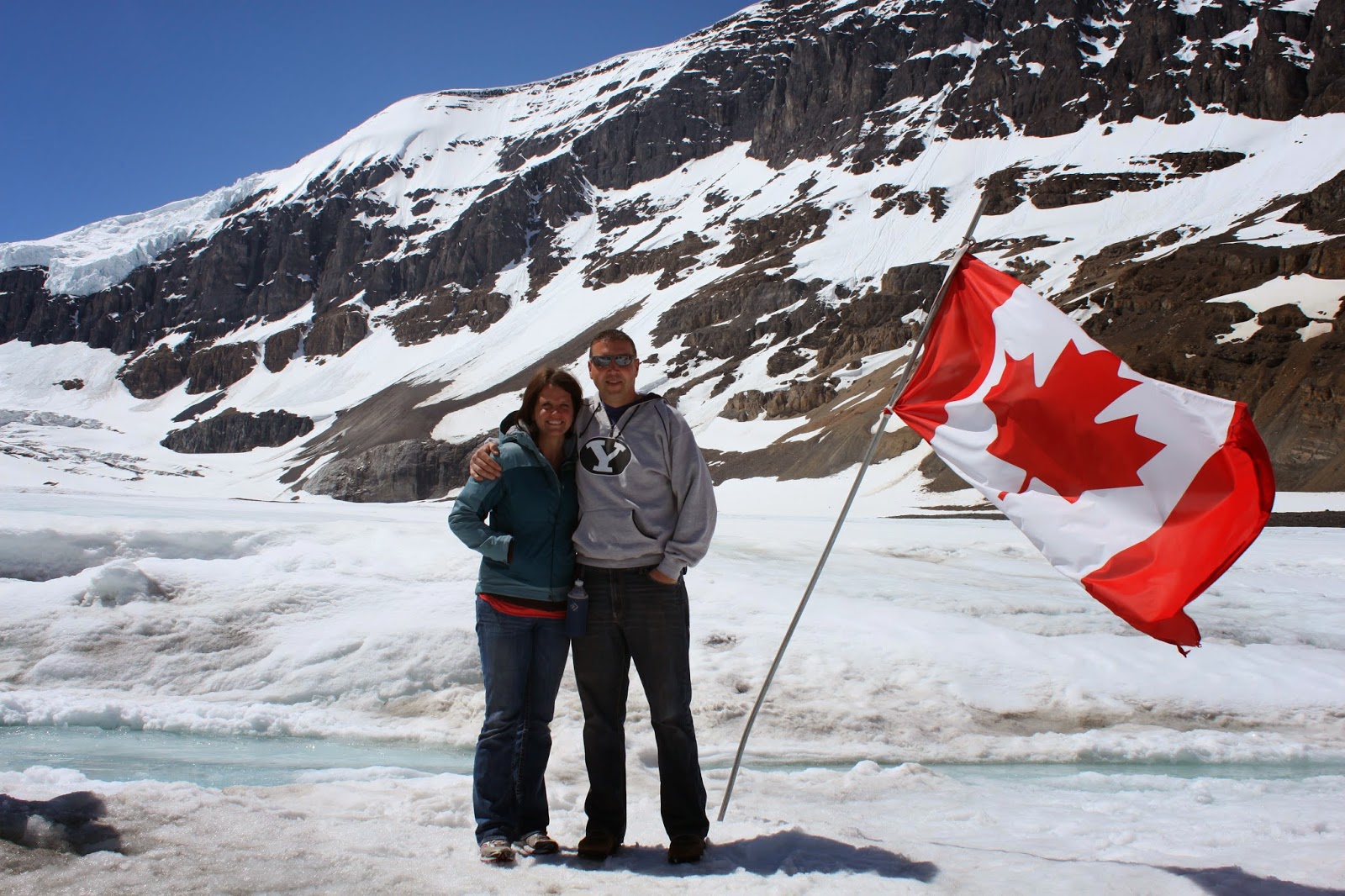 *Prices in the states are less than outside the U.S.,
so take advantage. If you are leaving the U.S. make sure and fill up
your tank with gas BEFORE you cross over the border. Gas was an average of
$5.60 a gallon in Canada instead of $3.50 in the U.S. On a 20 gallon tank
that's $50 more each fill up. Fill up both times in the U.S. instead of Canada
and that saves you $100 by that one choice. Gas prices can change drastically from state
to state. Do your research and fill up where it's less expensive. Food prices
are also MUCH more expensive in other countries. Stock up and bring as many food
items as you can from home to help keep your food costs down. We even brought water bottles from home (on sale here for $1.99 verses in Canada $5.00).
*Use your credit card instead of cash.
Using your credit card instead of cash, or a currency exchange, can save up to
5%. In Canada for example they have a .92 cent exchange for every American $1.
However, if you don't exchange your American money for Canadian money the
stores will only give you a $1 to $1 ratio—meaning you lose .08 for every
dollar you spend. When you use a credit card however you will get the full .92
cent exchange. They will charge a 3% international fee but you still come out
ahead 5%. Add on to this 5% savings any reward points or money back from your
credit card purchase and you come out ahead every time 😉 Tip: bring a few
different types of credit cards. We found not everyone took Visa and/or
American Express. Doing this also makes it so you don't come home with extra
money from another country that is useless back here in the states.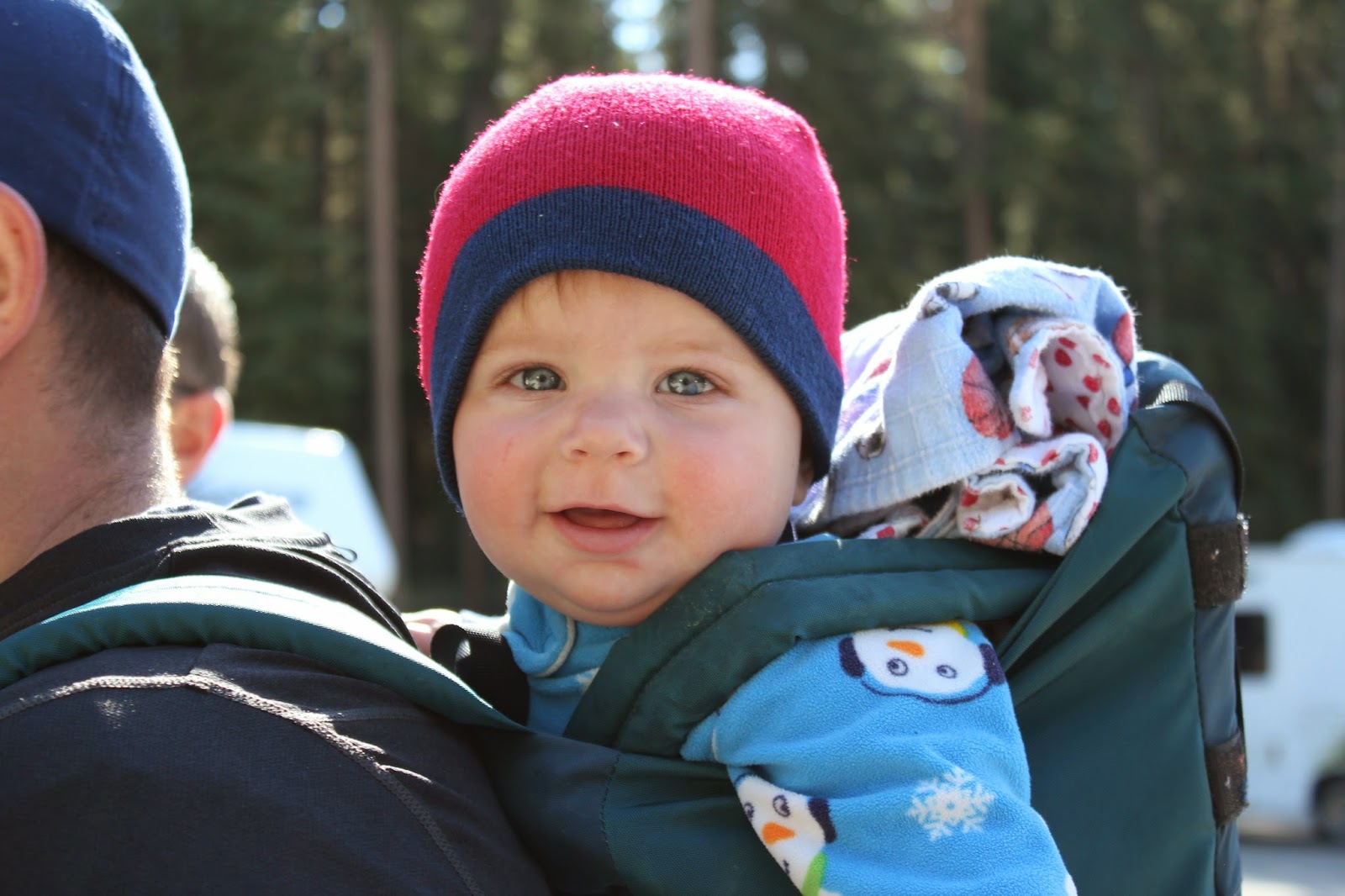 *Come up with a babysitting exchange.
Our
family loves to vacation. However, this means we leave behind 5 children if we
are doing a couple's only trip. Hiring a professional nanny can be extremely
expensive. We have found that creating a babysitting exchange works great with
our family and friends. If a sister (or friend) watches my kids for 7 days then
she is promised a 7 day trip where I watch her kids. If you have a friend you
trust, look into putting together a babysitting swap where you can have a few
days away– in exchange for watching their children. You leave feeling more
comfortable leaving them with loved ones and you can save $100's during your
trip. It's a win-win for everyone!
Vacation expenses (for my husband and I) without using
these tips verses using them:
Gas $350 (spent $115)
Lodging $650 (spent $300)
Pass $120 (spent $40)
Hotels $300 (spent $150)
Food $200 (spent $47)
Eating Out $700 (spent $350)
Treats $70 (spent $20)
Excursions $300 (spent $200)
Babysitting $1000 (spent $400 on gift cards and thank you's
for our babysitters—could have been $100 but we had to hire a sitter for 5 of
the days. It's hard to find sitters when 3 of my 4 sisters and my parents are
with us)
Cost of trip without using
these tips: $3, 690
Cost of a 10 day trip to
Canada using these tips: $1,622
That's more than 50% savings–love it! Happy vacation
planning 😉