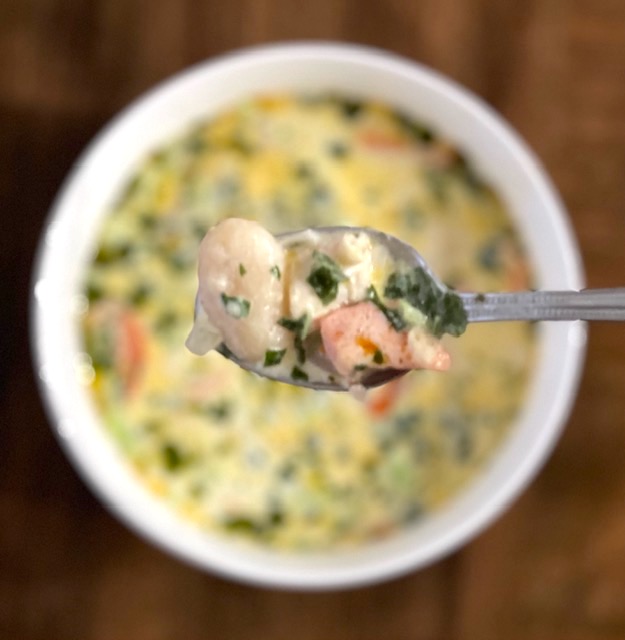 Thanks for joining our Facebook and Instagram Live today! I had a great time sharing some of my favorite soup recipes with you as well as some of the BEST food storage deals in your area.
Hearty Beef Chili
I can't get over how simple it is to cook with freeze dried food. I laugh thinking how I've spent the past decades refusing to give freeze dried food a try. I am shocked every time I make a meal with Thrive Life's food how healthy, beautiful, colorful and delicious the recipes are. I love seeing fresh and vibrant vegetables in my food–especially recipes made from food storage. It's a beautiful thing!
Copycat Olive Garden's Chicken & Gnocchi Soup
Here are the three recipes we made today. You can of course adjust the recipes and use fresh ingredients from your fridge or freezer but in a pinch, use freeze dried food to get dinner on the table in minutes. Such a great way to save time and money during the holidays. Instead of eating out–eat IN and get dinner on the table in minutes.
Copycat Olive Garden's Zuppa Toscana Sausage & Potato Soup (Recipe Below)
Another favorite soup that can be made with all freeze dried ingredients is a copycat recipe for Zuppa's Wild Mushroom Soup. It's a family favorite on cold nights served with crusty, artisan bread.
Zuppa Toscana's Wild Mushroom Soup
Ingredients
1/2

cup

olive oil

1

cup

Thrive Life Sliced Onions

1/4

cup

Thrive Life Red Bell Peppers

2

cups

Thrive Life Sausage Crumbles

4

cups

chicken broth

4

russet potatoes

sliced thin (or use Thrive Life Diced Potatoes)

2

tsp.

Thrive Life Diced Garlic

or garlic powder

1/2

tsp.

Black pepper

1/2-1

tsp.

Red pepper flakes

1

pint

whipping cream

or 1-2 cans evaporated milk

1/2

cup

parmesan cheese

1 1/2

cup

Thrive Life Kale

1/2

cup

Thrive Life Instant Mashed Potatoes
Instructions
Place the sausage crumbles in a bowl and cover the meat with water. Let the sausage hydrate for at least 10 minutes. In a soup pot heat the olive oil to medium-high heat. Add the sliced onions and red bell peppers and saute. Drain the sausage from the water but keep the water and pour into a measuring cup. Add the sausage to the pan and continue to sauté.

To the measuring cup with the reserved sausage water, fill the rest of the 4 cups with chicken broth. If you want to discard the sausage water you can and just use chicken broth, it's up to you. You just need 4 cups of liquid total.

Let the ingredients simmer while you slice the potatoes.

Rinse the potatoes and cut off any blemishes. Use a sharp knife and cut the potatoes into super thin, circular slices. Add the sliced potatoes to the soup pot. Let the potatoes simmer until tender.

Season the soup with all of the seasonings. Once the potatoes are tender stir in the instant potatoes, heavy whipping cream and kale. Stir until combined and turn heat to low. Let simmer until ready to serve. Top with parmesan cheese.