It's nearly July 4th and for our family that means camping, family bbq's & lots of roasted marshmallows. I am excited to share two of my favorite recipes to have when camping. I love a good ol' grilled hot dog every now and then, but when I am in the mood for something a little more gourmet, I always turn to my favorite (EASY) chicken marinade recipe.  This recipe comes from the small, and charming city of Manti Utah. We camp their every year and enjoy watching the Manti Miracle Pageant. We swim in the Palisade's Lake, go hiking, and have a great time visiting and eating lots of delicious food. Besides this amazing chicken, our family is now in love with Smore-itos for dessert. Regular-old smores are great, don't get me wrong. However, these smore-itos are a fun new twist on an old favorite. Sounds totally crazy to have a smore in a tortilla, but they are so addicting you will want one anytime you are anywhere close to a fire pit. In fact, I have been known to cheat and cook these on our outdoor grill because  they are THAT good!  They turn into a tortilla filled with melted chocolate and marshmallow goo. It doesn't get much better than that!! I hope you have a safe (& delicious) holiday weekend 😉
 (Like father, like son–aren't vacations the best?!?)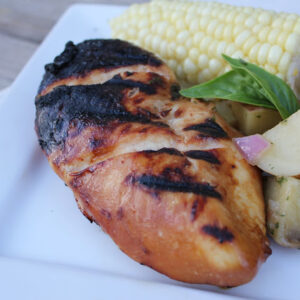 Ingredients
4

boneless chicken breasts or bone-in breasts

1

c.

soy sauce

1/2

c.

vegetable oil

2

c.

lemon lime soda pop

1

t.

garlic powder

1 1/2

T.

horseradish
Instructions
Mix together marinade ingredients and let chicken marinate 5-24 hours. You can marinate chicken for less than 24 hours, it just won't be as flavorful. Grill the chicken on the grill until cooked through (length will vary depending on how thick your chicken pieces are). Discard leftover marinade.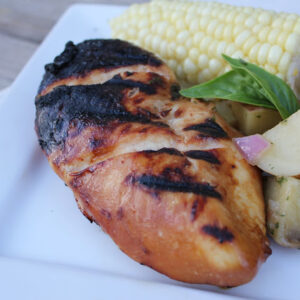 Ingredients
1

pkg. flour tortillas

1

pkg. large marshmallows

1

box graham crackers

1

pkg. chocolate chips

Cinnamon

Butter

Tinfoil
Instructions
Cut off a 12x12 inch piece of tinfoil. Place the tortilla onto the foil. Place a few pieces of graham crackers in the center of the tortilla. Add some large marshmallows, a handful of chocolate chips, a couple slices of butter and a few sprinkles of cinnamon. Roll the tortilla cup with the sides folded inwards. Spray the tinfoil generously with some non-stick cooking spray. Roll the burritos up in the tinfoil. Place the foil wrapped burritos in the oven, on a grill or in a fire pit. Let it cook until the insides are nice and melted. Remove from the heat and let cool for 5-10 minutes. Unwrap and enoy.