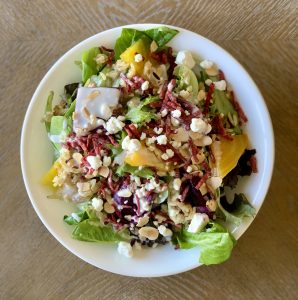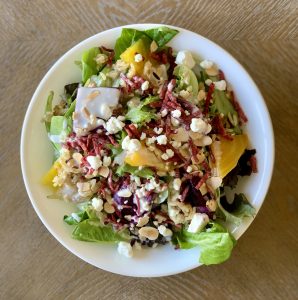 Beet Salad, yes please! Have you had a beet salad before? I am new to this delectable salad as of this year. Not sure where it's been all my life?! The first time I had a beet salad was in a small town in Heber Utah. There is an amazing restaurant called Back 40 and they serve this beet salad with this drinkable White Champagne dressing. I substituted white wine vinegar in this dressing but if you are a champagne fan, I'm sure you could use that as well. Either way, the crunchy almonds, beet strips (you can find these near the salad dressings at your local store), croutons, creamy goat cheese and vinegar beets is such a perfect combo. Drizzle it all with this creamy and sweet dressing and you'll be in heaven! Serve this as a light meal for your family or you can always add grilled chicken if you want a little extra protein. Either way, it's delicious!! Can't wait for you to try it.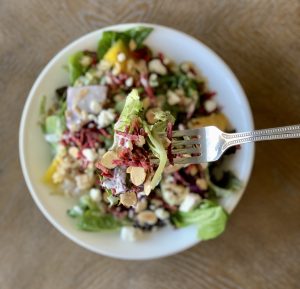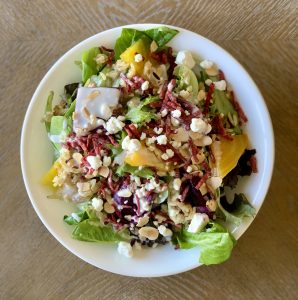 Ingredients
1

had romaine lettuce

or spinach

1

bag arugula

1

can beets

drained (or you can use freshly boiled)

1/2

cup

sliced almonds

1/2

cup

goat cheese

or feta cheese

1

cup

beet strips

1

cup

croutons

1

cup

quinoa

cooked

Dressing:

1

cup

white wine vinegar

1/2

cup

sugar

1

cup

mayonnaise

1

cup

sour cream

1

tsp.

garlic powder

1/2

tsp.

onion powder

1/4

tsp.

cayenne pepper

1

tsp.

salt
Instructions
For the dressing, whisk together in a small bowl all of the ingredients until smooth. Keep in the fridge until ready to serve.

For the salad, cook the quinoa until tender and then let rest until cooled.

Rinse and chop the lettuce and arugula and place in a large serving bowl. Open the can of beets and drain juices from the can. If you wish to boil, peel and season fresh beets you can definitely do that instead of using beets from the can.

Top the salad with the beets, croutons, quinoa, beet strips and cheese. Serve with the dressing over the salad.