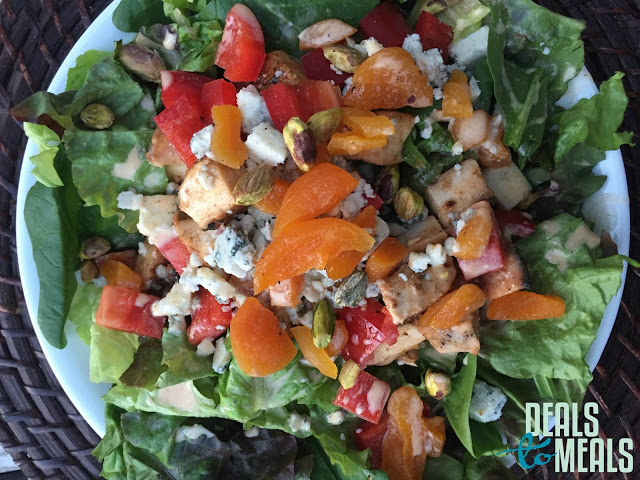 Now that spring is in full swing, I am super excited to share this new salad recipe with you. For those who have been around here on our blog for awhile, know I am pretty much obsessed with 'girly' salads. I think it's because the combinations of flavors and dressings are endless. Salads are like a culinary playground. So many fun, fresh ingredients you can pair together to make a fabulous salad. Well, the other day I had some dried apricots from Costco and I came up with this Apricot Gorgonzola Spring Salad with an Apricot Vinaigrette. The final product after some testing was INCREDIBLE!! I loved the sweet and tangy dressing, the creamy cheesy, the sweet apricots, the grilled chicken, the crunchy pistachios. Really, the whole thing was spring on a plate. I can't wait for you to try this recipe. I hope you love it and find a warm, weeknight to enjoy this salad, or serve it at your next girls luncheon. It's a winner whenever the occasion. Enjoy!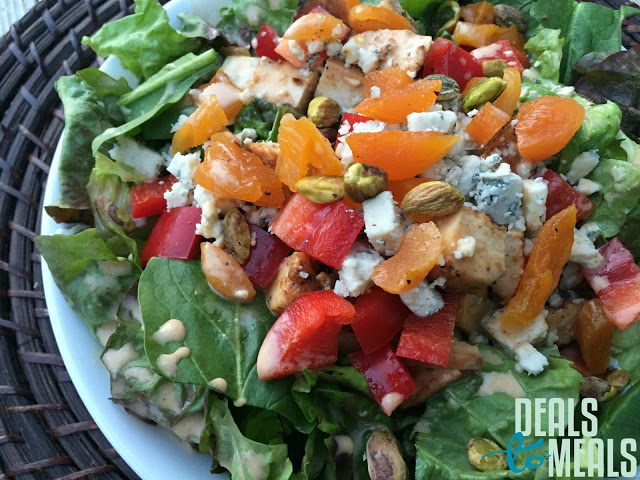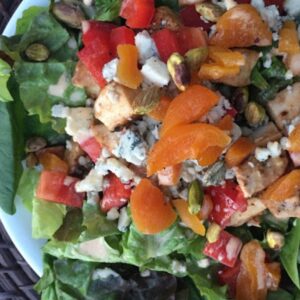 Ingredients
SALAD:

3-4

chicken breasts grilled

2

heads romaine lettuce

1

red bell pepper

diced

1

cup

dried apricots

diced

1/2

cup

gorgonzola cheese

1/2-1

cup

candied nuts or pistachios

DRESSING:

1/2

tsp.

salt

1/4

tsp.

black pepper

1/2

tsp.

paprika

1

cup

apricot juice

1/2

cup

mayonnaise

1/3

cup

rice vinegar

2

Tbs.

brown sugar
Instructions
For the salad, grill and season the chicken breast. Let the chicken cool for a few minutes and then dice into pieces. Set the chicken aside until ready to serve. For the salad, cut the lettuce and place it in a large salad bowl. Dice the bell pepper and place over the lettuce. Dice the apricots into small pieces and place on the salad. Top with the nuts and crumbled cheese.

For the dressing, whisk all of the ingredients together until smooth. Season as desired. Place the grilled chicken pieces on top of the salad and serve with the dressing when ready.
You can use Thrive Life Chicken for a super fast, quick meal. Your chicken can be hydrated in only a few minutes for a simple, weeknight meal.