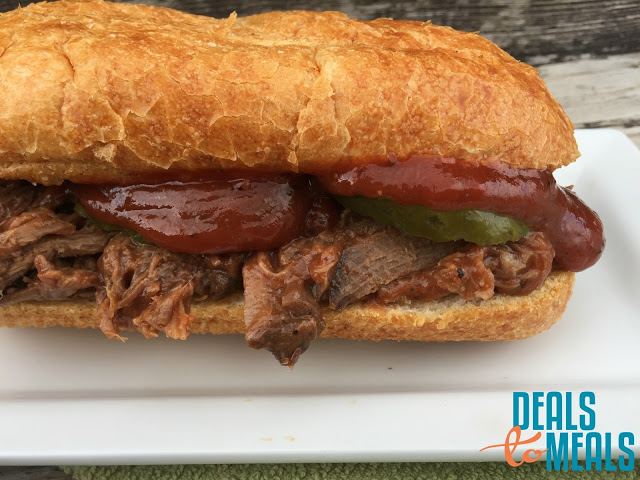 Anytime you see boneless beef roast on sale, you will want to stock your freezer! The price of beef is skyrocketing and yo'll want to stock your freezer when prices are low. These Shredded Barbecue Beef Sandwiches are the perfect meal to serve when you have beef in your freezer or fridge This tender beef sandwich is smothered in warm barbecue sauce and is a simple and easy meal for a busy family. Check out our Deals Page to know where the best prices are on meat near you.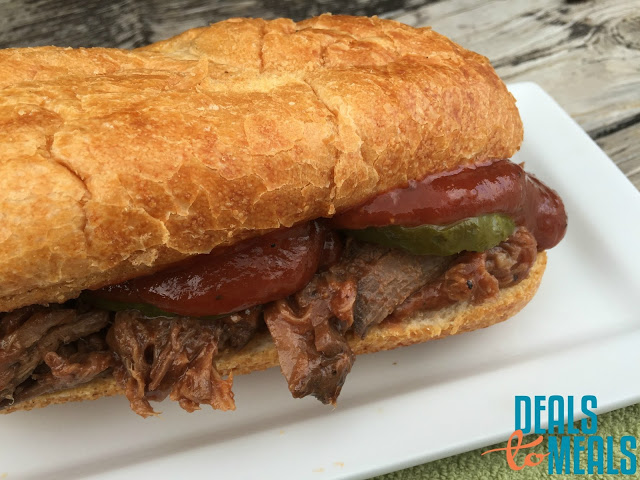 Tip: I always cook double the amount of meat I need for my dinner recipe so I can freeze the other half for later. Or, I use the other half of the meat for other meals like stews, beef enchiladas, paninis, etc. later in the week. Adding extra meat to the crock pot takes only a couple extra minutes but can save hours of future meal prep to have it all cooked and ready to go. Want more freezer meals or tips? Remember to check out our e-books with lots of recipes and quick tips.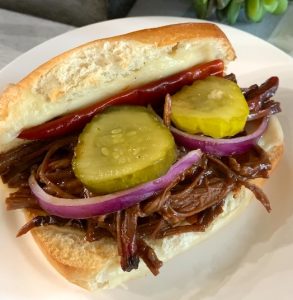 Spicy pickles are a favorite of mine to add to these sandwiches. Often the pickles come with a pickled pepper as well that goes great with these sandwiches. Super simple and delicious!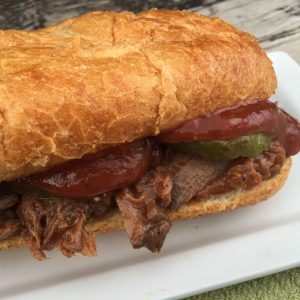 Ingredients
2

lbs.

boneless beef roast

2

Tbs.

Montreal Steak Seasoning

1

tsp.

beef bouillon

1

red onion

sliced

2-3

cups

barbecue sauce

6-8

hoagie buns or hamburger buns
Instructions
In a slow cooker, place a 3-4 pound beef roast into the bottom of a crock pot. Season meat with Montreal Steak Seasoning and beef bouillon. Slice one onion and place on top of the meat. Cook the roast on low heat for 5-7 hours, or on high heat for 3-5 hours, or until meat shreds easily. When the meat is tender and can shred easily, drain the juices from the meat. Cut off any excess amounts of fat. Keep the roast in the crock pot and shred into pieces. Pour your favorite bbq sauce over the shredded beef. Serve the meat on a hoagie bun or hamburger bun. Serve with pickles if you wish.
Notes
*HEALTHIER OPTION: Serve sandwich bun-less or in lettuce leaves. You could also serve on whole wheat bread. Before putting the meat into the slow cooker, with a sharp knife, remove the excess fat from the meat. Make sure and add some extra water to the pot so that it doesn't dry out.