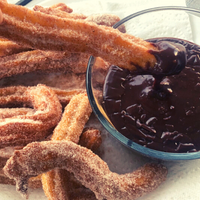 Do you need a way to break the boredom of quarantine? Making these Disney Copycat Churros will do just the trick! I don't know about you, but after 3 weeks of quarantine, the days are starting to be a little long and unexciting. Do I have the solution for you!! A friend gave me the idea to go on an adventure 'around the world' while it's our spring break and no where to go. I LOVED the idea and decided to put together a little travel plan for my family. We'll be visiting Mexico, France, Jerusalem (perfect for Easter week), Italy, India, Japan, Fiji and USA (Disneyland). Come travel with us and post your fun adventures to #DTMFamilyFun!
Every day (or you could do every other day, once a week, etc. if it's overwhelming) we will be waking up in a new country. I have recipe ideas, activity ideas, videos to help teach about geography of the country and coloring pages for younger kids. It was SO fun to put together and I'm excited to share it with you.
Yesterday we 'visited' Mexico and had such a FUN day!! It was so nice to learn about something new, try new food and have a theme for the day. We even made homemade churros and HOLY COW they were amazing!! I had no idea how easy they were to make and now I'm a little scared I will make them often. They were so easy and SO yummy! I can't wait for you to visit Mexico and add a little fiesta to your day 😉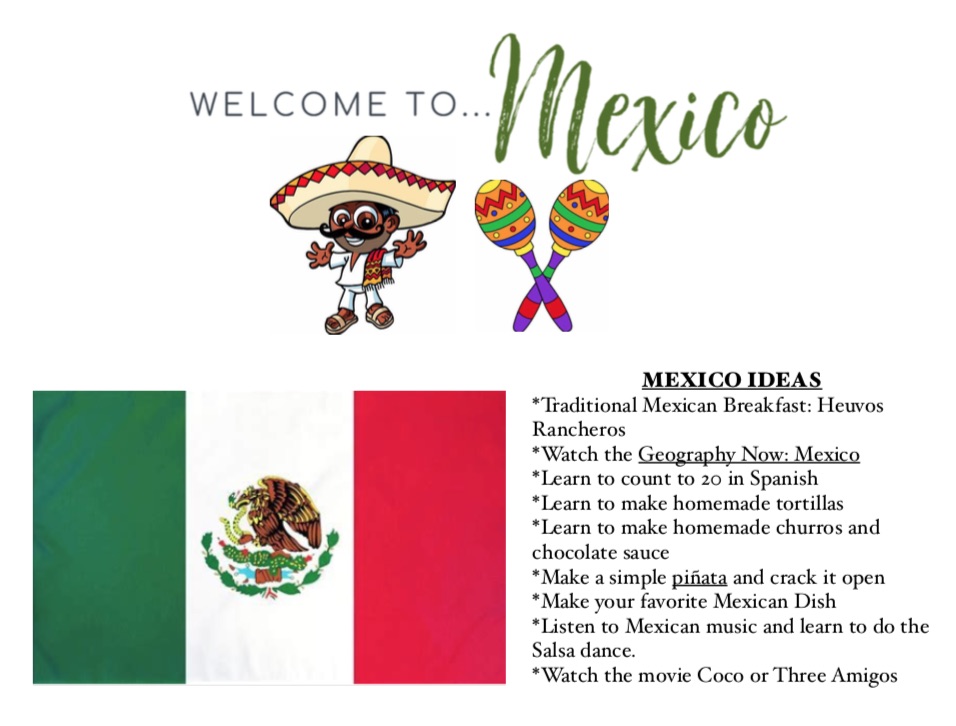 Check out our Instagram @dealstomeals to see all of our fun adventures of our week Around the World.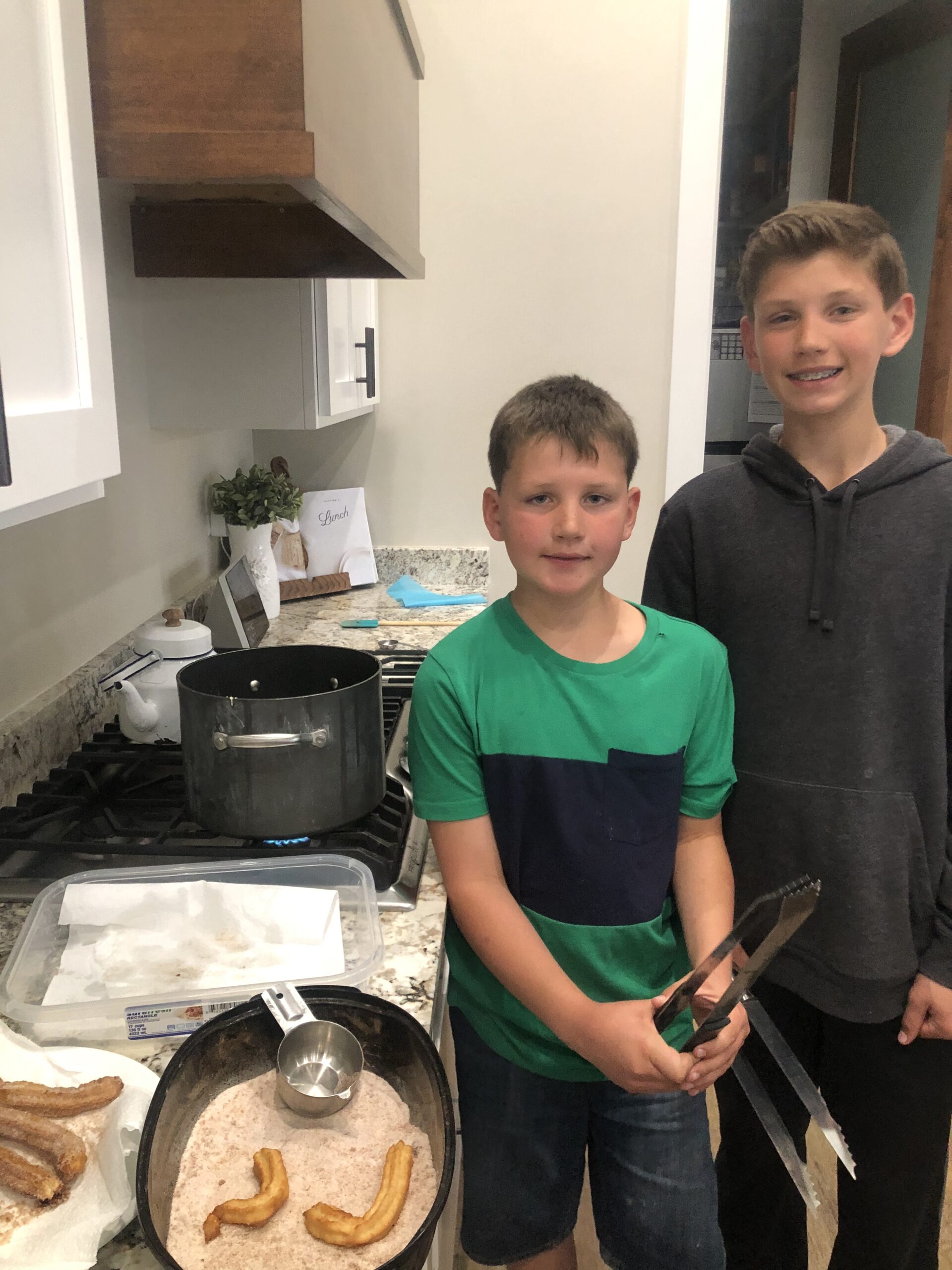 Download and print our Travel Plans and share with your friends. Don't forget to login to Deals to Meals to find get all of our delicious recipes and to find where you can buy groceries for your authentic recipes on sale!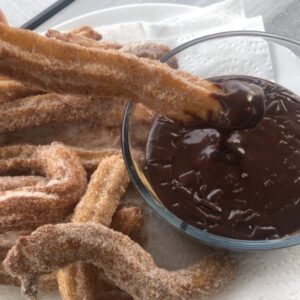 Homemade Churros and Chocolate Sauce
Make homemade churros in your own home. These are so fun to make and absolutely delicious. Dip them in a simple chocolate sauce and you have a dessert everyone will love!
Print
Pin
Rate
Ingredients
Churros:
2

cups

hot water

1/4

cup

sugar

1/2

tsp.

salt

1/4

tsp.

nutmeg

1

tsp.

vanilla

4

Tbs.

cooking oil

canola, vegetable, etc

2-2 1/2

cup

flour

4-5

cups

cooking oil

enough to fill a pan about 2 inches

1/2

cup

sugar

for topping

2

Tbs.

cinnamon

for topping
Chocolate Glaze
12

oz.

milk or semi chocolate chips

1/2-3/4

cup

whipping cream

or enough to make it the texture you'd like
Instructions
Pour the 4-5 cups of cooking oil into a shallow saute pan and turn to medium heat. Let the oil heat up while you make the churro dough.

For the dough, place the water, sugar, salt, nutmeg and 4 Tbs. oil into a sauce pan. Bring the mixture to high heat and whisk. Once the sugar is dissolved, remove the mixture from the heat and place on the counter on a hot pad.

Add the flour one cup at a time and whisk until smooth. Add the vanilla and continue to whisk until the dough starts to come together and pulls away from the edge of the pan. Once it does this, let rest for a few minutes.

Spoon the dough into a thick pastry bag (make sure your bag is a strong one or it may pop). If you don't have a pastry bag you can try a heavy duty gallon Ziploc bag and cut off the tip. If you want the traditional churros shape you will want to use a 5 starred pastry bag tip.

Once the oil is hot, squeeze out a 3-4 inch thick strip of the dough into the hot oil. Let the churro cook on both sides until golden brown. If the oil is not hot enough the dough will just sink to the bottom. Once the oil is the right temperature it will stay floating on the top and turn nice and golden brown.Once they are browned, remove them from the oil and let them rest for a second on a paper towel.

In a separate, shallow bowl, mix together the sugar and cinnamon. Place the cooked churros into the cinnamon/sugar mixture and toss to coat. Serve fresh with or without the chocolate sauce.

For the chocolate sauce, place the chocolate chips and 1/2 cup of the whipping cream into a microwave bowl. Place into the microwave for 30 seconds at a time until the chocolate is melted. Continue to stir and microwave until soft. Add more whipping cream if it's too thick. Dip the cooked churros into the chocolate sauce or drizzle the chocolate over a plate of the churros.
Notes
Be patient with getting the dough texture right. It takes a little practice getting the mixture not too thin, and not too thick. You want it to pour out smoothly but be thick enough to stay together out of the piping bag. Having the 5 star pastry tip is a must. It makes the traditional churro shape and helps cook them all the way to the center.