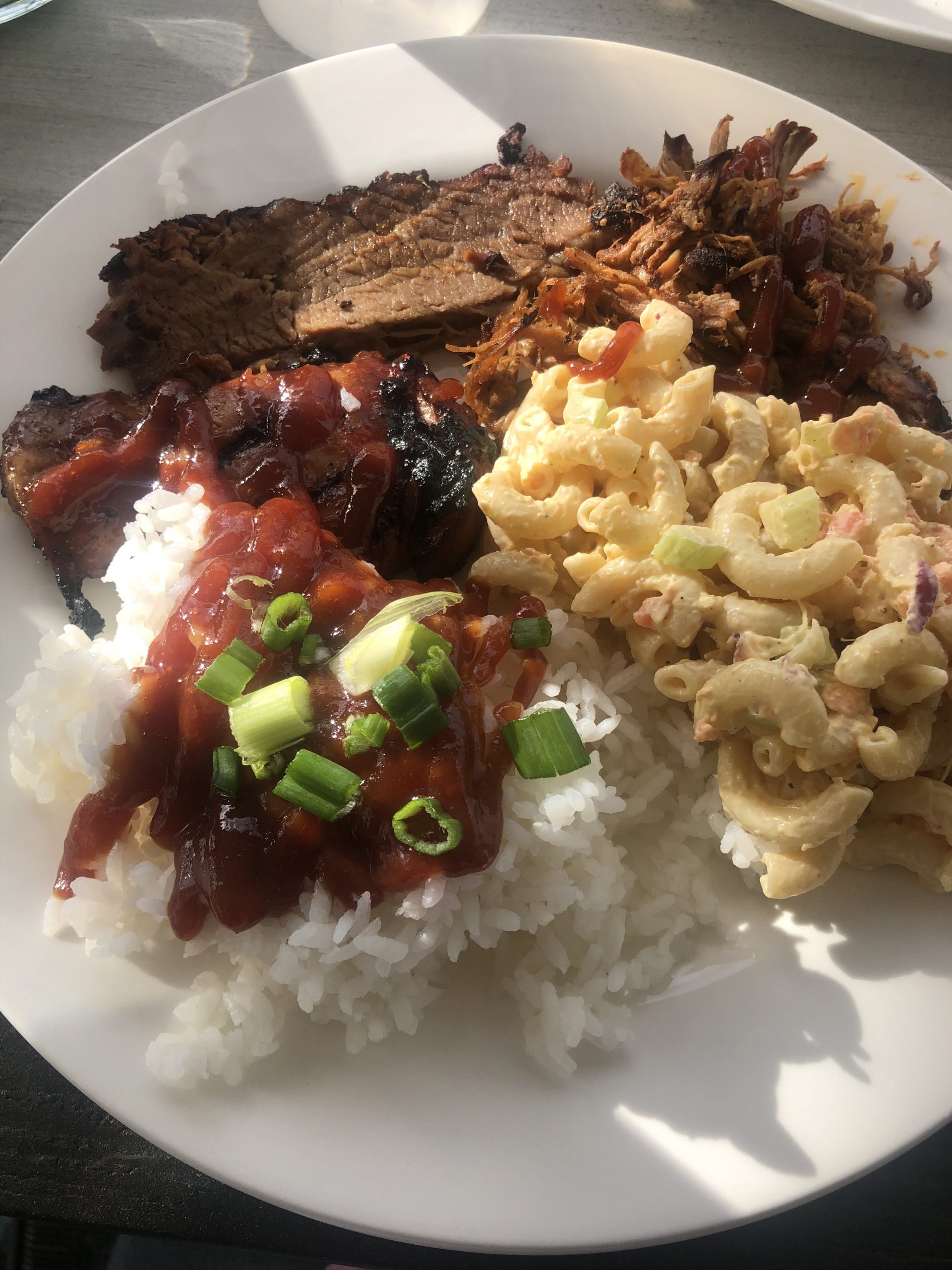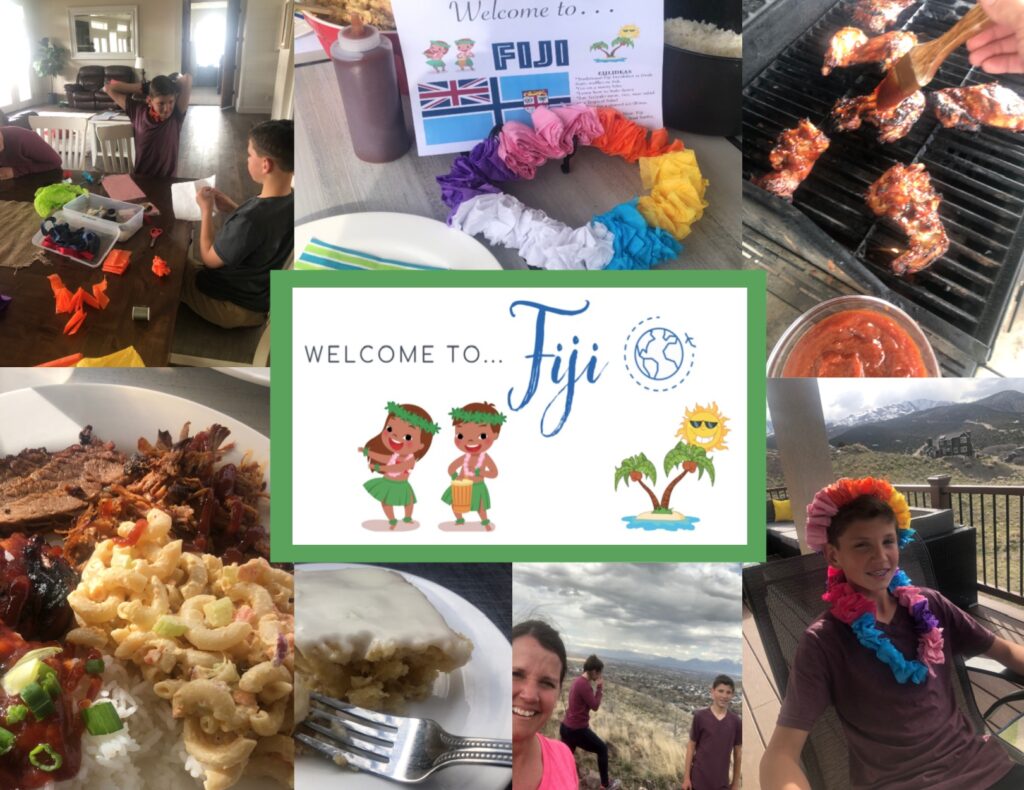 Welcome to Fiji everyone. Well okay, it seemed more like Hawaii, but either way we had a great day! It was so fun to go to bed in Mexico and wake up in Fiji. The kids were so excited and it was nice to pretend we were whisked away to a warm and tropical place for a minute. We played island music all day, cooked lots of yummy food and enjoyed being together. That really is the best part about this quarantine is being able to spend quality time with loved ones. Are you loving that too? Don't get me wrong. Some moments I want to pull my hair out but others I wouldn't want to trade for anything.
Tonight was one of those moments. We decorated our table with homemade leis made out of tissue paper, played traditional Fijian food and ate the most amazing meal of Hawaiian ('Fiji') Chicken with Pineapple BBQ Sauce, Rice, Mac Salad and Rice.
We ended the evening watching Lilo & Stitch eating Pineapple Cake with Cream Cheese Frosting (recipe below).
This was a cake my Dad would always request for his birthday and it is so nostalgic to me. I even halved the amount of sugar and it was so perfect! Just the 'tropical' dessert we needed to end our day in Fiji 😉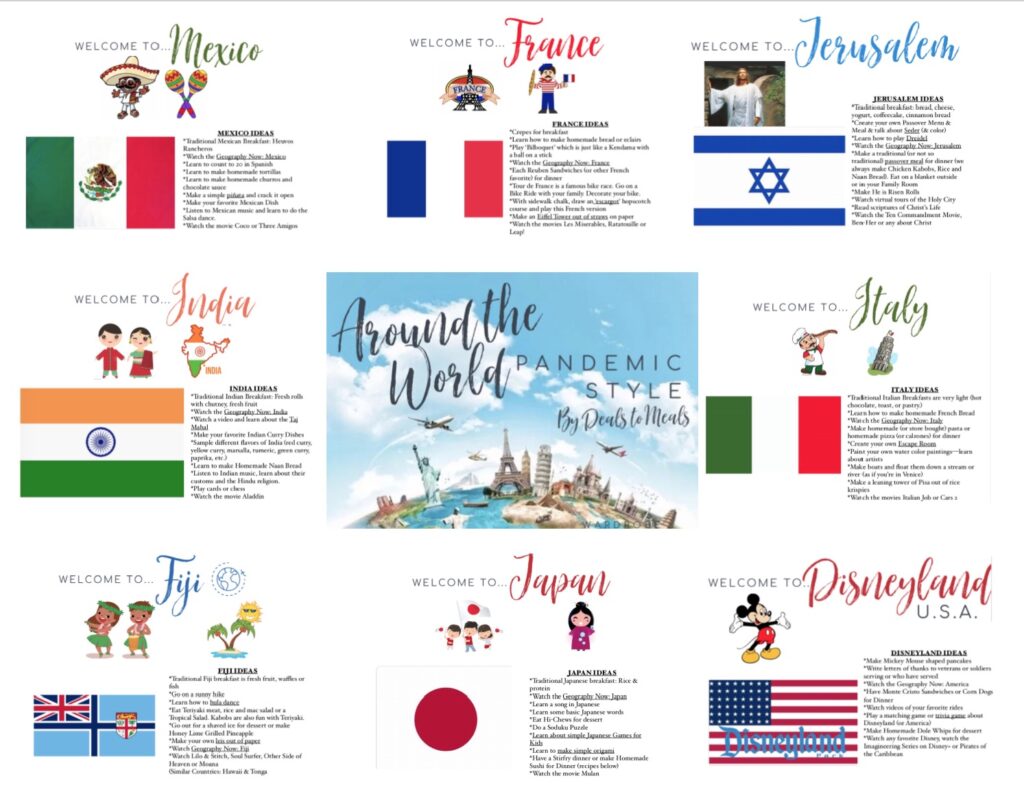 Check out ALL of our Around the World Adventures in this FREE DOWNLOAD. Share with us your adventures to give us some more ideas. Hashtag #DTMFAMILYFUN. Bon Voyage!
Here are some of our delicious recipes we made today. Enjoy!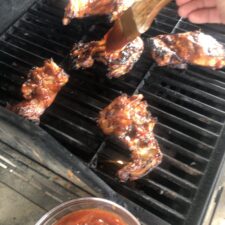 Ingredients
Bbq sauce and marinade:

20

oz.

can crushed pineapple

do not drain

2

cloves

garlic

minced (can use 2 tsp. garlic powder)

2

tsp.

ginger powder

or can use fresh

1-1 1/2

cup

brown sugar

1

cup

soy sauce

1-2

Tbs.

Sriracha sauce

2

Tbs.

hoisin sauce

2/3-1

cup

ketchup

2

lbs.

boneless chicken things or breasts
Instructions
In a blender, add all of the BBQ sauce ingredients together and blend until smooth. Add the sauce into a medium sized sauce pan. Bring the sauce to a boil and let the sauce simmer for 20-30 minutes, or until it begins to thicken. Once it is thickened, place about a cup in a gallon ziploc bag (or in a large bowl). Add the chicken to the sauce in the bag and let it marinade overnight or for 2+ hours. Keep the remaining sauce in the fridge until ready to serve.

When ready to cook the chicken, grill it on medium-high heat and cook until chicken is cooked through. You can based the chicken half way through with extra sauce if you'd like. As the chicken is cooking, warm up extra sauce to serve over the rice.

Cook the rice while the chicken is cooking. Serve the grilled chicken with extra sauce as desired. Garnish with fresh green onions for color if you wish.
Notes
This chicken marinade and recipe is great on any of your favorite BBQ pizza recipes, in wraps, on salads, or just about any recipe you want a Hawaiian flair.
Here is the recipe for the delicious and SIMPLE pineapple cake.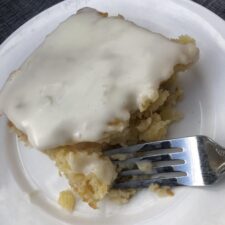 Ingredients
Pineapple Cake:

20

oz.

can crushed pineapple

don't drain

1

cup

sugar

can use up to 1 1/2 cups if you like it more sweet

2

eggs

2

tsp.

baking soda

1

tsp.

vanilla

2

cups

flour

Cream Cheese Frosting:

8

oz.

cream cheese

room temperature

1/2

cup

butter

1 1/2-2

cups

powdered sugar

1

tsp.

vanilla
Instructions
Preheat oven to 350 degrees. For the cake, add all of the ingredients into a bowl and mix until combined. Spray a 9x13 pan with cooking spray. Pour the cake batter into the pan. Bake at 350 for about 30-40 minutes, or until the center of the cake is cooked through.

When the cake is finished, remove from the oven and let rest while you make the frosting.For the frosting, place the butter and cream cheese in a bowl.

Whisk with a hand mixer until smooth and incorporated. Add the vanilla and powdered sugar to the butter and cream cheese and continue to whisk until fluffy and soft.

When the cake is cooled, frost with the frosting and then serve.