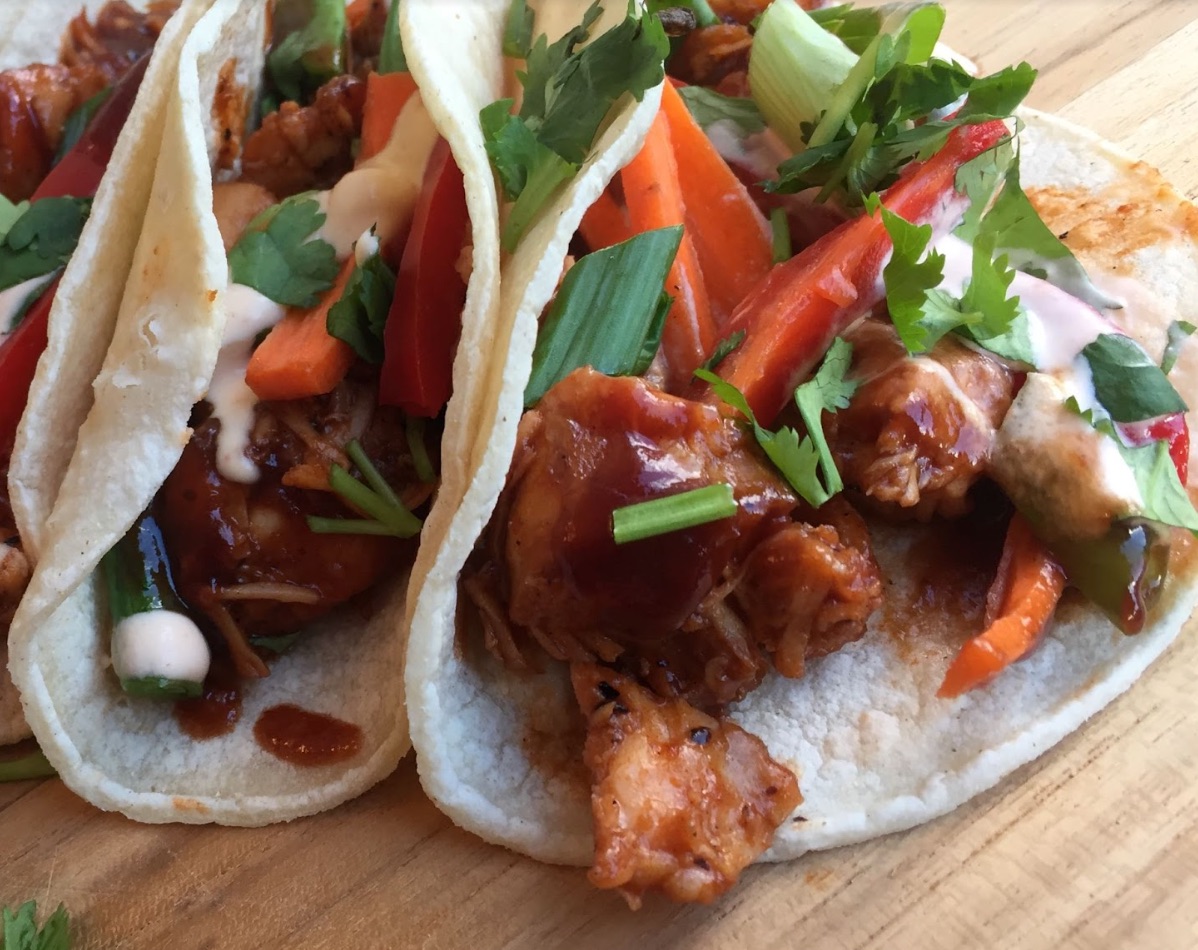 There is yet to be a street taco I don't adore. These Asian Pork Street Tacos are another great combination of sweet simplicity and flavor. The sauces along with the fresh toppings makes for the perfect combination of flavors. If you need a meal in a hurry you can use pork that has been cooked in the slow cooker or even freeze dried pork. I LOVE Thrive Life's Pork and use it all the time when I don't have a lot of time to get dinner on the table.
Although the crunch of the pork in this recipe is perfect, you can adjust the cooking method depending how much time you have. I'm excited for you to give these tacos a try. Let me know what you think! Hope you enjoy.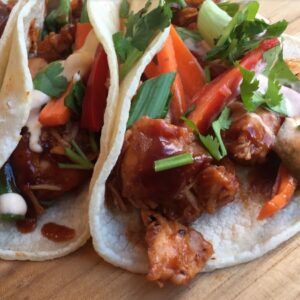 Ingredients
2-3

lbs.

boneless pork chops or roast

1 1/2

cup

bbq sauce

1

Tbs.

sesame oil

1

Tbs.

rice vinegar

2

Tbs.

soy sauce

1

Tbs.

Siracha

SIRACHA SAUCE:

1-2

Tbs.

Siracha sauce

1/2

cup

mayonnaise

1/2

cup

sour cream

TACOS:

1/4

cup

cilantro

chopped

1/4

cup

green onions

sliced

1

cup

carrots

julienned

1

red bell pepper

sliced
Instructions
In a bowl, whisk together the marinade ingredients until smooth. For the pork, place all of the pork and half of the marinade ingredients into a ziploc bag. Let them marinate for 1 to 8 hours, or until ready to grill. Once you are ready to cook, heat an outdoor or indoor grill to high heat. Place the pork pieces onto the grill and grill on one side until golden brown and nice and charred. Turn the pork pieces over and continue to cook until the center of the pork is no longer pink. Once the pork is done cooking, remove from the heat and place in a bowl. Add the remainder of the marinade to the pork and toss to coat. Let the pork sit aside and rest while you prep the tacos.

For the Sriracha sauce, add the ingredients together until smooth.

For the taco ingredients, prep the vegtables and slice. When ready to serve, slice the pork into thin strips. Serve the warm pork in the tortillas with the fresh vegetables and Sriracha sauce. Serve.
*If you are using freeze dried ingredients, simply hydrate the pork in water until tender. Drain the extra water and then add the BBQ sauce to the pulled pork and heat in a bowl in the microwave until ready to serve.