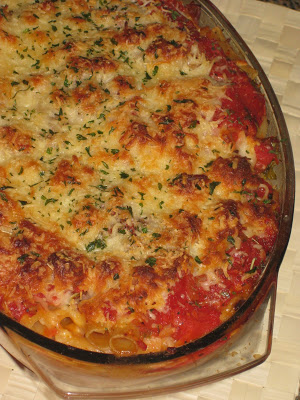 Is there anything better than garden tomatoes and fresh basil? In our house my husband is an "Italian food man" and he has trained us all that those two items should be treated with great respect. One of our favorite snacks is fresh mozzarella, fresh basil and a thick slice of a garden tomato. (don't forget to salt it!) YUM. Oh, how I want some right now.
Since the little kiddos think that combination is a little too much like "salad" I decided to make it into a pasta dish. Let's just say this was a BIG hit. Believe it or not, I have never made a baked ziti pasta before this week. When I had my baby a little over 1 year ago my sweet friends brought us dinner this very dinner, baked ziti. Let's just say I have been dreaming of it since. With my basil plants growing out of control and some frozen garden tomatoes in my freezer, I had this bright idea to recreate this amazing dish.
Since I ended up using 1 large gallon size bag of garden tomatoes, I'm not sure exactly how much I used. So, I will tell you the approximate amount using canned tomatoes.
[buymeapie-recipe id='786′]