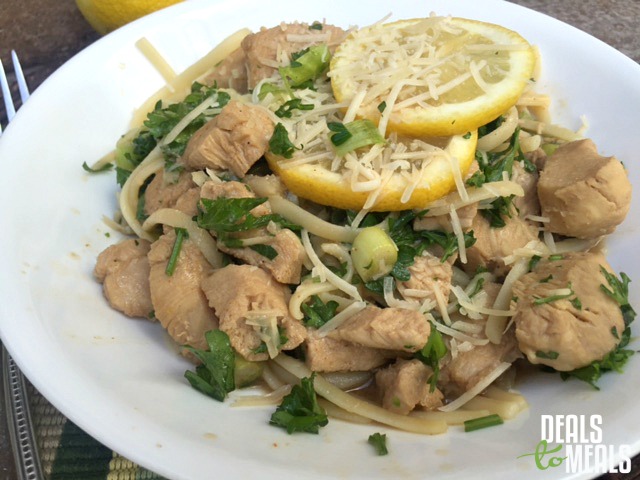 I mentioned on Instagram earlier this week one of my all-time favorite meals. In case there is someone out there who hasn't tried this recipe, you are missing out. Don't wait another week to give this recipe a try. It is such an unusual pasta dish with different flavors like Cajun, soy sauce, lemon and a sweetness from some brown sugar. At first you might look at this recipe and think it is kind of strange. However, it is AMAZING! The flavors all come together so perfectly unlike any pasta dish you've ever had. Hope you love it!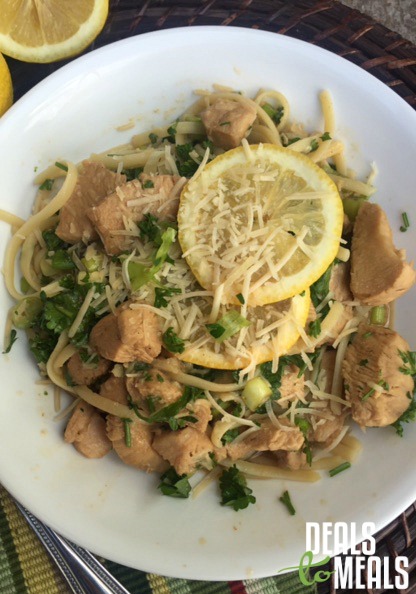 *Don't forget to login to Deals to Meals to find out where you can get chicken and pasta on sale this week. Both are on sale for great deals. In fact, some stores have chicken as low as $1.29/lb. How great is that?!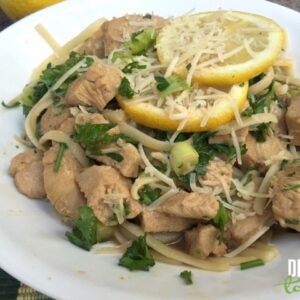 Ingredients
1

lb.

linguini or spaghetti noodles

2-3

boneless skinless chicken breasts or 1 lb. shrimp

1-2

Tbs.

olive oil

1

lemon

zested & juiced

1/2

cup

green onions

chopped

1/4

cup

fresh parsley

chopped

Salt & pepper

Parmesan cheese

MARINADE & SAUCE:

1/2

cup

olive oil

1

garlic clove

minced

2

Tbs.

cajun seasoning

3

Tbs.

lemon juice

2

Tbs.

parsley

minced

4

Tbs.

brown sugar

more if you want more sweet flavor

3

Tbs.

soy sauce
Instructions
Combine the marinade ingredients in a Ziploc bag. Slice thawed chicken and put into the bag or bowl with HALF of the marinade.   Refrigerate 1-12 hours.

Heat a large skillet to high heat. Drizzle with olive oil. Remove the chicken from the bag and place the chicken in a hot pan. Let the chicken cook on both sides until lightly browned and the chicken starts to cook through. Discard that extra marinade. Let the chicken cook on medium-low heat until cooked through. Once the chicken is cooked through add the remaining marinade over the chicken and let continue to cook until the noodles are tender.

Cook the linguini pasta in boiling salted water until done; drain well and rinse noodles. Place the cooked noodles into a large bowl and add the extra olive oil, lemon juice, lemon zest, parsley, green onions, salt & pepper to the noodles.  

Pour the cooked chicken to the noodles. Combine together and garnish with parmesan cheese and extra fresh parsley on top.
Notes
HEALTHIER OPTION: Serve over whole grain or gluten free noodles. Use less brown sugar than is called for.