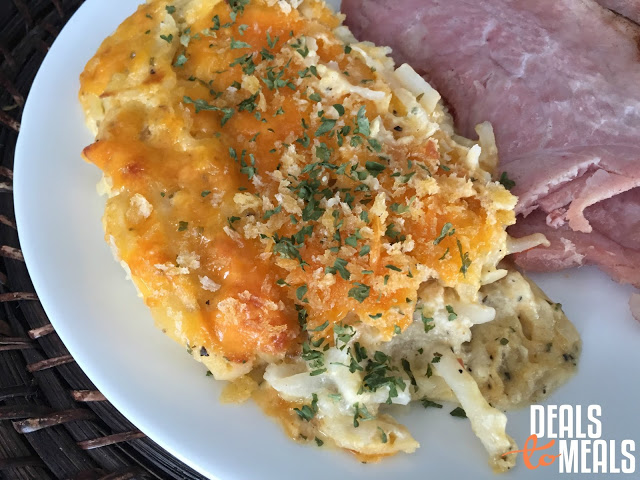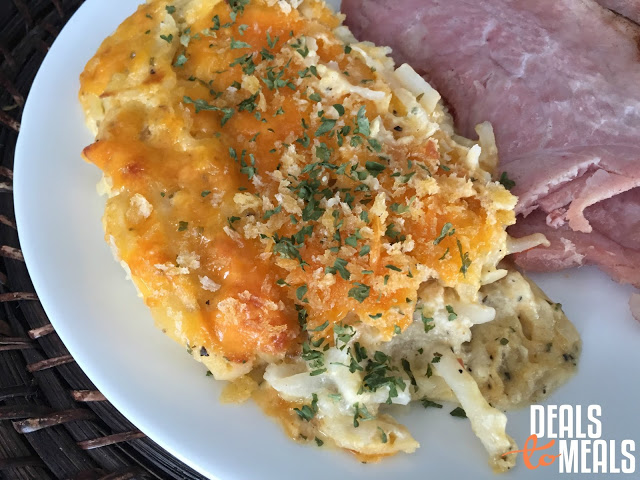 Now, I'm not sure if Cheesy Funeral Potatoes are a Utah, Mormon thing, but I have to admit I'm a big fan! There is something about eating some delicious spiral ham with the cheesy, salty goodness of these potatoes. They really make a great side dish to any meat recipe you might be whipping up in your kitchen. Serve these potatoes with marinated chicken, a turkey, ham or any other recipe-or add some cubed ham into these potatoes and voila! You have a super quick meal. No matter how you choose to serve these cheesy potatoes you are going to love them!
And yes, if you are unfortunate enough to have to bring food to a funeral any time soon, please use this recipe. I have had my fair share of bad potato casseroles in my day, and there is no reason we all need to suffer–it is a funeral after all 😉 Let's at least make the food taste good, right? 😉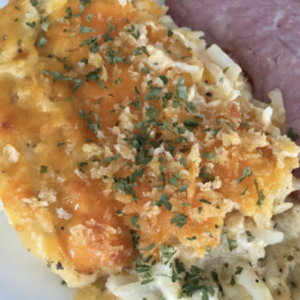 Ingredients
32

oz.

shredded hashbrowns

1 16

oz.

tub sour cream

1/3

cup

green onions

chopped

1

tsp.

garlic powder

1/2

tsp.

salt

1/2

tsp.

black pepper

3

Tbs.

butter

2

cans cream of chicken soup

1

tbs.

dry ranch seasoning mix

11/2

cup

shredded cheddar cheese

4

Tbs.

butter

melted

1/2

cup

panko crumbs

1

tsp.

dried parsley
Instructions
Slice the green onions. Spray a 9x13 pan with cooking spray. Open the bag of potatoes and pour the potatoes into a large mixing bowl. Heat the 3 Tbs. butter and pour over the potatoes. Mix and then add the sour cream and cream of chicken soup and combine with the potatoes until evenly distributed. Add the sliced green onions, dry ranch dressing mix, garlic powder and mix. Pour the potato mixture into the 9x13 pan and spread out evenly. Top the potatoes with the shredded cheese & panko crumbs. You can also use crushed corn flakes instead of panko crumbs if you prefer that texture. Drizzle the top of the casserole with the 4 Tbs. melted butter. Bake at 350 for 30 minutes, until brown & bubbly. Garnish with fresh or dried parsley.