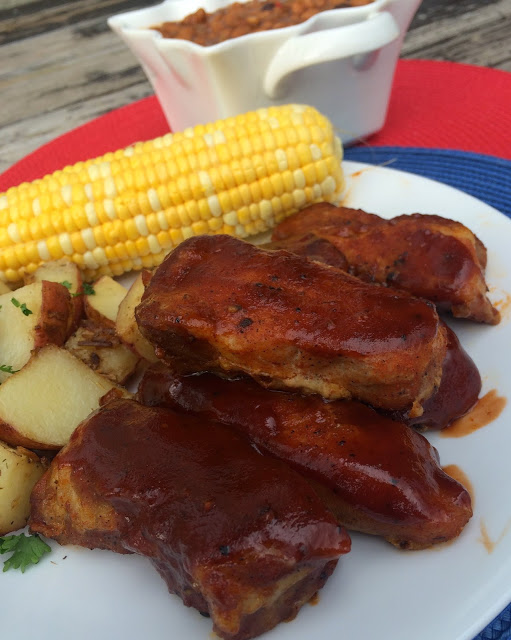 Yes, that is quite the name and quite the claim, but I have to tell you, these ribs live up to it! I dare you to try and find a more tender, flavorful rib out there. These ribs marinate for a few hours in a sweet and spicy dry rub and then are roasted for 2-3 hours until they are fall apart tender. Smother with your favorite barbecue sauce, broil for a few minutes and serve. This recipe is simple, feeds a crowd and is a simple way to serve boneless pork ribs. If you have never bought country style boneless pork ribs before, you need to give them a try. Last week they were on sale for only $1.39/lb. and this week they are on sale for less than $2/lb. This is a great deal and a fun piece of meat your family will love. No need to eat around bones, just enjoy the tender meat without any of the hassle. Not to mention, without the bones, the ribs are generally $1-$3 a pound less. It's a win-win. I hope you have time this weekend to relax and enjoy this great, homemade bbq pork rib recipe. Enjoy!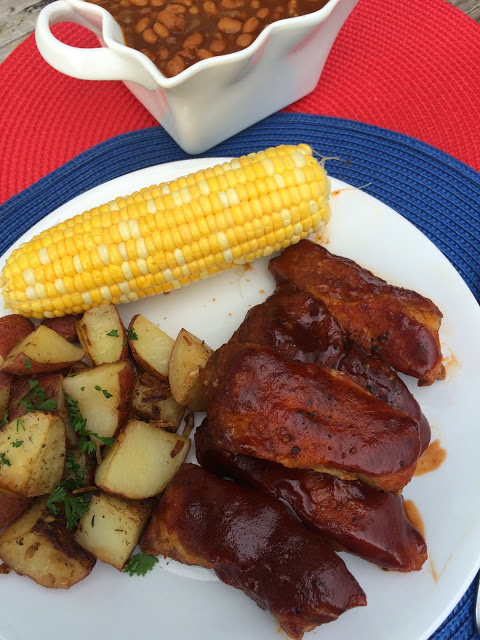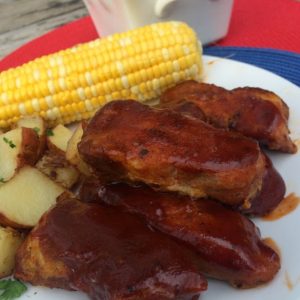 Ingredients
1

cup

brown sugar

4

tsp.

paprika

1

tsp.

garlic powder

1

tsp.

black pepper

1/4

tsp.

cayenne pepper

3

tsp.

salt

1/2

tsp.

dry mustard

3-4

lbs.

boneless pork ribs

1-2

cups

of your favorite bbq sauce

Sweet Baby Rays or Famous Dave's are my favorite
Instructions
In a bowl, combine together the brown sugar, paprika, garlic powder, black pepper, cayenne pepper and salt. Rub the seasonings on all sides of the boneless pork ribs. Cover a cookie sheet with tinfoil. Spray the tin foil with cooking spray. Place the boneless ribs on to the cookie sheet. Cover the top of the pan with more tinfoil. Place the cookie sheet into the fridge and refrigerate for 1-8 hours. When ready to bake, heat oven to 275 degrees. Place the cookie sheet into the oven and bake for 2-2 1/2 hours. After 2 hours of baking, remove from the oven and drain the excess grease from the pan. Baste the tops of each rib with your favorite bbq sauce. Continue to bake until pork ribs are tender and can be easily pulled apart. Serve hot with extra sauce.