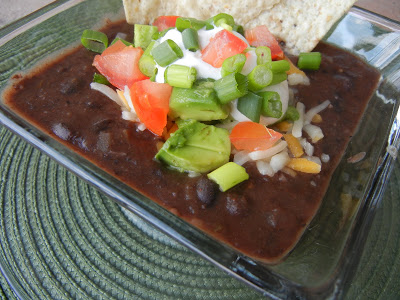 I found a recipe a few months ago for a black bean soup that I have been so excited to try for 'bean' month. It did not dissapoint! I changed a few parts of the recipe and think I have come up with the perfect black bean soup. I have had dried black beans in my food storage for as long as I can remember, but I have never cooked black beans from their dried form until yesterday. They actually cooked up more quickly than my pinto or white beans. They are one of the smallest beans, so they cook up really quickly. I boiled my dried black beans for a little over an hour and they were tender and ready to be used in my soup.
The other great aspect of this soup is it is extremely healthy for you! There is very little fat in this recipe, it is filled with fiber and vitamins from the beans, and is one of those rare recipes that don't call for any meat. I am a far cry from being a vegetarian, but every now and then I love making recipes that are meatless and yet, still satisfying. This soup was very filling and despite my children being a little nervous about the dark black color of this soup, they ended up each eating a second bowl and loving it!
Here is the recipe (as best I can remember from what I did…when in doubt, add more seasonings and chicken broth until it is to your desired liking) Once again, this recipe makes a lot so you can freeze the extras for later or 1/2 the recipe.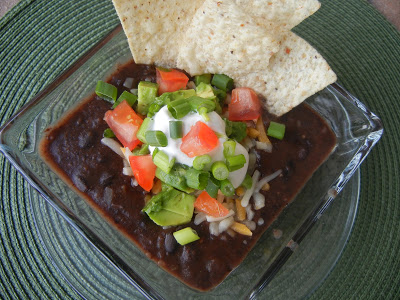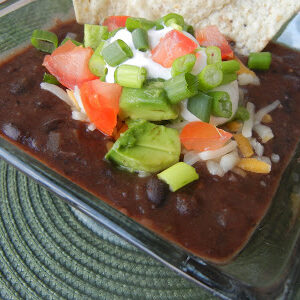 Ingredients
2

Tbs.

oil

3/4

cup

white onion

diced

3/4

cup

celery

diced

1/2

cup

carrots

diced

1

tsp.

minced garlic

1/4

cup

bell pepper

diced

4

cans black beans

drained

4

cup

chicken stock

2

Tbs.

apple cider vinegar

2

tsp.

chili powder

1/2

tsp.

cayenne pepper

1/2

tsp.

cumin

1/2

tsp.

salt
Instructions
Heat 2 tablespoons of oil in a large saucepan or stock pot over medium heat. Add onion, celery, carrot, bell pepper, and garlic to the oil and saute until the onions are transulcent, but do not brown. Rinse beans under cold water and strain. Measure 3 cups of the strained beans into a food processor with 1 cup of chicken stock. Puree on high speed until smooth. Add the pureed beans and remaining whole beans to the cooked vegetables. Add the remaining chicken stock, apple cider vinegar, chili powder, cayenne pepper, cumin, and salt to the mixture in the saucepan and stir to mix. Bring mixture to a boil. Reduce heat and simmer uncovered for 50 to 60 minutes or until soup has thickened and all the ingredients are tender. Serve the soup topped with 2-3 tablespoons of cheese, sour cream, and a teaspoon of chopped green onion.