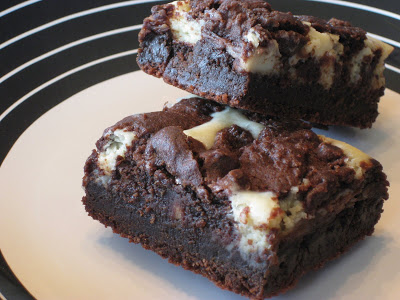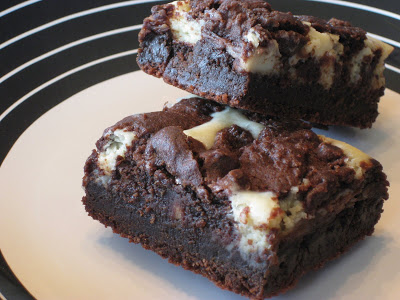 On Friday night last week I received a text message from my husband that said, "Did you have time to make a yummy treat for my party tonight?" I laughed as I looked at the clock and it was 4:30pm. I knew the party was around 6pm and I was expected to make something "yummy" I laugh now because the other treats that made an appearance that night were doughnuts, lofthouse cookies and chips. So here's to me rushing to make something delicious and homemade when really a "box" brownie mix would have stood alone in the treat crowd.
BUT if I hadn't pushed myself to make these brownies WE WOULD ALL be missing out. I was actually glad I did it under a time crunch too, because I skipped some steps that I don't know were necessary. So here's to my adapted and easier version of My Kitchen Cafe's Black & White Brownies.
But first let me explain what makes these oh, so delicious. First, that cheesecake & chocolate are involved. (Nothing more said!) But if I must the second thing is the fudge chocolate layer. And last but not least these little treats remain FABULOUS in the fridge for several days later! So if I haven't sold you yet the recipe will…because there is butter and sugar! What else needs to be said?
I should let you know that they were such a big hit that I have made them TWO other times within a one week period to let others enjoy them as well! So here's to a GREAT recipe! The only thing I might experiment on my next batch would be to increase the cream cheese layer by double or by 1 and 1/2. Why you ask, simply because this layer is so good I found myself wanting more of it.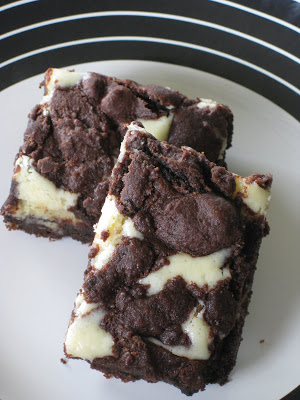 Printer Friendly Version
Black and White Brownies
adapted from Martha Stewart LivingNonstick cooking spray
2 cups plus 2 tablespoons all-purpose flour
3/4 cup unsweetened cocoa powder (I use Hershey's)
1 teaspoon baking soda
1/2 teaspoon salt
2 1/2 sticks butter, softened
2 cups granulated sugar
3 large eggs
2 1/2 teaspoons vanilla extract
8 ounces cream cheese, softened
1/2 cup confectioners' sugarPreheat oven to 325 degrees. Coat a 9-by-13-inch baking dish with cooking spray. Line dish with parchment, leaving a 2-inch overhang on both long sides, then spray parchment. (*I actually did this and it made a HUGE difference to lift them out of the pan to cut.)
Sift flour, cocoa powder, baking soda, and salt into a large bowl. In another bowl, cream butter and granulated sugar with a mixer until smooth. Add 2 eggs and 2 teaspoons vanilla, and beat until smooth, scraping down sides of bowl. Reduce speed to low; add flour mixture. Increase speed to medium; beat until incorporated.Reserve 1 cup of dough; cover, and refrigerate. Press remaining dough into bottom of prepared dish. Bake until base is set and edges are puffed, 22 minutes (don't over bake or this brownie layer will be too hard and crumbly). Let cool in dish on a wire rack while you make cream cheese layer. (Leave oven on, it will only take you up to 5 minutes).
Mix cream cheese, confectioners' sugar, and remaining egg and 1/2 teaspoon vanilla in a medium bowl. Spread over semi-cooled base; crumble reserved dough on top. Bake until filling is set, 25 to 28 minutes. Let cool in dish on wire rack, then lift out using overhang. Cut into 24 squares. Squares will keep, covered and refrigerated, for up to 3 days. *They are delicious cold!