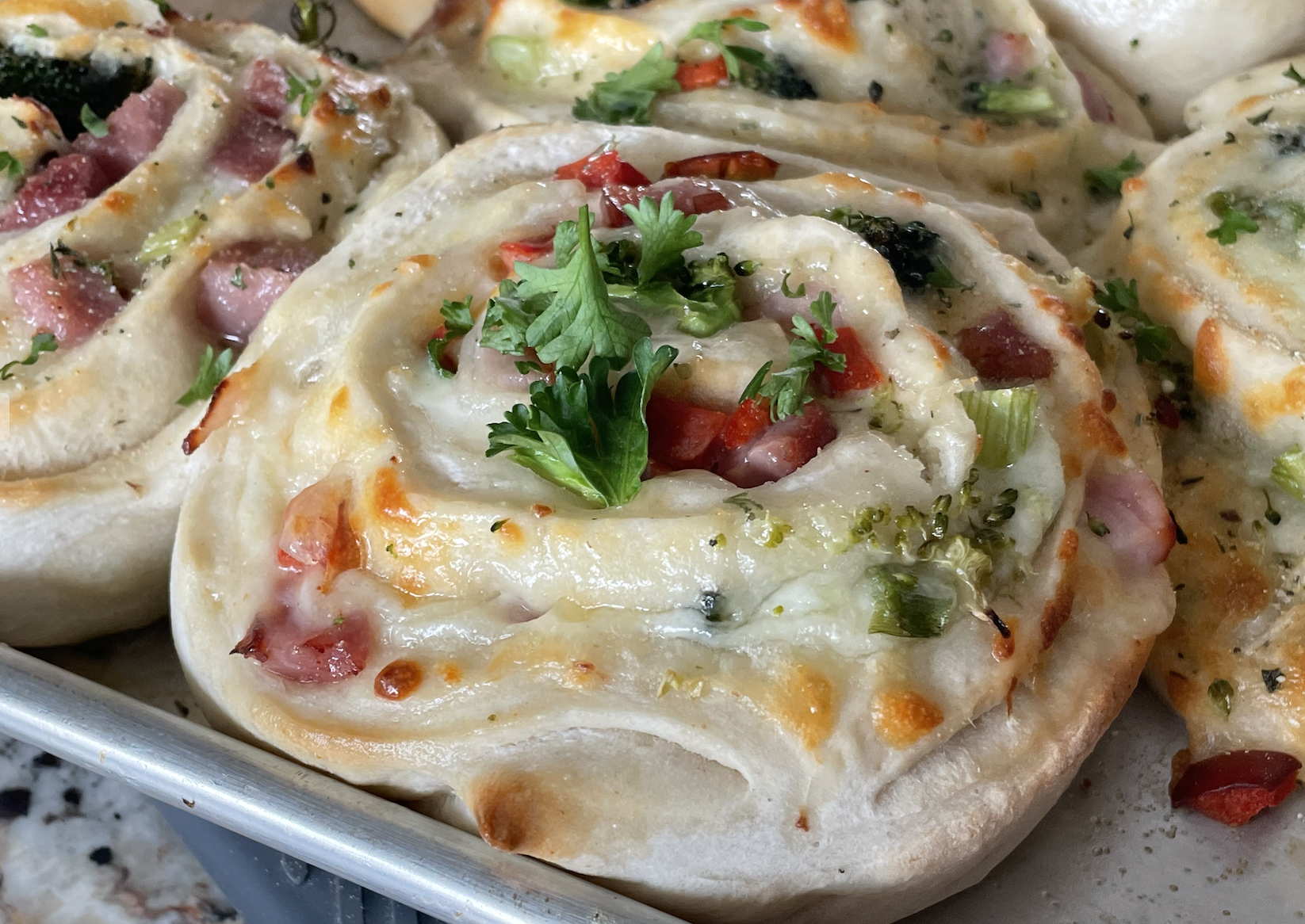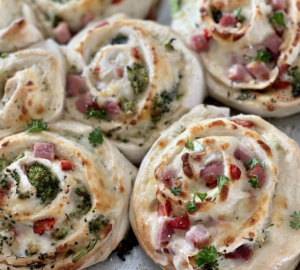 I first blogged about this recipe for Broccoli Ham & Cheese Pinwheels in 2010 and it has been a favorite recipe in our family ever since. Who doesn't like the combination of ham, cheese and broccoli together? It's like gourmet cheese bread with extra flavor, texture and yumminess! They are just as fun to make as a cinnamon rolls but much healthier for you and a dinner that's simple to make, take and go with you. We had sports last night so I needed a dinner we could eat on the road. This recipe was the perfect solution to a busy weeknight meal. If you have extra Easter Ham in your fridge, this is a great way to use it up!
You could also use freeze dried broccoli, red bell peppers, green onions and mozzarella cheese from Thrive which could make this recipe extra easy and fast. Can you believe there's a way to store CHEESE in your food storage? It's so amazing, I love it!!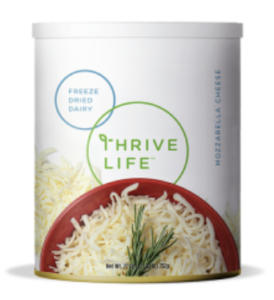 Thrive's Mozzarella Cheese is on sale in April. This is a fairly new product and the first time I've seen it go on sale in the past year. BEST time to stock up and add some cheese to your food storage. It will last 25 years, so buy it, store it and forget about it. How great though that with Thrive Life products you can make this entire meal completely from your food storage. Pretty awesome, right?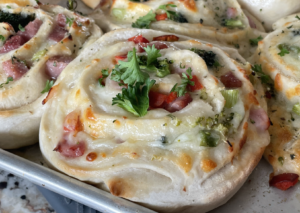 For the dough I used our simple French Bread Recipe but you could easily use a Dough Starter (like the one from Thrive that's on sale this month), refrigerated crescent dough or even rhodes rolls from your freezer. I prefer to just whip up a batch of dough with items from my food storage but if you're in a hurry these other options work great as well 😉
Prepare this recipe just the way you would like a cinnamon roll. Roll out the dough, spread with ranch dressing, top with your favorite toppings and then roll up nice and tight. Cut the  roll into pieces and bake on a co okie sheet. Easy and simple and FUN to make!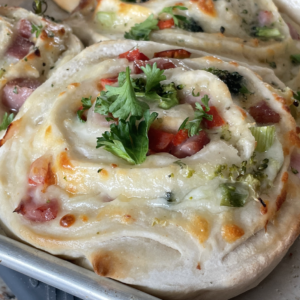 Ingredients
1

cup

ranch dressing

3

cups

fresh broccoli

diced small

2

cups

boneless ham

diced

1/4

cup

green onions

sliced

1/2

red bell pepper

diced

2 to 3

cups

shredded mozzarella cheese

2

tsp.

Garlic seasoning

1/2

stick butter

melted
Instructions
Make a batch of the bread dough and let rise for about 30 minutes while you prep the broccoli, ham, pepper and slice the onions. When everything is ready and prepped sprinkle a little flour onto the counter in about a 12x24 inch rectangle. Remove the dough from the mixer bowl and place onto the floured counter. With a rolling pin, roll out the dough into a thin rectangle about 12x24 inches. You want the dough wider than you do tall so when you roll it (like a cinnamon roll), you have plenty of space to cut your rolls into large pieces.

Once the dough is rolled out as flat as you can get it (about 1/4 inch), pour the ranch dressing onto the top of the dough and spread evenly. Sprinkle the broccoli, ham, green onions and red bell peppers all over the rectangle of dough. Sprinkle with the cheese evenly all over the toppings. Sprinkle a little garlic seasoning all over the top.

Rolling the dough from the long edge away from you, fold in the edges nice and tight. Continue to roll the dough all the way until you reach the bottom part of the rectangle and you are able to seal up the edges of the dough to help keep all of the fillings nice and tight on the inside. The tighter you roll your dough 'log', the better looking your pinwheels will be.

Spray a cookie sheet with non stick cooking spray. Cut the dough 'log' in half. Cut each half in half again. Do this one more time until you have 8-10 large slices of pinwheels you can place onto the cookie sheet. You can cut the pieces as thin or thick as you would like. Depending how much dough you used and how thin you rolled it, you may have up to 12 slices to put on the pan.

Cover the pinwheels in the pan with saran wrap. Let rise for about 45 minutes, or until you can see that the dough is growing and looking light and fluffy. Preheat the oven to 350 degrees. Once preheated, remove the saran wrap and place the pan in the oven. Bake for 25-30 minutes, or until golden brown and the cheese is bubbly.

Once the rolls are out of the oven, remove and brush with melted butter and sprinkle the garlic seasoning powder over the top of the rolls. Serve warm.