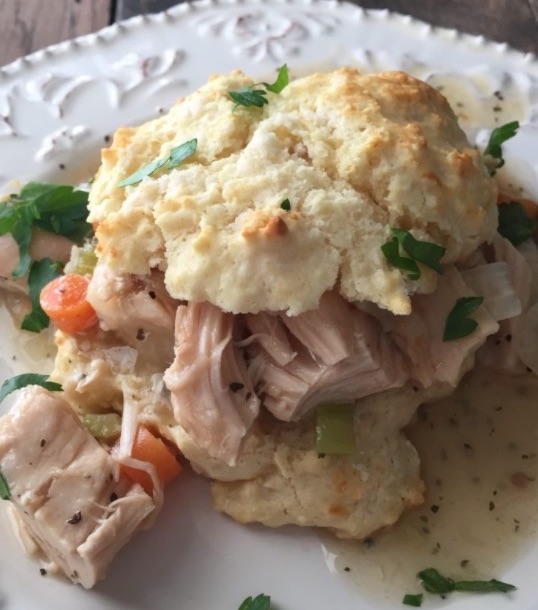 I am posting this recipe for Chicken Biscuits and Gravy before Thanksgiving comes because this recipe works GREAT with turkey leftovers. This gravy and biscuits is delicious comfort food at it's best! It's a homemade turkey gravy smothered all over a homemade biscuit. If you are in a hurry you could just use store bought biscuits, but if you have time to make them fresh, this meal is a perfect 10 in stick to your ribs kind of cooking! Not to mention it comes together fairly quickly if the turkey and everything is already cooked. Hope you enjoy 🙂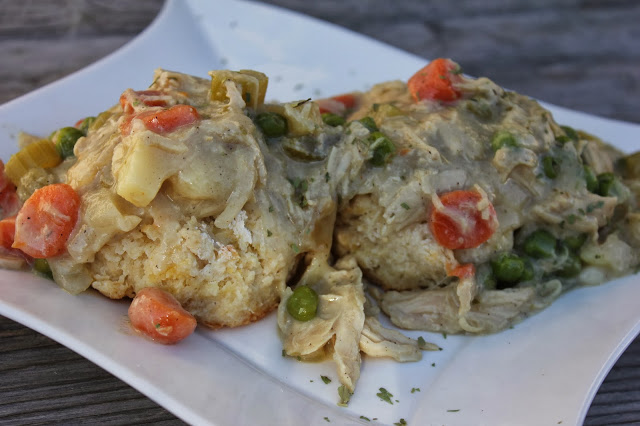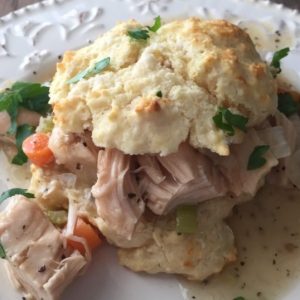 Ingredients
2

12-16 oz. can refrigerated biscuit dough (or homemade)

2

cups

carrots

diced

2

large russet potatoes

peeled and cubed

2

cups

celery

diced

1

onion

diced

1/2

stick butter

2-3

Tbs.

cornstarch

6

cups

chicken broth

4

garlic cloves

minced

1/2

tsp.

black pepper

1/4

tsp.

cayenne pepper

1/2

tsp.

sage

1

tsp.

tarragon

1/2-1

cup

half and half

or whole milk

1

cup

frozen peas
Instructions
If you are making homemade biscuits, begin making those before you make the gravy. If you are using store bought biscuits, then make them simultaneously with the gravy. If you are using shredded, pre-cooked chicken, then add the chicken in with the peas at the last step. If you are using raw chicken, cut up the chicken into small pieces and add with the vegetables while you are sauting them all together. Cut up the carrots, celery, onion and potatoes. Heat a sauté pan with the half stick of butter and add all of the vegetables to the pan. Saute the vegetables until the onion begins to become tender and the carrots and potatoes are soft (but not mushy). Add three tablespoons of cornstarch to the mixture and stir until everything is coated. Pour in the chicken broth, minced garlic, pepper, cayenne pepper, sage and tarragon. Bring the mixture to a boil and let the mixture simmer until it begins to thicken. Once the mixture is fairly thick, add just enough half and half (or whole milk) to the sauce to make it the desired consistency you are looking for. Once the mixture is nice and smooth, and thick, add the frozen peas right at the very end. Turn down the heat and let the peas warm up. Spoon a generous portion of the mixture over the cooked biscuits and serve.
Notes
HEALTHIER OPTION: Make homemade whole wheat biscuit dough instead of regular (or serve over brown rice or whole grain noodles instead). For the gravy, use skim milk instead of half and half. Leave out the potatoes and add more carrots and celery instead to cut back on the starches.
FREEZER OPTION: The cooked chicken mixture can be doubled and frozen for a later meal.