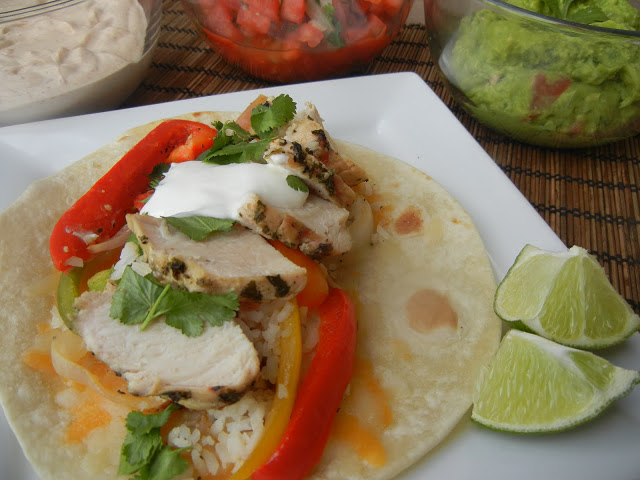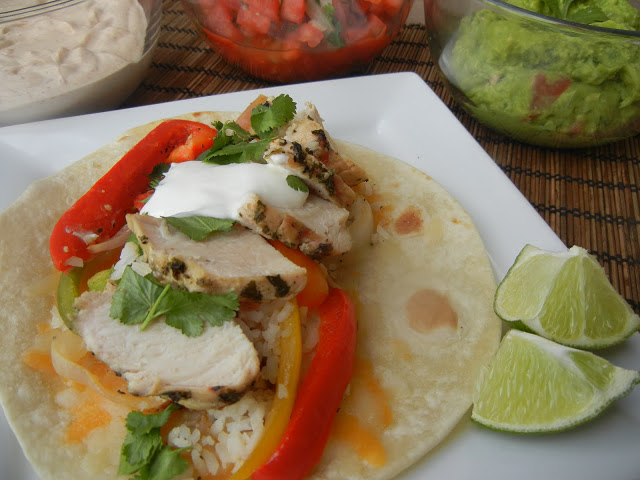 Now that grilling time is nearly here, I wanted to share with you one of my favorite marinades for chicken on the grill. This Cilantro Lime Chicken is great in fajitas, in wraps, on salads, in soups, or just plain with a side of rice or potatoes. Marinate the chicken overnight for incredible, intense flavor. With a little planning ahead, you can make your next bbq a hit with this amazing marinade recipe!
My favorite way to serve this chicken is with our Baja Burritos. They continue to be one of our family's favorite dishes. They are fresh, easy to throw together and full of flavor. All we do is grill the chicken and slice into thin strips. Saute the sliced peppers and onions in a little butter until they are tender (but not overcooked–we like a little bite to the vegetables). Make the guacamole (recipe will come tomorrow!) and then melt some colby jack cheese on top of each tortilla. Add a 1/4 c. of cooked rice on to each tortilla with the cheese. Place the slices of grilled chicken, the peppers and onions on top of each burrito. Garnish with cilantro, guacamole, sour cream & pico de gallo salsa.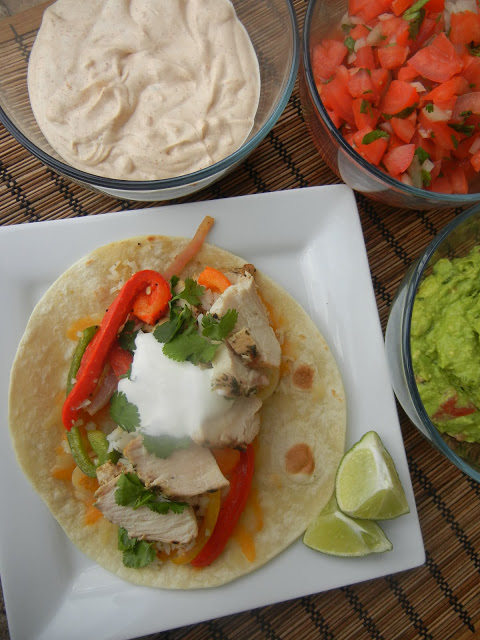 These Baja Burritos are better than any you can get at a restaurant! If you buy the ingredients on sale (all of the items are on sale this week!), you can serve a family of 4-6 for the same price as one meal would be at a restaurant. Give this chicken a try and come up with your own favorite way to serve it. No matter how you use it, you will LOVE it…I promise 😉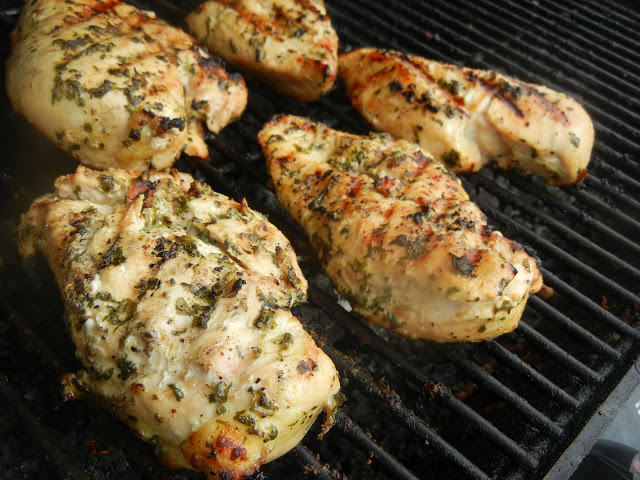 Cilantro Lime Chicken Marinade
6-8 boneless skinless chicken breasts (or thighs)
1 T. Montreal Steak Seasoning (or other salt/pepper seasoning)
2/3 c. lime juice (fresh is best if you can)
2 garlic cloves, minced
1/4 c. oil
1 t. salt
1 T. sugar
1/2 t. cayenne pepper (or more if you like more spice)
2 t. cumin
3 T. chopped cilantro
Combine all of the marinade ingredients into a bowl. For the best texture, use a hand electric wand/mixer or your food processor to make the marinade fairly smooth (or chop your cilantro very fine).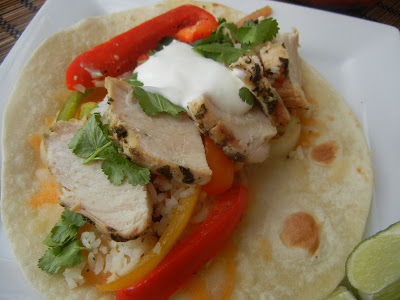 Baja Burritos
Cilantro Lime Chicken, sliced
1 yellow pepper, sliced
1 red pepper, sliced
Cilantro
Sour Cream or Taco Sauce (1 c. mayo, 1 c. sour cream & 1 1/2 T. homemade taco seasoning)
Guacamole
Limes (garnish)
Cooked Rice
Shredded Cheese
Tortillas (I like the uncooked kind that you cook right before serving)