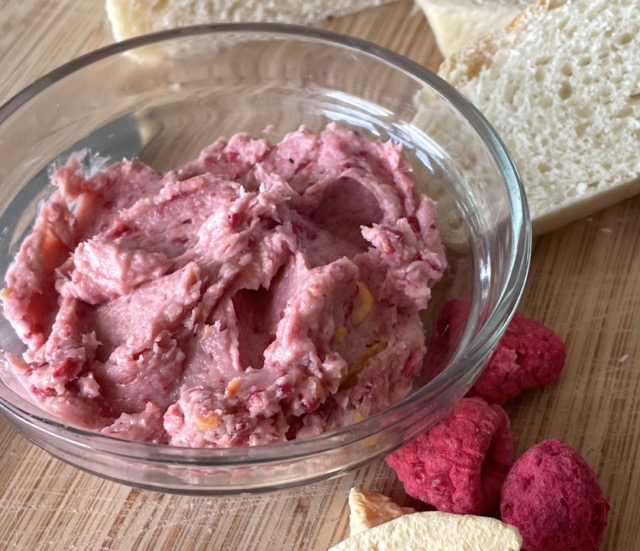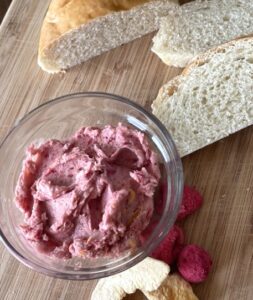 Two of my favorite fruits are on sale through Thrive for a few more days and you need to get some so you can make this Raspberry Peach Butter. Freeze dried fruits are perfect to use in frostings and all of your favorite dessert recipes. Raspberry and Peach go so well together, just like in this super simple crumble recipe I made many years ago. You could easily use canned fruit, fresh fruit or freeze dried fruit. However, when making things like frosting or specialty butters you don't want the extra moisture so you only want to use freeze dried fruit.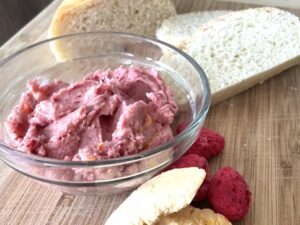 Spread this delicious butter over a homemade loaf of French bread and you have a snack or dessert that is just plain heavenly. This would also be amazing on a warm piece of French toast or even on a scone. Get creative and see what fun combinations you can come up with for a fruity-butter spread. Here's a recipe for our Whipped Strawberry Butter as well that I know you will love!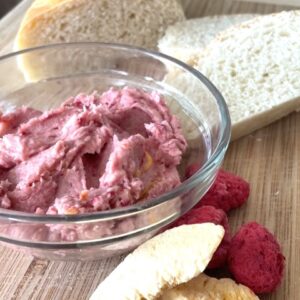 Ingredients
2

sticks butter

3/4-1

can sweetened condensed milk

1

cup

crushed Thrive Life Freeze Dried Raspberries

1/2

cup

crushed Thrive Life Freeze Dried Peaches

Dash salt

1

tsp.

vanilla
Instructions
In a mixing bowl and with an electric mixer, whip together the butter and sweetened condensed milk. Place the freeze dried fruit in a ziploc bag and crush with the back of a spoon or mallet. Once the fruit is crushed, add to the butter mixture. Mix until light and fluffy. Add the vanilla and salt. Serve on your favorite bread, pancake or french toast.

If you want you can also make this butter from Thrive Life's Freeze Dried Butter. Simply make up 2 sticks worth (mixing the butter and water together until smooth). Then add the remaining ingredients as desired.