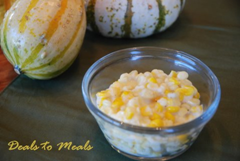 If you haven't tried creamed corn yet, you are in for a treat! This side dish is a must for our family during the holidays. The sweet, creamy corn that's slightly savory and totally delicious will soon be your families favorite as well. Frozen corn and whipping cream always goes on sale this time of year, so check out our Deals Page and you can make this side dish for only a few dollars! Have an amazing Thanksgiving this next week.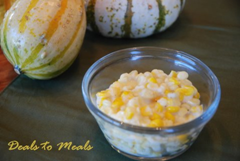 Ingredients
2

lb.

frozen corn

1 1/2

cup

whipping cream

1 1/2

Tbs.

butter

1 1/2

Tbs.

flour

1/2

tsp.

salt

2

Tbs.

sugar

3

Tbs.

Parmesan cheese

grated
Instructions
In a medium sized sauce pan, add the corn to the pan. Add the whipping cream to the corn and stir. Bring the mixture to a low boil (don't cook too high or the milk can burn). Once the corn is warmed through, drain the corn from the cream and set aside (a strainer works great or just use a slotted spoon to scoop out the corn). To the cream that is left in the pan, add the flour and butter to the pan. Let the mixture simmer for a few minutes until it begins to thicken. Add the salt and sugar and the corn back to the pan. Bring the mixture to a low boil again and then stir in the cheese. Serve warm once the corn is thickened and seasoned to your liking.
This is a perfect recipe to use your canned or freeze dried corn in your food storage. You can even used Thrive Life Parmesan Cheese, Thrive Life Butter and canned evaporated milk in this recipe to make the entire thing from food storage. Simply hydrate the corn before making this recipe and away you go!