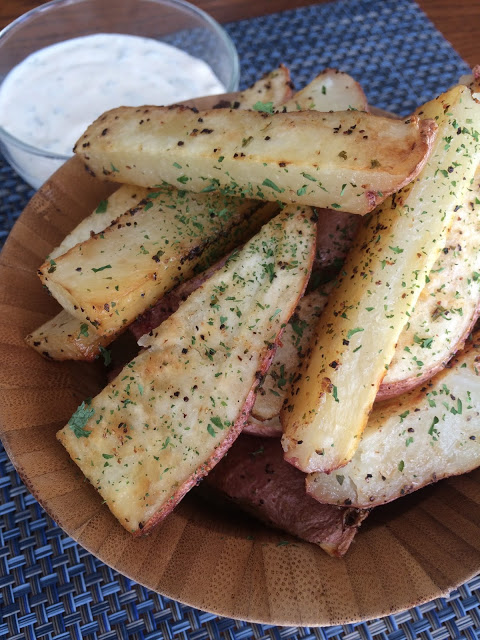 I am always in need of a quick side dish recipe that I can throw together and add to any meal. This week I had potatoes on hand and wanted to come up with the perfect Crispy Baked Potato Logs. I love homemade french fries and love the fact they are baked and not fried. With these fries I decided to add a little ranch twist. We pretty much love ranch here at our house so we decided to bake the fries in a ranch seasoning mix and then dip the crispy potatoes in ranch as well. Double the ranch, double the love! These were super easy to make and were a hit for the whole family!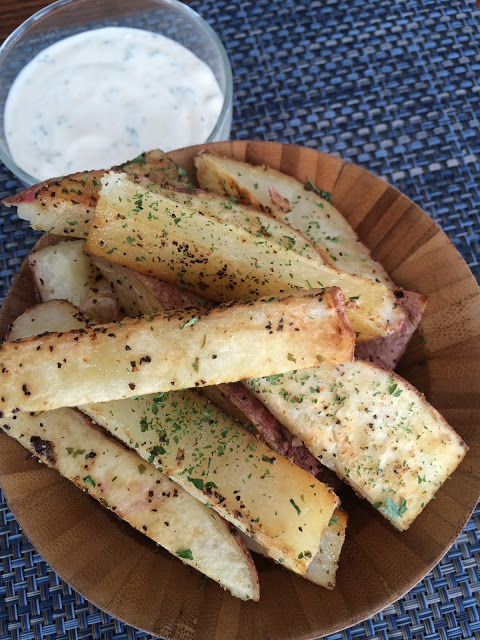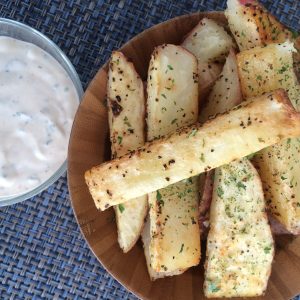 Ingredients
6

russet potatoes

2

Tbs.

olive oil

1

tsp.

oregano or basil

1/2

tsp.

thyme

4

Tbs.

parmesan cheese

1

tsp.

sea salt

to taste

1

tsp.

Cajun seasoning

optional
Instructions
Preheat your oven to 425 degrees.

Rinse and wash the potatoes. Slice each potato into 5 or 6 half inch pieces. Try and make them as uniform in length and width as possible.

Toss the potatoe pieces into a large bowl and drizzle 3 tablespoons of olive oil over the top of them. Toss the potatoes in the oil until all are coated.

Season the potatoes with the spices. Be generous with the salt, as potatoes need a lot of seasonings ot make them flavorful. Sprinkle the parmesan cheese over the top. Toss everything together. Spray a cookie sheet with cooking spray and lay the potatoes out on the pans. Try and not have the potatoes touching (if possible). If you need a second sheet pan, you can. For crispy fries, you need to have them spread out in one layer, flat.

Bake for about 20 minutes, stirring once or twice while they cook. Serve with your favorite dipping sauces.