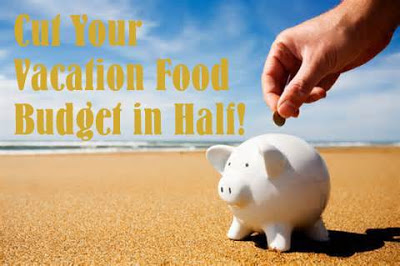 Summer is in full swing and here at Deals to Meals we are excited to help all of you save money on your vacation food
budgets. If you are like my family, we love to vacation! With a family of 7 however, the food portion of our vacations can sometimes price our trips out of our reach. Besides the hotel costs, the food expenses can be the next highest cost of a trip. I am excited to share several tips that will help you cut your vacation food budget in half (or more) and help you save money so you can do all of the fun things you are hoping to do this summer.
1-Know your food budget before you go on vacation. If you don't have an idea of what you want to spend on food, it is easy to over spend. Food can add up quickly and be a hefty part of your total vacation cost. Know what you can afford and how much you want to spend, and try to stick to those figures. Knowing your budget will help you determine where and what you should and shouldn't eat during the week.
2-Do some research and have a plan before you leave. Before going on your trip do a little research and put together a plan of where you will be eating for each meal (whether in the hotel or out to eat). Find what food options are in the areas you will be visiting and find places to go that have discount coupons or specials. By simply doing a Google search you can find discounts on many of your favorite places to eat. An example of this is restaurant.com where you can get up to 50% off many restaurants in the areas you will be visiting. Whether you are eating out each meal or cooking from your hotel it is good to know where you are going and know a rough estimate of how much you will be spending on food.
3-Stock up on snacks, treats and vacation items throughout the year when they go on sale.
Many times people do their last minute vacation shopping right before they leave on their trip. They buy snacks, treats, chips, fruit drinks, soda, crackers, fruit snacks, etc. and find they have to pay full price for these 'vacation' items. These items are great to keep kids quiet and happy while traveling, but can break the bank if you pay full price. The best time to stock up on these snack items are the first and last week in July (as well as the week of Thanksgiving). These are the times when snack items go on sale for their lowest prices. Instead of buying one box of crackers, stock up and buy several so you can keep them in your own 'grocery store' in your pantry, and have them on hand for several months to come. Having bought these items on sale can save big throughout the rest of the year. If you have not had time to stock up, remember to check Deals to Meals before you go shopping to find the best deals in your area.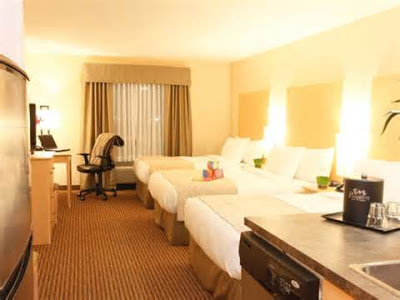 4- Plan your vacation around the ability to make homemade meals where you will be staying.
Families, depending on the size, can easily spend anywhere from $30-$100 on one meal. This can add up quickly if you are needing to eat out three meals a day. That can be as much as $100-$250 a day spent just on food, depending where you choose to eat. Could you eat at Taco Bell for less, yes, but who wants fast food three times a day? So, the better option is to find ways to eat homemade meals where you will be staying. Whether you are sleeping in a hotel, a rented home/cabin, camping in the outdoors, or in a condo, you can easily cook homemade meals and cut your food budget in half.
My family has made nearly 20 week long trips to Disneyland (I know, my husband is a Mickey-fanatic). In the beginning we were spending nearly $800 on food for a week at Disneyland. Food in Disneyland is not cheap and with a family of 7 eating outside the park wasn't a great option either. We found we could eat homemade breakfasts, lunch, and dinner meals from our own hotel and spent less than $150 for the entire week. How did we do it? Here are a few tips of how to cook simple meals and save hundreds of dollars for the week.
SIMPLE MEALS YOU CAN MAKE ON THE GO
a. Book a hotel with a microwave and/or a mini fridge. If they offer free ice, you could even do without a fridge. Many times a hotel with a mini kitchen or microwave is only a few extra dollars a night but can save you big on your food budget. Having a microwave can make meal prep easy in your hotel.
b. Bring the right tools. When I travel and plan on cooking in our hotel there are a few must-haves that make it much easier for me. I always bring an electric skillet. Not a flat griddle, but the skillets with the two inch sides. It is amazing what you can cook or warm up in these skillets. I can cook nearly every breakfast, lunch and dinner recipe I want between a microwave and a skillet. The skillet can be easily packed and is large enough to cook food for a large family of 7 like my own. It is also smart to bring paper products, plastic utensils, a kitchen scrubber, paper towels, and a small container of dish soap to make clean up a cinch.
c. Choose the right hotel (or accommodations) that allow you to prepare homemade meals in your room(s). Booking a hotel with a continental breakfast is not always the least expensive way to go. Most of us can eat a pretty simple breakfast and be fine (toast, bagels, cereal, fruit, yogurt, etc.). Many times the hotels that offer the free breakfast will charge you more than it would cost for your family to eat your own breakfast in the hotel room. If you can find a hotel with a reasonable continental breakfast and the price is not more than you could feed your own family breakfast then that is a good option. Below are several meal options for breakfast, lunch and dinner that are easy to prepare and serve in a hurry. If you are flying to your destination you could easily make a quick shopping trip for some of these meals to make in your hotel without a lot of effort. Preparing homemade meals and serving in your hotel will save $100's on your vacation budget.
Here are a few of my favorite simple dinner meals I pack from home when going on an extended vacation. One time saving tip is to make a few of these meals 1-2 weeks prior to your vacation. Double the recipe and eat one batch for dinner the week you make them and then freeze the second half for your vacation. It takes a little more thought and prep, but makes cooking on the vacation simple and hassle free.
If you don't have room to pack all of the ingredients for these meals, I often pack the frozen meat and dairy items (usually the most expensive parts to a recipe) in our cooler and then shop for the produce and bread at a grocery store on vacation. With a membership to Deals to Meals you can login to our website anywhere in the U.S. and know what the best grocery deals are in your area.