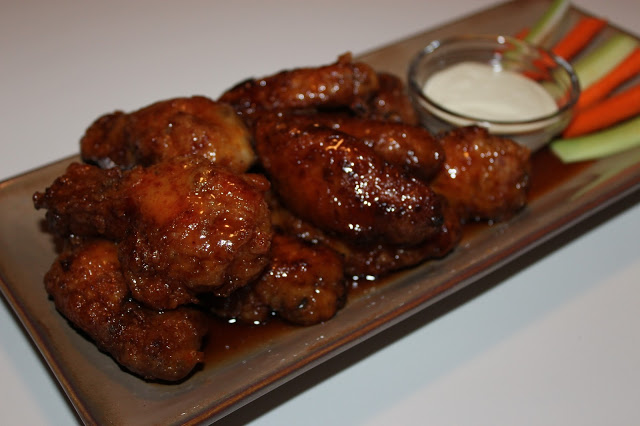 Not the best picture, but It was taken around midnight after a long day working on our kitchen remodel!
For some reason I always crave buffalo wings when I am pregnant, but I am very particular about my wings. They have to be crispy, a bit spicy, covered in a syrupy goodness and most of all very meaty! There was an awesome wings place called "Wingin It" in Alabama that I loved when we lived there, but here in Utah Wingers serves the closest thing to my perfect idea of a hot wing.

While on a business trip with my family in Santa Fe earlier this summer my cravings for buffalo wings came on super strong and my sweet husband tried his very best to track down a perfect wing for me, but after several restaurants all I ended up was disappointed. The condo we were staying in had a fully stocked kitchen so after several days of the relentless craving I decided to come up with my own perfect recipe. With a stroller, my three girls, and a desperate desire for buffalo wings, I ventured out in 102 degree weather determined to find a grocery store and everything I needed to make my dream wings. The trip was a disaster. Overheated children, a stroller that kept tipping from the weight of the groceries and a very feisty toddler do not make for a great outing for a cranky pregnant woman. After a quick dip in the pool though I was ready to make my wings. I must say I had to cheat and use some precooked products and didn't have the means or equipment to make them completely from scratch but they turned out delicious none the less. The best part is that I made 50 of them so that I could enjoy them for days only to have my husband polish off 30 in one sitting! I have made them several times since then and every time they are a hit!
[buymeapie-recipe id='485′] [buymeapie-recipe id='486′]