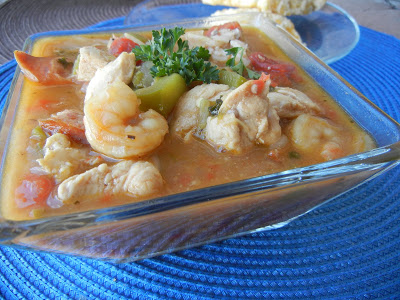 Bar none, one of the highlights of being at good ol' Disneyland a week ago was the Chicken & Shrimp Gumbo from The Blue Bayou restaurant. As soon as we took the first (expensive) bite, we had died and gone to heaven. The flavors were so intense, a little spicy, filled with meat, and then a layer of creaminess all at the same time. OH BOY, it was a MUST re-create when I got home. To let you know just how good it was, I made this recreation of the soup the first day home from our trip. Somehow I thought amongst the piles of laundry and unpacking we would throw a last minute President's Day party and celebrate with this soup (what was I thinking?). We had a lot of fun though and the reviews were amazing! I even remembering hearing a few of my brother-in-laws say this was the best soup they have ever had–that's not too shabby!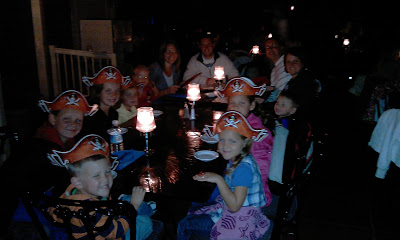 (Bad phone picture..9 kids 10 and under–what a circus, but fun!)
I followed a general recipe that I found online for a recreation of this soup, but made several changes to make it easier to make using more common ingredients and techniques.
Since we only have a few more days of our 'spice and salt' preparedness efforts, I thought this soup would be fun to blog about since it uses some new flavors/spices. One spice (if you can find it) is Gumbo File. I couldn't find it, but if you can, add 1 t. of it to the soup for a real authentic flavor. The other dominating spices in this soup are Cajun Seasoning and Creole Seasoning. If you don't have either one of these spices in your spice pantry, I suggest you get a couple. They are versatile and delicious in so many dishes–pastas, on potato wedges, in Cajun burgers, in hasbrowns, in meatloaf, etc. Give these two spices and try, you may find they are one of your new favorites!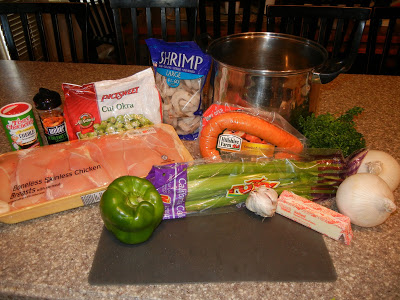 On to the recipe…this makes a HUGE pot of soup. You can freeze the extras for later, or just 1/2 the recipe. I know it seems like a lot of ingredients and steps, but it actually comes together very quickly. I began making this soup at 5:34 and we began eating at 6:10–not too bad for a huge pot of soup!
[buymeapie-recipe id='827′]
I served this soup with our homemade Red Lobster Garlic Cheese Biscuits (recipe coming soon!) Enjoy!!