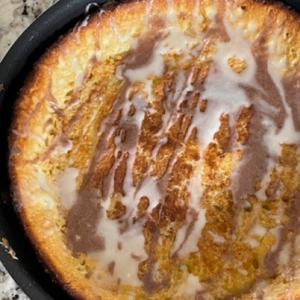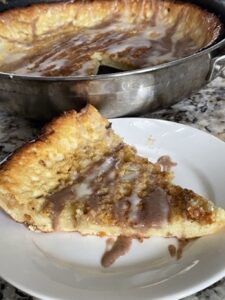 Dutch Baby Pancakes are a thin, fluffy, light egg- like pancake with a sweet cinnamon drizzle. Dutch Baby Pancakes, or German Pancakes, are a very favorite breakfast in our home. Until this weekend I had never made the 'traditional' recipe for Dutch Baby Pancakes in a cast iron skillet. I had always made these type of pancakes in a 9×13 pan and have loved them. However, my family thought the 'pizza shaped' pancake was even more fun to eat. They loved the round pancake with the crispy, caramel bottom and the cinnamon drizzle to be a heavenly twist on a family favorite pancake recipe.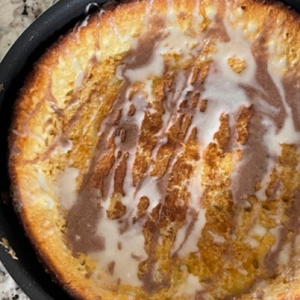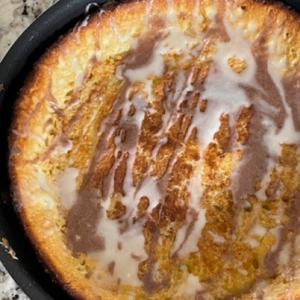 I didn't take the photo soon enough but the pancake was puffed up about an inch above the pan when it came out of the oven. You can serve this pancake recipe with traditional maple syrup, our favorite butter syrup or serve with the cinnamon drizzle (recipe below). No matter how you serve it, you're going to love this recipe!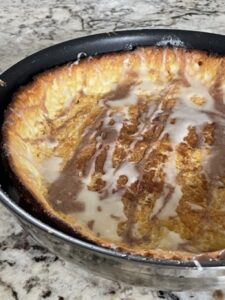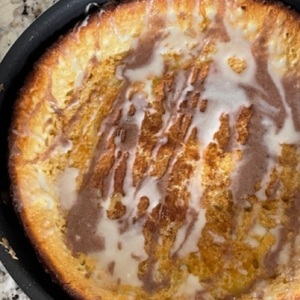 Ingredients
6

Tbs.

butter

2

Tbs.

brown sugar

1

tsp.

cinnamon

3/4

cup

Thrive Life Powdered Eggs

1

cup

water (for the egg powder)

1 1/3

cup

room temperature milk (can use powdered milk)

1

cup

flour

1

tsp

vanilla extract

1/2

tsp

salt

Drizzle:

1

cup

milk

1/2

cup

powdered sugar

1

tsp.

vanilla extract

Dash of salt

1/2

tsp.

cinnamon
Instructions
Preheat the oven to 425 F.

In a cast iron skillet pan add the butter and melt over the stove. Add the brown sugar and tsp. of cinnamon. Once melted remove from the heat while you blend the egg mixture. Pour all of the egg mixture ingredients into a blender and blend until smooth. Pour this mixture into a hot skillet pan and place in the oven for 20-25 minutes or until fluffy and the pancake has risen. Makes 4 large portions.

While the pancake is cooking, make the drizzle by whisking together the powdered sugar, milk, vanilla, salt and cinnamon. Drizzle the pancake with the frosting once it comes out of the oven. Serve warm.