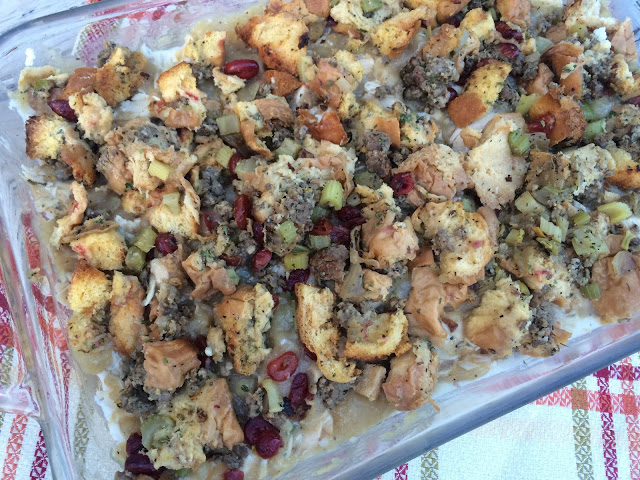 I may be a little eccentric when it comes to Thanksgiving dinner. I seriously can not get enough of all of the traditional Thanksgiving recipes. You would think by the time we go to my in-laws and my family's Thanksgiving, I'd be sick of it–but not me! The week of Thanksgiving I always make sure and make extras of my favorite recipes (mashed potatoes, yams, rolls, turkey, etc.) and either freeze some for later or keep extra on hand to enjoy the next several days. In case you are like me and still have leftovers floating around, I thought I would share my favorite casserole I make out of our leftovers. There is nothing fancy about it. In fact, it's not even a recipe, but for some reason when you put it all together, my kids think it's a new meal (score from me from having to cook!). I would love to hear some of your favorite recipes you use with your leftovers. Feel free to leave a comment and give me some ideas for all the turkey in my freezer! 🙂 Have a great day!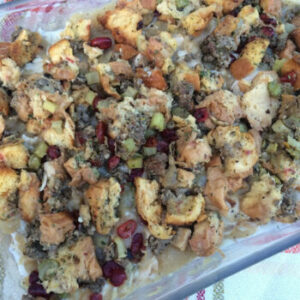 Ingredients
2

cups

leftover cooked turkey

cut into cubes

8

oz.

sour cream

1

can cream of celery soup

8

oz.

fresh mushrooms

sliced

1

cup

celery

chopped

1/2

cup

onion

chopped

2

pkgs. stove top stuffing mix

or leftover stuffing

Mashed Potatoes

Cranberry Sauce

optional
Instructions
Place the turkey breast into a crock pot on medium heat. Sprinkle with salt, pepper and chicken bouillon. Pour 1 c. of water in the bottom of the crock pot. Cook the turkey breast for 4-6 hours, or until the turkey is tender and no longer pink. Shred the turkey into bite size pieces (or you can use chicken breasts). Mix turkey with sour cream and the soups. In a sauté pan, sauté the mushrooms, onions, and celery with a little olive oil or butter until tender and soft. Prepare both packages of stuffing as directed on the package. In a 9x13 pan put turkey mixture in the bottom, mushroom/onion mixture on top of the turkey, and cover with stuffing. Bake at 350 for 45 min. DO NOT COVER. Serve over mashed potatoes.

QUICK TIP: Cook the turkey in a crock pot & use 1/2 the meat for the dressing casserole & half for the Turkey Sandwiches later in the week. If you don't make a turkey, just use cooked and shredded chicken breasts instead. FREEZER MEAL: Make up casserole as explained and just before cooking step, freeze casserole for a later meal.
Notes
*FREEZER MEAL: Put together casserole, cover & freeze. *If using leftover stuffing you can leave out the celery & onions
This recipe works PERFECTLY with Thrive Life freeze dried foods. You can use sliced or diced chicken instead of the turkey, use their mashed potatoes, their celery, mushrooms and onions. You can even make homemade cranberry sauce from Thrive Life's cranberries. Such a simple dish that can come together in minutes with the right ingredients!