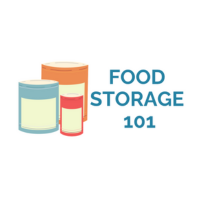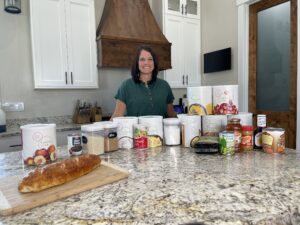 Thank you for joining us for our food storage 101 class today. I wish I was able to be in each of your homes and see how your preparedness efforts are going and answer any questions you may have. Here is a link for our food storage handout I mentioned in the video.
The main takeaways I hope you get from our video and Instagram Live are the following: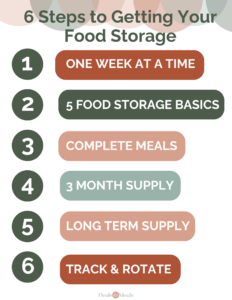 *Don't get overwhelmed, start small–ONE week at a time!
*Start with the FIVE food storage items everyone should store (Complete Protein (wheat or rice/beans), Powdered Eggs, Powdered Milk, Salt, Sugar & Oil).
*Plan your food storage around COMPLETE MEALS (breakfast, lunch, dinner). Make sure for each meal/recipe you have ALL of the ingredients in your food storage so you can eat comfortable, familiar meals in the case of an emergency.
*Build up your THREE MONTH SUPPLY to help you have a full pantry and storage with food your family is used to eating on a daily basis.
*Integrate LONG TERM FOOD STORAGE items a little at a time and continue to work on your 12 month supply of food.
*Rotate and track the items you are storing to help you use and know what you are storing.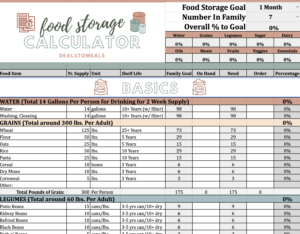 This calculator is the perfect solution to have a live document that you can use and manipulate for your own storage needs, tracking and rotating. Use this sheet to know how much to store for each item and help you rotate effectively the items you have. You can keep this sheet open on your phone and add (and take away) items as you use them or add them to your storage.
Since this file is a Google Sheet you will need to MAKE A COPY of this file so you don't change the master copy.
Simply to to the link above, click on FILE –> MAKE A COPY –> CHANGE NAME OF FILE –> SAVE FILE IN YOUR OWN GOOGLE FILES –> CHANGE & USE FOR YOUR PERSONAL USE.
Feel free to reach out with any questions on how our food storage calculator works.

In the video I talk about my favorite freeze dried product, Thrive Life that I use, love and want to share with you. It's important to have all kinds of food storage (canned, frozen in your freezer, freeze dried, dehydrated, etc.). If you are looking for a way to round out your food storage needs with healthy, fresh, delicious items, this is the product for you!
Each month Thrive Life offers certain items on sale for 25-30% off. This is the time you want to stock up and save on some delicious options to add to your food storage: Diced Chicken, Mozzarella Cheese, Potatoes, Spinach, Peas, Blueberries & Apples. All of these items are on sale and great options to add to your food storage at the best prices!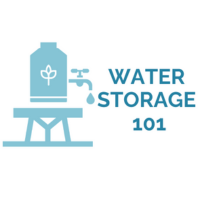 If you missed our water storage video, check it out here!