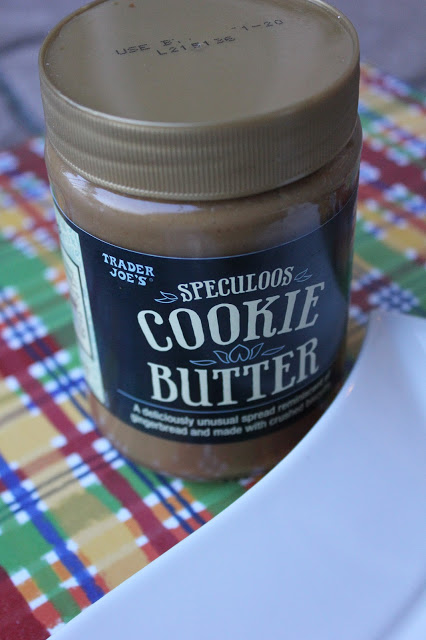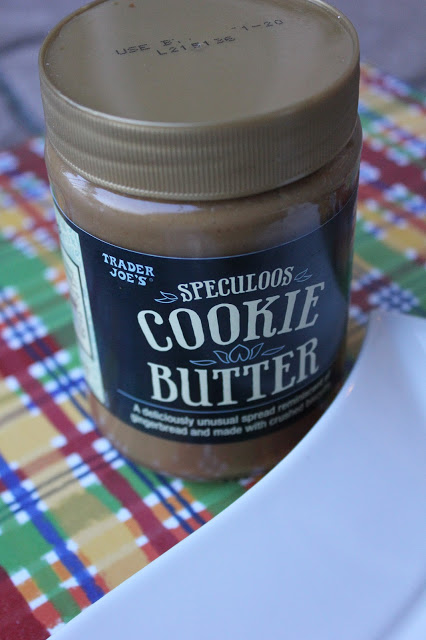 Cookie butter, where have you been all my life?? I must live in a dark whole, because I can't believe I have gone this long in my life without knowing about Cookie Butter (or Biscoff Spread). Until this holiday season when I was introduced to this amazing gingerbread spread, I have fallen head over heals for this amazing stuff! It is like a combination of peanut butter, gingerbread cookies, butter, and cookie magic all mixed into one jar. It really takes all I have not to just sit and eat the jar with a spoon. My favorite ways to enjoy this spread is on apples, bananas, a warm roll and even celery. However, this past Sunday I was craving a homemade gingerbread cookie (I left out the orange zest), so I made up a batch of our favorite gingerbread cookies, let them cool, and then spread in between two cookies a thick layer of Cookie Butter. They were moist, full of flavor and perfect dipped in a glass of milk.
If you have not tried Cookie Butter before, head to your local Trader Joe's grocery store and pick you up a jar or two (or..your year supply ;). If you don't have a Trader Joe's close by, good ol' Walmart carries Biscoff Spread which tastes almost exactly the same and might even be a little cheaper 😉 Next time you feel like splurging and breaking your diet plans, this cookie is the way to go!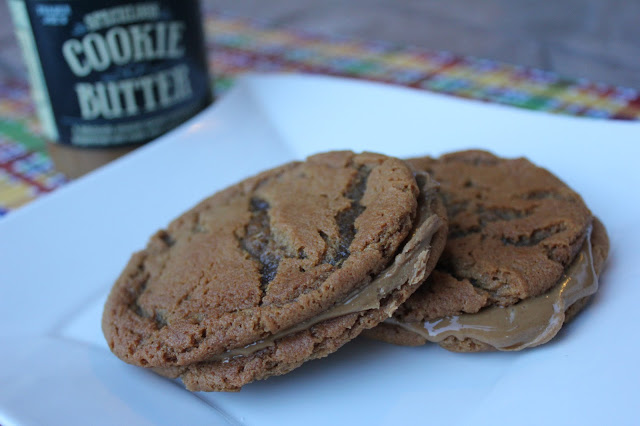 I was just doing a search for other Cookie Butter recipes and found this homemade version of Cookie Butter that we can make at home. It looks simple enough! I might just have to give this recipe a try 🙂 I'll let you know how it goes!
Ahh…my mouth is watering. I have to stop searching for Cookie Butter recipes. These bars are going to be a MUST make this weekend! Cookie Butter Bars with Cookie Butter Frosting. Hold me back!!