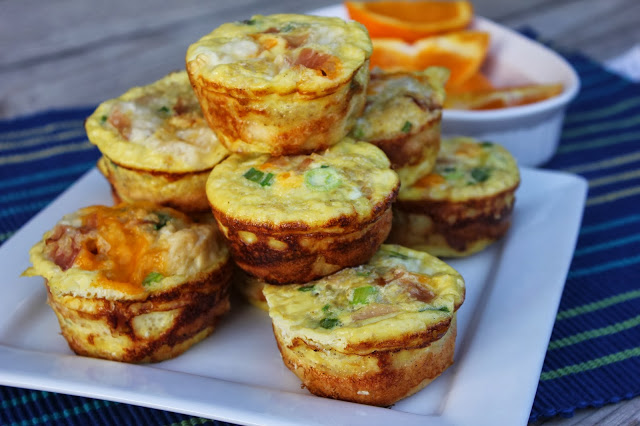 It is that time of year when the consumption of sugar amongst my children starts to give me a little anxiety. For the next few weeks it seems there is sugar and candy coming out our ears and I get tired of constantly having to manage and referee how many treats they are eating. It is weeks like this one that I don't have the heart to send my kids off to school with a bowl of sugar cereal for breakfast.
My secret weapon to starting their day off in a healthier way are these Ham & Egg Breakfast Muffins. They have become morning-breakfast savers at our home. You can throw these muffins together in just a few minutes and they freeze awesomely! You can just make up a couple batches, place them in the freezer in a Tupperware or on a cookie sheet and they can microwave them and eat them as they are running out the door to school. Because of the quinoa, these muffins will keep them feeling full longer and hopefully help them battle their sweet tooth a little easier throughout the day. I know I need that too this time of year!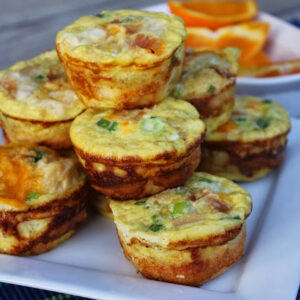 Ingredients
12

large eggs

1/2

cup

milk

1/2

tsp.

Salt

1/2

tsp.

Montreal Steak Seasoning

1/2

tsp.

Garlic powder

1

cup

shredded cheese

1

cup

boneless ham

2

green onion stalks

sliced
Instructions
Preheat oven to 350 degrees.

In a large bowl whisk together the eggs, milk and seasonings. Add the shredded cheese, ham and green onions.

Heavily spray a muffin tin (like a seriously heavy amount if you don't want them to stick). Pour about 1/4 cup of the egg mixture into each muffin tin.

Bake at 350 for 25-30 minutes or until centers are cooked through. Remove from the oven and let them rest for about 10 minutes to cool and then enjoy.