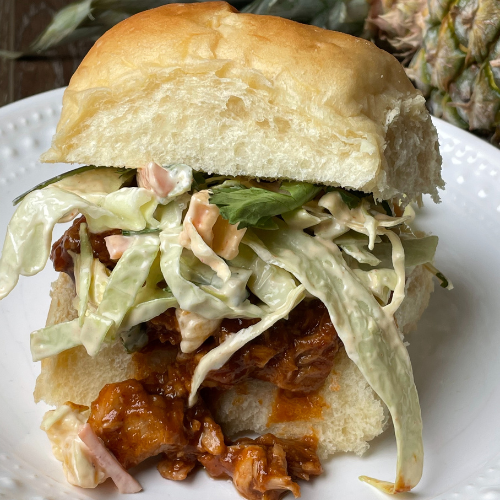 Thanks for stopping by for my Instagram Live today and seeing how fun and EASY this recipe for Hawaiian BBQ Chipotle Pork Sandwiches is. Can you believe I made this recipe in about 5 minutes? And that the entire meal costs less than $15?!? That's my kind of meal!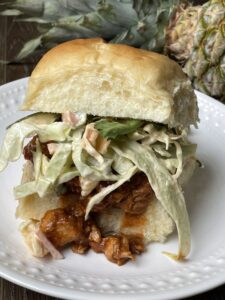 Best part about this meal is nearly everything you need can be made from your food storage. Of course you probably can't store cabbage in your storage but everything else can be made with items right off your pantry shelf. Great meal to have on hand for a busy night or in case of an emergency. I've added this recipe to our FREE Food Storage Cookbook. Print off the recipe and keep for years to come for easy e-prep and meal planning 😉
Besides this recipe, here are the 5 things you NEED to stock up on through Thrive's Spring Sale:
*Thrive Sweet Corn 50% off
*Thrive Pulled Pork 40% off
*Thrive Cinnamon Apples 40% off
*Thrive Ground Beef or Sausage 30% off
*Thrive Cheddar Cheese 30% off
*Thrive 27 Serving (9 Pack) Bagged Meals 30% off
I LOVE, LOVE Thrive's bagged meals. They are so perfect for busy nights, RV trips, camping trips, backpacking adventures, date-night meals for kids and MUCH more. For 27 large servings it's only $99.85, that's less than $5 a serving. You can get your 72 hours worth of food for 6 people for only $200! That's probably the best food storage investment you could buy. That will feel so great to know you have enough food (ready-to-eat) for three days for your entire family. Not to mention, it's delicious food your family will actually LOVE to eat!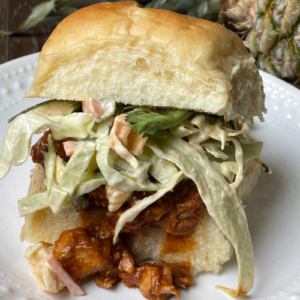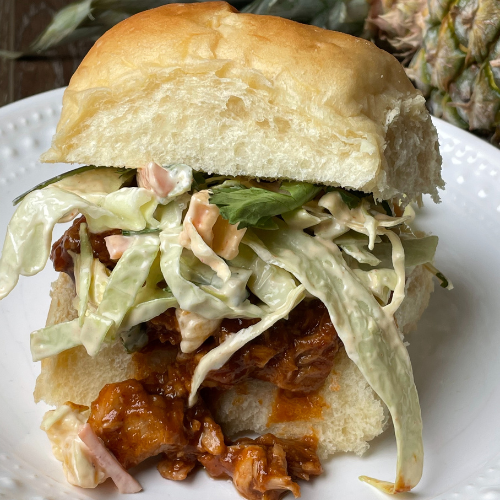 Ingredients
3

cups

Thrive Life Pulled Pork

3

cups

water

1

cup

bbq sauce

2

Tbs.

chipotle peppers

mashed

1

recipe Kings Hawaiian Rolls

or store bought

Coleslaw:

1

green cabbage

sliced thin

1/4

cup

carrots

thinly cut

2

Tbs.

Thrive Life Green Onions

3

Tbs.

Thrive Life Pineapple Chunks

1

Tbs.

water

for pineapple

1/4

cup

cilantro chopped

1/2-3/4

cup

mayonnaise

2

Tbs.

Sriracha sauce

1

Tbs.

Dijon mustard

Salt and pepper
Instructions
Place the freeze dried pork into a bowl. Pour 3 cups of water over the pork. Let the pork hydrate for 10 minutes or until soft. Once the pork is soft, drain the water completely. Microwave the pork for 5 minutes or until warm. To the pork add the bbq sauce and chipotle peppers. Stir slightly to toss the pork in the bbq sauce.

For the coleslaw, slice the cabbage into thin strips. Place the freeze dried pineapple chunks into a bowl and add a little water to hydrate. Add the slices of carrots, green onions and cilantro to the cabbage. Add the mayo, Sriracha, mustard, salt & pepper. Toss until the cabbage is coated. Add the hydrated pineapples and toss.

Slice the roll open in half and place a generous portion of pork on the roll and top with the coleslaw.